Graypants Shares How They Turn Basic Cardboard Into Modern Scraplights
Graypants Shares How They Turn Basic Cardboard Into Modern Scraplights
1/16 Photos
2/16 Photos
3/16 Photos
4/16 Photos
5/16 Photos
6/16 Photos
7/16 Photos
8/16 Photos
9/16 Photos
10/16 Photos
11/16 Photos
12/16 Photos
13/16 Photos
14/16 Photos
15/16 Photos
16/16 Photos
Graypants has been a favorite of ours for years, from their top selling Wick Candlelights to their equally popular Scraplights, their flagship collection. Based in Seattle and Amsterdam, the architecture and product design studio creates high-performance lighting with particular attention paid to details and craftsmanship. Not everyone can take brown cardboard and turn it into elegant lighting, but Graypants has managed to do just that with Scraplights. The collection is handcrafted from recycled cardboard resulting in unique lighting with modern shaped silhouettes that emit warm light through the corrugation. The manufacturing process is much more involved than that, so Graypants is taking us behind the scenes to see what's involved in transforming basic cardboard into the Scraplights collection, in this Deconstruction.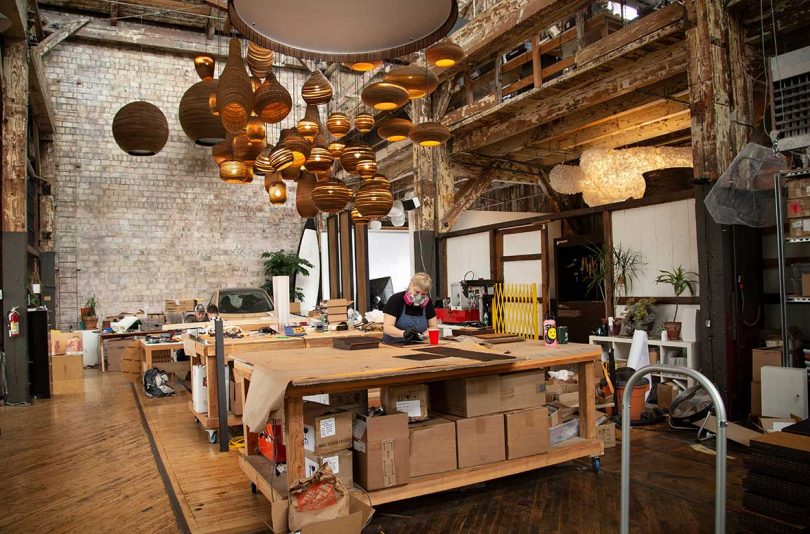 While Scraplights concepts start out initially as a sketch, the designs are loaded into 3D modeling software to create cut files for our precision cutting machinery.
The cut files are uploaded to our laser cutter, and a single sheet of post-consumer recycled cardboard is prepped and laid onto the bed of the machine.
The laser precision cuts the layers of each Scraplight, while maximizing usage of the sheet of cardboard.
In parallel with cutting the cardboard, the laser also etches numeric values into the layers to aid in sorting and assembly.
The cut layers of the Scraplight are removed from the sheet of cardboard, and then sorted and set aside for assembly.
Unassembled stacks of Scraplight layers, ready for gluing and assembly.
Assembly of our smaller fixtures is aided by a jig to ensure uniformity in the finished product.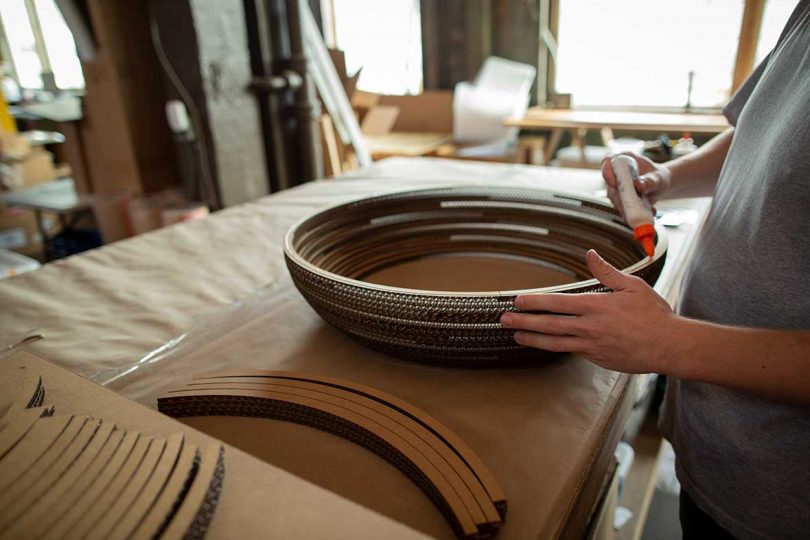 Each Scraplight is assembled by hand, layer-by-layer, using a non-toxic adhesive.
With pendant diameters ranging up to 64", not every Scraplight can feasibly use a jig. Our larger fixtures are carefully assembled by a skilled production associate, with multiple arcs joined together to form a single layer.
Each finished Scraplight is treated with a non-toxic fire retardant and wrapped in recycled paper to prepare it for packaging and shipment.
Cut layers and partial assemblies of our most popular Scraplights are stored on our shelves for future production, as the grouped layers take up less shelf space than the finished product.
Once installed and illuminated, the cardboard's layered corrugation pattern gives each Scraplight its signature aesthetic, delivering warm, intimate, and functional lighting for any occasion or space.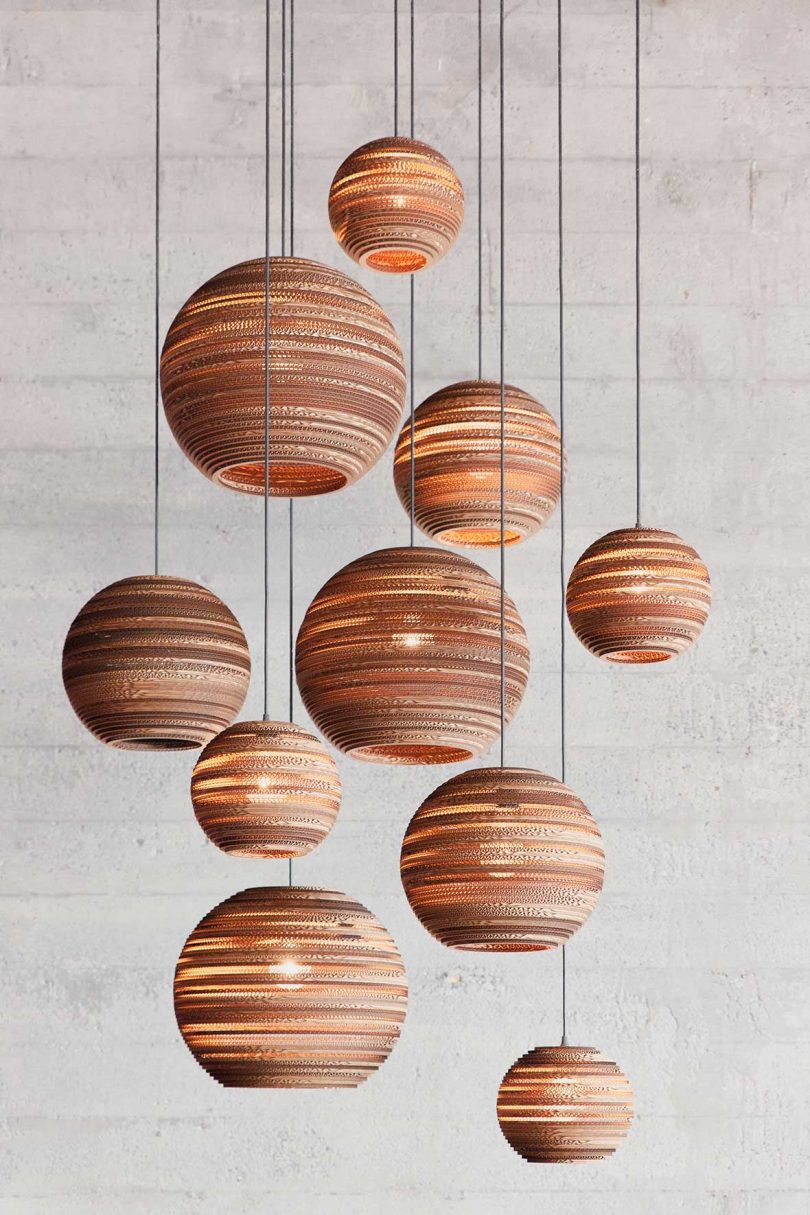 >> Shop the entire Scraplights collection by Graypants here!
This post contains affiliate links, so if you make a purchase from an affiliate link, we earn a commission. Thanks for supporting Design Milk!