Groovitational: A Furniture Collection Inspired by Space Age Exploration
Groovitational: A Furniture Collection Inspired by Space Age Exploration
1/14 Photos
2/14 Photos
3/14 Photos
4/14 Photos
5/14 Photos
6/14 Photos
7/14 Photos
8/14 Photos
9/14 Photos
10/14 Photos
11/14 Photos
12/14 Photos
13/14 Photos
14/14 Photos
If you've ever seen designer Sunshine Thacker's work, you'll notice a common theme. Oblong shapes come together in unpredictable forms to create both hard and soft furniture pieces. Thacker's newest collection, Groovitational, continues the trend. The upholstered series, which includes a pair of swiveling club chairs, a sofa, tête-à-tête, and a chaise with handmade ceramic drink rest, is inspired by the beauty of repeating lines and shapes, as well as the nostalgia of Space Age exploration.
If it wasn't for the fact that they're functional, the pieces in the Groovitational collection can stand on their own as sculptures. The spatial repetition gives the collection a futuristic look while the tantalizing and tactile soft fabric invites users to come and sit. To create dialogue with the controlled style of the collection, Thacker juxtaposes it with her ceramic lighting and furniture with undulating textures. The ceramic pieces are made with coils and snakes, experiments in painting with glaze, and an urge to design without predictability. Three floor lamps, a table lamp, dining table, two side tables, and a rug created with Thacker's son pair beautifully with her softer pieces.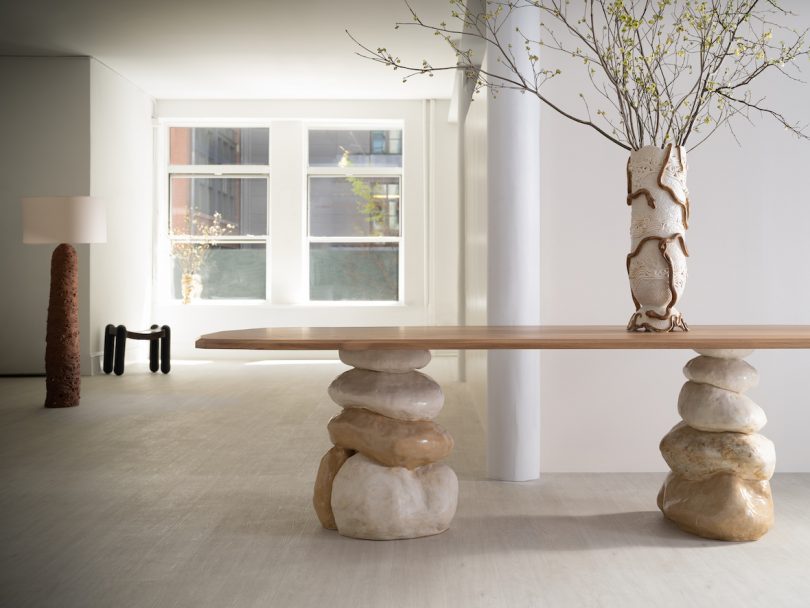 For more information on the Groovitational collection, visit lovehouseny.com.
Photos by Joe Kramm.