Oregonian-based design studio and accessory manufacturer Grovemade has long been doing a fine job serving the organized set, placing attention to aesthetics, ergonomics, and space-efficiency with their catalog of handmade lifestyle goods. Their latest addition is the new Wood Headphone Stand, a desk accessory intended to keep your favorite set of cans neatly stowed away between listening sessions.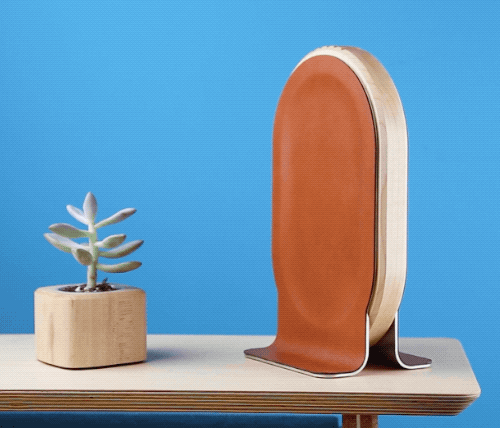 Grovemade's impetus for designing their very own headphone stand was simple: they were unsatisfied with the multitude of existing stands out there, many bearing similar designs, and some seemingly modeled after banana stands. Their goal was to thoughtfully create a stand shaped to cradle headphones rather than tropical fruit – an admirable goal considered a pair of quality headphones could buy you plenty of bananas.
Their effort is a solid hardwood stand topped with machined grooves designed to keep headphones in place, with a natural vegetable-tanned leather exterior finish and stainless steel stand base that elevates the accessory above other bare bone designs.
The headphone stand coordinates with the rest of Grovemade's existing and growing desk collection, offered in walnut and maple, and is currently available for an introductory price of $100.