The Office of Richard Davignon, Architect (ORDA) completed two homes in 2008 called Hannon Richards Infills.
From the architects:
The Hannon Richards infills are two homes in a series of architectural typological explorations, where each infill home becomes a further continuation of the last. A minimalist interpretation of the traditional "Victorian" style vertical house, these projects explore the formal reduction of the iconographic "home". The traditional elements are maintained but become a distortion of the historical type both programmatically and architecturally. The resultant form finds large windows expressing architectural bays in a figure ground manner and the front porch being replaced with a series of layers that create a similar yet reinterpreted experience. The materials, massing and iconography draw from the assemblies of past creating a sense of familiarity while the formal exploration pushes the boundaries of the single-family home as a minimalistic language.

Essentially the projects are a programmatic, architectural and detail abstraction of the vernacular past. Located in an established Calgary neighborhood which is very much in transition, these homes are mindful of the traditional fabric and the impact of modern architecture.

Built on a typically narrow inner city plot of land, these infills are small but modern. In this particular instance, the homes are set on a hillside which is typical of the surrounding neighborhood. With no possible compromise between the laneway and the street elevation, the design nestles a void space which essentially creates a private walk-out exterior courtyard space at the main and second floor elevation of the home proper. The resulting experience is that the homes create a constant reorientation of ones perception of vertical elevation depending on whether the occupant is at the front or rear of the floor plans.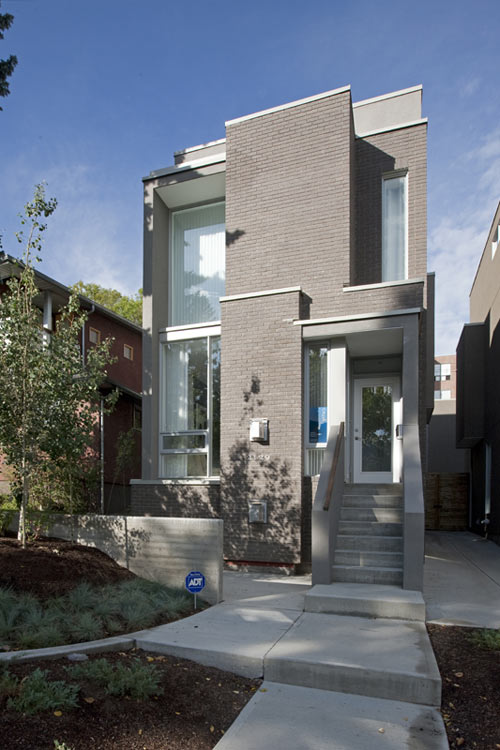 Firm: Office of Richard Davignon, Architect (ORDA), Facebook
Architect: Richard Davignon
Location: Calgary, Alberta, Canada
Project Team: Yan Paquin, Susanna Pon, Carlo Distefano
Client: Hannon Richards
Project Area: 2100 sq. ft on three floors + 800 sq. ft basement
Year Completed: 2008
Photography: Ric Kokotovich

Design From Around The Web