Haus Gables explores a new approach when it comes to its layout and elevation by clustering six gabled roofs to form the unique roof line. That single-family home is the brainchild of architectural designer Jennifer Bonner of MALL, who designed and developed the modern structure in Atlanta, Georgia. The 2,200-square-foot residence reimagines the typical household interior through its materials, colors, and forms, resulting in a design that will surely catch the eyes of visitors and passersby.
At first glance, the differences from a typical house are apparent. The tall, narrow form rises to form an asymmetrical silhouette that hovers over an all-white carport. Windows in varying sizes punctuate the exterior, where two sides are clad in fake bricks made from stucco.
One of the home's main distinctions is the fact that it's made completely out of solid cross-laminated timber (CLT), a wood material composed of alternating layers of lumber glued together. That includes the exterior and interior walls, the roof, and all of the floors, adding it to one of just a few residences in the U.S. that are made from the material. The CLT panels were custom-cut and lifted into place to construct the house in a mere 14 days.
The gabled roofs led how the house would be organized as it creates the rooms, catwalks, and double-height areas. Natural light fills the interior giving the home an airy feel despite its compact footprint.
On the interior, Bonner explores a modern take on faux-finishing by color blocking lower portions of the walls with grey concrete, yellow vinyl marble, and black terrazzo and keeping the rest in its natural wooden state.
Bonner also chose to incorporate furnishings designed by female designers that also think outside the box, like Ray Eames, Jessica Nakanishi of M-S-D-S Studio, Stine Gam of GamFratesi Studio, Anna Castelli Ferrieri for Kartell, Annie Hieronimus for Ligne Roset, Patricia Urquiola for Glas Italia, Laurel Consuelo Broughton of WELCOMECOMPANIONS, and Aino Aalto.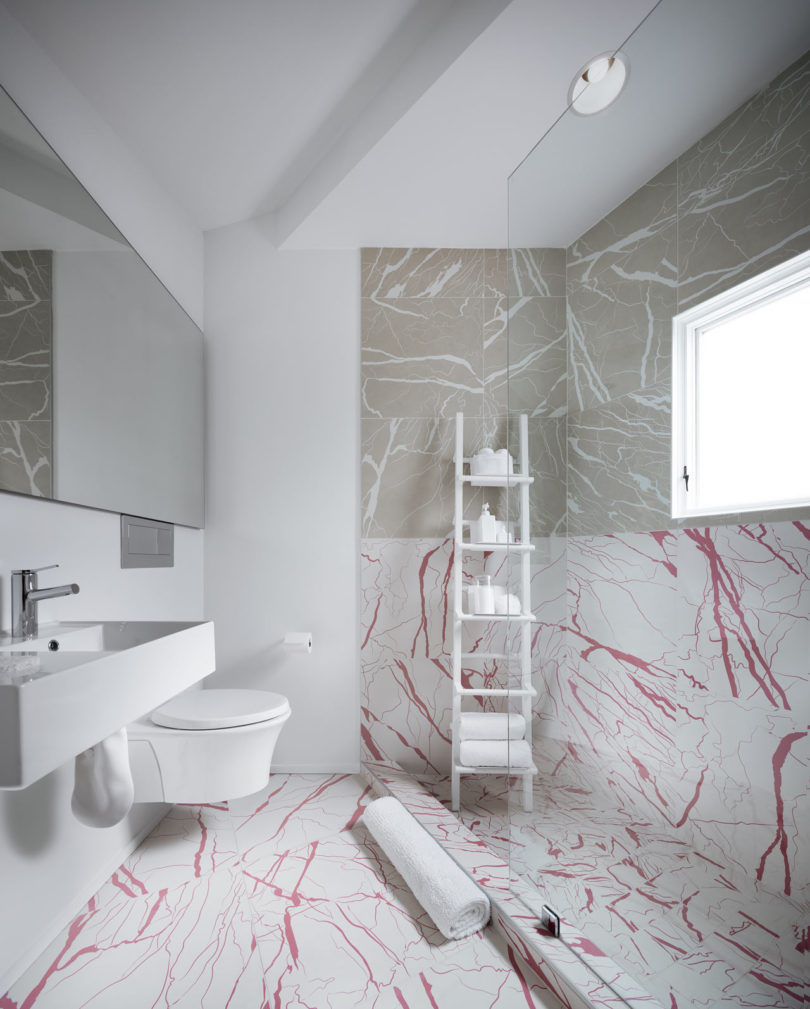 The bathroom features ceramic tile finished off with cartoon-like drawings.
Photos by NAARO, except the last three which are by Tim Hursley.