Visual artist, designer, and builder Riley McFerrin's career has taken him through various cities and down multiple creative paths, all leading to his settling into the forests of British Columbia where the Hinterland Design aesthetic was born. The collection, inspired by hinterland (a region lying inland from a coast, as the dictionary says), is a series of functional objects for the home that double as art and "marry a modernist aesthetic with the spirit of the frontier."
Each design helps bring a little bit of the outdoors to the inside through the use of natural materials, like wood, and their organic, sculptural shapes.
Scatter/Gather Pendant Light
A pendant named after the materials it's made from – scattered wooden branches along the Pacific shoreline that are gathered up.
Little Gem
A side table and sculpture for the indoors or out, all rolled into one crystalline-shaped form.
Nurselog
A dual-purpose side table that can be used inside or out. Looks similar to the rainforest stumps that tend to grow moss and ferns from their tops, so this piece has a place to add a living element to its surface.
Good Side
Having one "good side", this simple coffee table features diagonal slats on one side that reveal light through the gaps. The gaps are filled with either bright pink or matte black.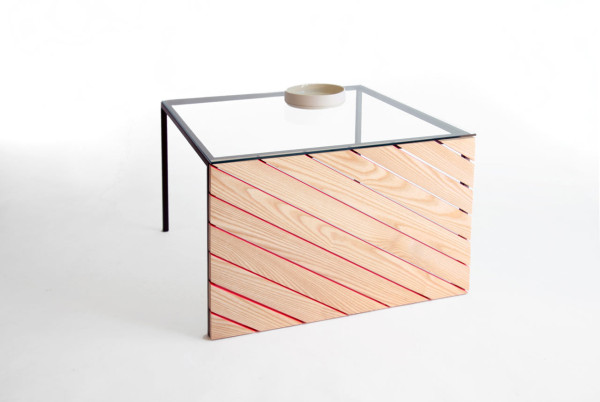 Scrimshaw
A tripod side table and reading lamp combined into one elegant form.