When it comes to New York, space is usually hard to come by so we're always curious when a new hotel pops up. Located on the corner of Wythe Avenue and North 10th street, The Williamsburg Hotel, designed by architectural practice Michaelis Boyd, is the new kid on the block that combines history with modernity inside its 11-story, 150-room property.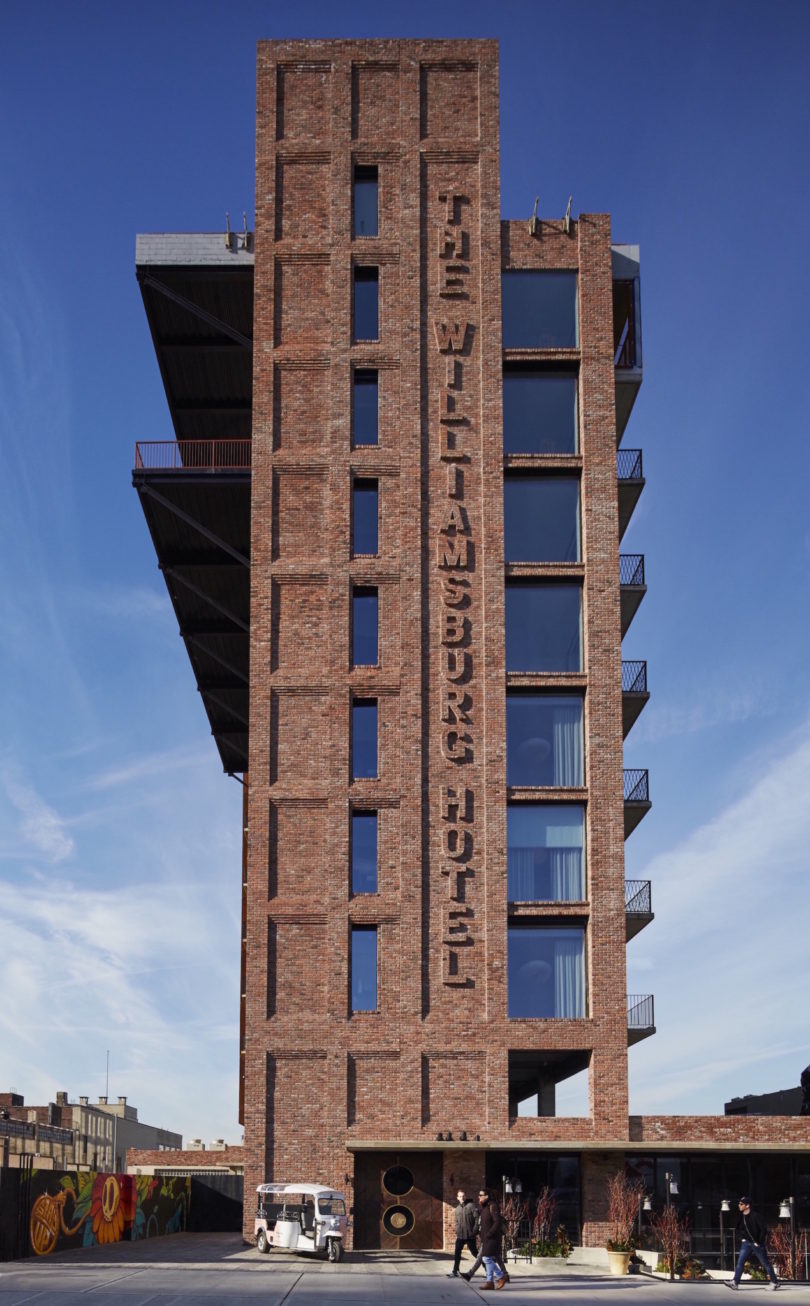 Upon entering the hotel, you'll be taken to the Cellar Floor to check in. Here, you'll find architectural fixtures and artworks commissioned by local artists peppered throughout the floor. You'll even find custom toile-inspired Flavor Paper wallpaper designed by Mike Diamond of the Beastie Boys! How very Brooklyn.
There are five types of rooms at the Williamsburg. Each room features custom furniture designed by Michaelis Boyd in collaboration with Bill Amberg studio (known for its mastery in leather-working), marble and brass by Waterworks, toiletries by Apotheke, and the pièce de résistance, floor-to-ceiling 10-foot window views of Manhattan or Brooklyn. The rooms all differ slightly from each other, from lighter or darker color palettes or glass vs glazed bathroom doors.
To quench your thirst, stop by the lobby bar (created from antique picture frames laid in a chevron pattern) on the Cellar Floor and check out the colorful string installation made with 655,240 yards of multicolored yarn by artist Eric Reiger. The textured velvet banquettes and armchairs and the fireplace in the corner will have you lingering here through the night.
Coming later this year, you'll be able to dine at the hotel's Harvey restaurant with eats by Chef Adam Leonti, grab a second drink at the Watertower Bar which pays homage to the neighborhood's historic wooden water tower factory, get a bite to eat at the hotel's pop-up eatery The Avenue, take a dip in the rooftop pool, or throw an event in the Grand Ballroom which will feature 30-foot ceilings, tall industrial steel arched windows, velvet drapes, and red decor and fixtures (think modern warehouse). There are lots to look forward to this year for The Williamsburg!
What: The Williamsburg Hotel
Where: 996 Wythe Avenue, Brooklyn, NY 11249
How much? Rooms start at approximately $205 per night.
Highlights: This quintessential Brooklyn hotel is equal parts hip, luxe, and historic. The Williamsburg takes the time to pay homage to its historic roots while cultivating a creative center atmosphere for artists and modern travelers alike.
Design draw: The custom furniture and interior design by Michaelis Boyd (who also designed the Soho House Berlin interiors) are vibrant and Art Deco-inspired without being too precious for you to get cozy and comfortable. That luxurious tub doesn't seem like a bad place to hang out either.
Book it: Visit the Williamsburg Hotel