I just got back from Kitchen and Bath Industry Show (KBIS) in Las Vegas, and I discovered some unexpected and exciting trends!
Outdoor is the new indoor. Loved this crazy huge, super industrial Caliber outdoor kitchen. Wowza! I also enjoyed KBIS' new Outdoor building and construction area, where you could tour prefab houses and there was even a 3D-printed building!
Mixed metals and materials are going beyond mixing cabinetry hardware and faucets, but taken to a new level by mixing metals directly on the faucets themselves. Love this trend—lots of possibilities here.
Customization is on the rise. We really love the customizable flush plates and toilet tanks from Geberit. p.s. did you catch our live takeover of the new @Geberit_US Instagram account? If not, check out what we spotted.
There are new ways to use old spaces. Glideware has figured out what to do with that pesky, unusable corner cabinet space with their new Not-So-Lazy Susan. And Wellborn cabinet company has integrated technology for helping make space more accessible to everyone. More from them in our upcoming "Best of KBIS" video.
Tech is still trending, but this time it's less gimmicky and more functional, for example this 8,000 BTU Frigidaire Gallery® Cool Connect™ Room Air Conditioner that you can operate from an app on your phone. You can also create a schedule with the app. We're also hearing a lot of rumblings from many appliance manufacturers that more exciting stuff is in the pipeline. We'll keep you posted!
Sayonara, plain old stainless steel! Lots of color options from paint colors to granite and black stainless steel finishes are popping up more a more. Above, are some KitchenAid Black Stainless appliances installed in one of the on-site homes. I even spotted a glittery gold Bluestar oven in one of the booths!
Texture is huge. And it's not just tile, but we're seeing more natural stone textures, like the Antolini stone (pictured above) to textured details on these new Brizo Litze faucets:
There's wood where there used to be metal. Also at Brizo, these faucets with teak handles caught our eye, as did these wooden drawer and cabinet pulls by Manzoni: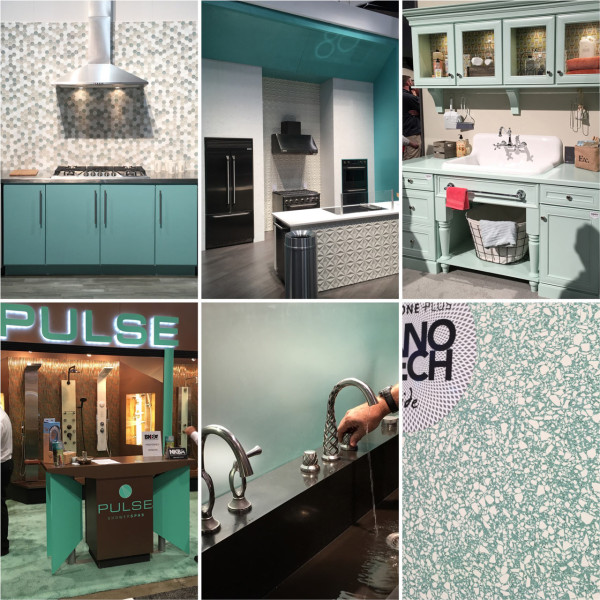 Move over PANTONE Color of the Year, I'm sensing a new color trend here…
What do you think? Are these trends here to stay? Would you incorporate any of them into your kitchen or bath?
This post is part of a partnership with Geberit. Our partners are hand picked by the Design Milk team because they represent the best in design.