If you aren't moved with love or hate by The Hotel Inntel in Zaandam The Netherlands by Wilfried van Winden of WAM Architecten I suggest you check your pulse.
The town center of Zaandam is being revamped by Sjoerd Soeters to be brought back to its rich heritage — historical street layouts are being renewed and the dull and impersonal town center is being revitalized with a new hotel — one that incorporates the historical stylistic features of Zaanse Schans village.
The hotel, which opened back in March, is a striking building to say the least. The design has generated quite a bit of attention from international media. Comprising 160 rooms, a pool, and wellness center, the 12-story hotel has already had hundreds of guests. Designer Wilfried van Winden envisioned a place in which guests could feel at home, even when away from home. Therefore, the hotel has been designed to look like stacked houses, resembling a range of residences from a notary's manse to a worker's cottage. In fact there are about 70 little houses in four shades of Zaanse Schans green. Particularly eye-catching is the "The Blue House," inspired by the eponymous artwork that Claude Monet painted in Zaandam in 1871.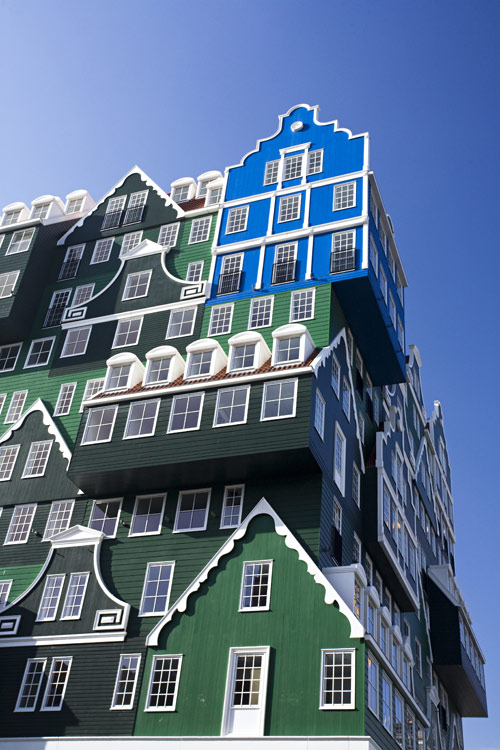 What do you think of this hotel — would you stay there?
Photos by Roel Backaert.