The new Hotel Schgaguler designed by Peter Pichler Architecture is a minimalist boutique hotel located in the Dolomites of Italy with a strong architectural identity that reflects its mountainous surroundings.
The architectural design is the star at the Hotel Schgaguler. Comprising three monolithic volumes, the hotel is a modern take on the typical alpine style of the region with its sloped roofs but the open and transparent design gives it a contemporary feel. Inside the hotel, there is a "less is more" approach to the interior design. Local chestnut wood, stones, and textiles were used to create a pared back aesthetic to the simple but functional spaces.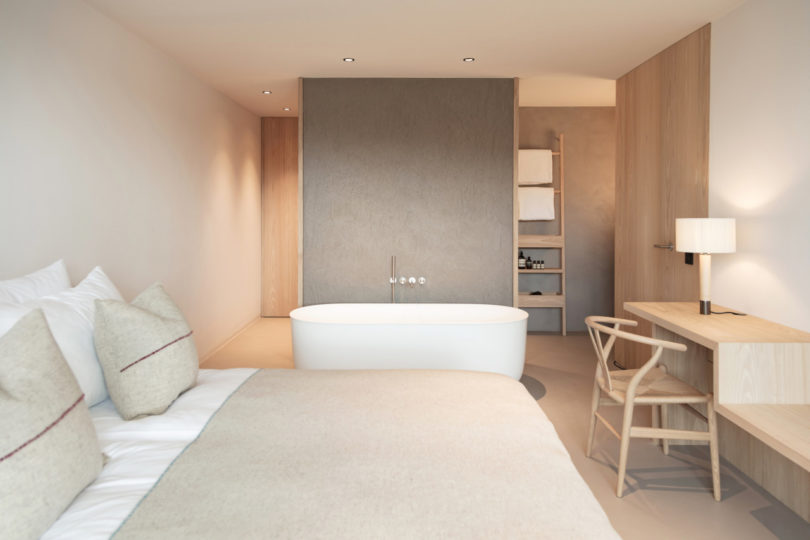 Guests can visit the lobby, bar and restaurant on the ground floor and wellness facilities and spa on the underground level. The public spaces are clean and streamlined, with modern furniture and fixtures that punctuate the natural and neutral interiors.
With its location being such a significant element in the overall design, the hotel implemented floor to ceiling windows where possible so that guests can enjoy the majestic beauty of the Dolomites.
What: Hotel Schgaguler
Where: Via Dolomiti, 2, 39040 Castelrotto BZ, Italy
How much? Rooms start at approximately $221 per night.
Highlights: The boutique hotel has a strong architectural identity that commands attention when you approach its three monolithic volumes. The alpine style of the region is reflected in the hotel's sloped roofs but the open and transparent design of the architectural building gives the hotel a contemporary look and feel.
Design draw: Minimalist interiors still give a cozy feel that allows guests to focus on relaxation and the beauty of the hotel's mountainous surroundings.
Book it: Visit Hotel Schgaguler
Photos by Oskar Dariz and Martin Schgaguler.