This building may at first look like a large residential dwelling, but in fact, it's a home for the elderly. When I go see my grandmother, she sure doesn't live in a place like this…
Located in Alcácer do Sal, Portugal, this compound of residences was designed by Portuguese architects Aires Mateus.
From the architects:
The project is based on a attentive reading of the life of a very specific kind of community, a sort of a micro-society with its own rules. It is a program, somewhere in between a hotel and a hospital, that seeks to comprehend and reinterpret the combination social/private, answering to the needs of a social life, and at the same time of solitude. Independents unities aggregate into a unique body, whose design is expressive and clear. The reduct mobility of those who will live in the building suggests that any displacement should be an emotive and variable experience. The distance between the independent units is measured and drawn to turn the idea of path into life, and its time into form.

The building, designed path, is a wall that naturally rises from the topography: it limits and defines the open space, organizing the entire plot.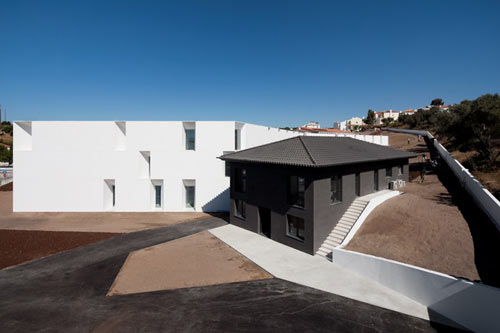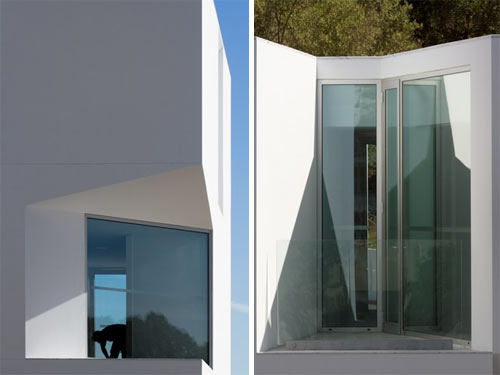 Project Name: Residências assistidas em Alcácer do Sal, or Houses for elderly people in Alcácer do Sal.
Location: Alcácer do Sal (Portugal)
Date of Project: 2006-2007
Date of Construction: 2008-2010
Authors: Francisco Aires Mateus, Manuel Aires Mateus
Collaborators: Giacomo Brenna, Paola Marini, Anna Bacchetta, Miguel Pereira
Client: Santa Casa da Misericordia de Alcácer do Sal
Constructor: Ramos Catarino, Sa
Engineer: Engitarget, lda
Landscape Architecture: ABAP Luis Alçada Batista
Footprint Area: 1560 m2
Floor Gross Area: 3640 m2
Photos: Fernando Guerra, FG + SG | Architectural Photography.