If you read the first part of this series, you know that we really needed a relaxing guest room that also functioned as a part-time home office for Mr. Design Milk. My interior designer friend Michelle Salz-Smith of Studio Surface cooked up a fantastic design for me based on the idea of meshing Don Draper, Kelly Wearstler, mid-century-meets-edgy glam… here's what we ended up with:
We only had to sub one item: the Eames desk chair. It was on backorder, but luckily I had my eye on a Drop chair by Republic of Fritz Hansen ever since I got word of its reintroduction. I was super excited when they had one available right away! Let's take a moment to recall what this room looked like before:
(learn more about our amazing mattress here)
There's no need to delay anymore. Without further ado, I present to you—my new and improved guest room/home office! Taa-daa!
I have to admit that I was a little scared as we were going through the design process and items were coming in… mostly afraid that the room wouldn't come together in the end as I'd imagined. However, now that I can step back and see the room as a whole, I'm very pleased with the result. And it couldn't come soon enough—we will have guests staying with us in the next few weeks!
I took all the photos myself because 1) budget 2) practice and 3) budget. Not too shabby thanks to a rented wide-angle lens! Between Michelle, her assistant and I, we completed and styled the room in just about two hours. This is real life design, people! My husband and I are not fancy, and we wanted a place that was cozy and comfortable, warm and inviting but with some edge and style—I feel like we pulled it off and I wanted to make sure that the photographs reflected this. FYI: getting beds to be wrinkle-free in photographs is HARD. It's probably somebody's full-time job to Photoshop wrinkles out of bedding. I sympathize with you, whoever you are.
Also: note that we have a TV in the room and we didn't remove it or try to hide it, even in the photos. There's nothing wrong with a TV and I get annoyed when interior design pics try and avoid capturing it. We're not going to deny that we indulge in a little American Ninja Warrior here and there (Kacy Catanzaro is my new hero). And we want our guests to feel like they can do so, too. It's hooked up to Mr. Design Milk's computer, too, so he can use it as a giant monitor!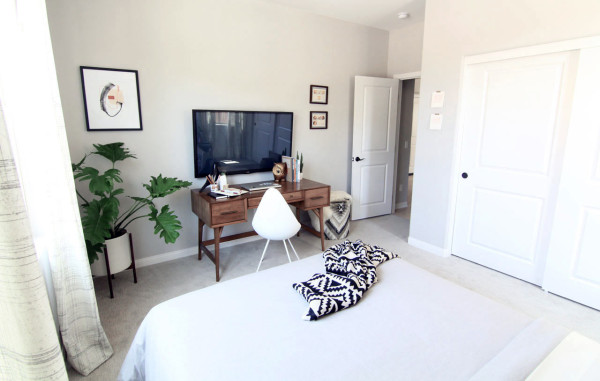 The wallpaper we chose was Cuff Home Brushstrokes in Rose, which we got through Black Crow Studios. I like it so much, I almost wish I'd covered the other walls in it, too. The rose is a nice little pop of color… and enough for someone who has problems committing to color! (psst… get 30% off all Cuff Home wallpaper by entering code CUFFHOME at checkout. Expires 8/24. Shop here!)
We had a tough time choosing our headboard. We couldn't do an entire bed because we had limited space between the desk chair and the edge of the bed. After spending a lot of time searching for just the right headboard, we gave up. We couldn't find what we were looking for, at least at a reasonable budget. We visited a local lumber company and selected a large piece of wood, which we then split into two pieces and put them together to form the headboard that you see here. We added a plywood support that attaches to the existing metal bed frame and with just a little oil, it turned out better than expected.
I was hesitant to put the nail sculpture above the bed, because, well, nails! Above your head! But we bolted it to the wall and made it earthquake-proof, so our guests can feel safe sleeping underneath it. Because our old house was so mid-century, I was afraid we wouldn't be able to use anything from it in our new place. I was grateful we were able to incorporate a few pieces from our old home into the room, such as the sculpture, planter, and footstool.
The Fritz Hansen Drop Chair is probably one of my favorite chairs of all time and having it grace my guest room is like a dream come true. JUST LOOK AT THOSE LEGS. In fact, between the chair, desk and planter, that's a pretty sexy gang (gaggle? pride? legion?) of legs.
When we lived in New Jersey, we got the Eames House Bird and named him California, making him our "let's-move-back-to-CA" mascot. Every time we'd look at him, we'd remember that SoCal was our goal. We were pretty excited when we were able to pack him up for the big move.
I styled the desk for me, even though Mr. Design Milk would be working at it most of the time. I had to include my Kasbah Tasaroute cup from my trip to Morocco—every time I look at it, I'm reminded of how wonderful that experience was. I hope to some day be able to go back to Marrakesh. I also brought in a footstool I'd purchased a few years ago. The vintage brassy owl was Mr. Design Milk's grandmothers and keeps watch over us. Being able to incorporate pieces we already had, souvenirs from travels and vintage family items makes it feel more personal. I didn't want a room where everything was brand new… between a new state and a new house, we've had enough of new and strange; we wanted comfortable and familiar. The personal accessories help ease us into the transition.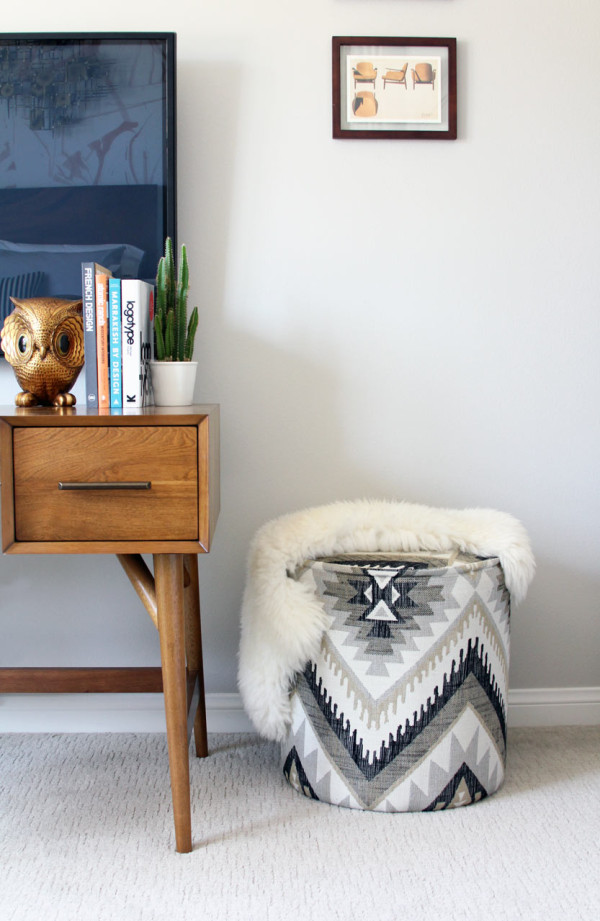 After pricing out purchasing clear acrylic curtain rods online, we decided it was more affordable to contact a local plastics company and have them cut and polished to our specifications. We saved about 50%, a cost savings that actually paid for the high-quality Area bedding I had my eye on.
The curtain rod brackets are simple ones I ordered online and spray-painted using Rust-Oleum Antique Brass. I also grabbed some industrial metal plumbing pipe end caps and spray-painted them to match.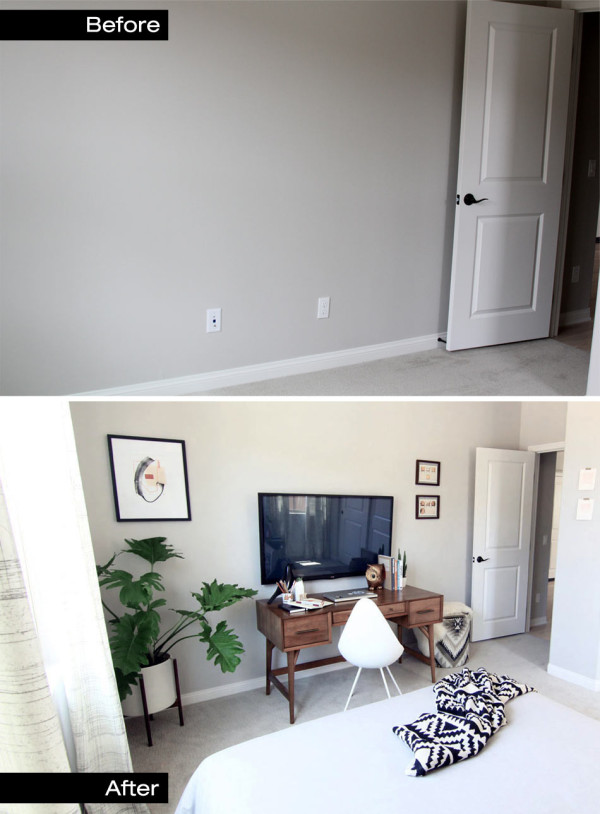 Overall, we're really happy with how it turned out and I'm a little relieved to finally have one room in the house completely finished. On to the next!
Resources
Furniture
Night stand – Hans Barbell by Jonathan Adler (courtesy of Allmodern)
Desk – Mid-Century Acorn Desk by West Elm
Desk chair – Drop chair by Republic of Fritz Hansen
Footstool – Kumani ottoman by Safavieh
Headboard – DIY using Gonçalo Alves wood from a local lumber supplier
Mattress – ComforPedic iQ mattress by Beautyrest
Lighting
Ceiling fan – Ball Ceiling Fan by Modern Fan Company (courtesy of Lumens)
Sconce – VIBIA I.Cono 0725 (courtesy of Lumens)
Textiles
Window shades – Décorview
Curtains – Etched Grid canvas curtains (courtesy of West Elm)
Duvet and shams – Parallel Grey by Area
Sheets – Coyuchi Percale Sheet Set (courtesy of Allmodern)
Throw pillow – Gandia Blasco Gan Spaces Cojín Pillow (courtesy of Allmodern)
Blanket – Aztec throw by Happy Habitat
Sheepskin – IKEA
Accessories
Planter – Case Study planter by Modernica
Vase on night stand – Adriana Workshop on Etsy
Geometric planter on night stand – Megin Sherry/Me + She on Etsy
Eames House Bird
Vintage brass owl
Milk carton – Seletti
Pencil cup – souvenir from a trip to Morocco
Walls
Paint – Sherwin-Williams SW 7043 Worldly Gray
Wallpaper – Cuff Home Brushstrokes in Rose
Curtain rods – San Diego Plastics with basic curtain rod brackets and metal plumbing end caps
Plants
Cactus in planter – IKEA (no longer available)
Large plant in corner – Split-leaf philodendron from local nursery
Tiny airplants – Tillandsia
Art
Sculpture above bed – Boyance Originale by Marc Weinstein
Two small watercolors – Erin McIntosh
Two chair postcards from a colleague's trip to Copenhagen
IT'S OK sculpture on desk – Matthew Hoffman
Painting above plant – Jaime Derringer
Photos by Jaime Derringer.