In the Mie Prefecture of Japan situated in a old village surrounded by mountains is the ORIGAMI house, designed by TSC Architects. The raised lot has an old stone wall surrounding it that holds history to the site, so the architect decided to leave it there.
A young couple moved back to the area to start a new life and build a house for modern times. The design centers around a roof that appears folded like origami. The architect wanted the form of the house and the roof to feel like one body.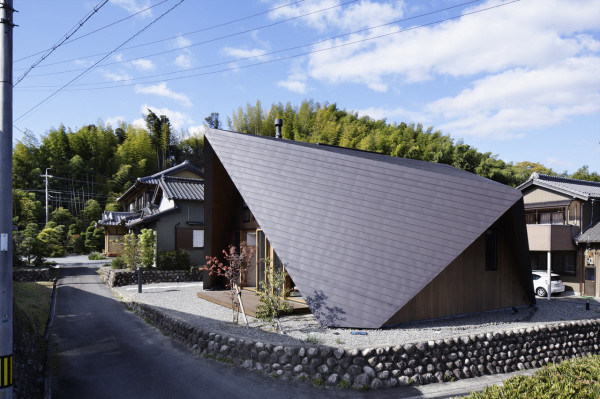 The side with the sharp peak has a lot of windows so the couple can look out to the mountains. It also keeps the interior filled with sunlight.
The roof looks as if it is attached to the ground, much like a tent would be. It kind of looks like a pitched tent in a way, also.
The sloped roof creates the interior space necessary while also giving the family a sense of protection during storms and earthquakes.
The design also allows for plenty of covered outdoor space while also controlling the amount of light and wind that enters the house.
The center portion of the house, the area with the most space, was designed to be the living room and dining room. Smaller rooms, like the kitchen, bedroom, Japanese-style tatami room, and bathroom are fitted into the outer perimeter.
The wood burning stove keeps the entire home warm in the winter.