We've previously shared (here and here) the work of Smilow Design, a brand launched by Judy Smilow as a way to pay homage to her father Mel Smilow and his American-made, mid-century designs that have been around since 1949. Part of that catalog of designs is the Woven Leather Collection, a series of minimalist chairs, stools, and benches originally designed in 1956 and reintroduced in 2013. The collection pairs stellar craftsmanship and beautiful details noted from every angle that result in classic pieces to last a lifetime. For this month's Deconstruction, Smilow Design walks us through how the collection is made.
\\\
Archival:
The Woven Leather Dining Chair was designed by Mel Smilow in 1956. It is seen here in one of his showrooms, and in some early product photography.
Sketches:
The Woven Leather Lounge was designed by Mel Smilow in 1956. Seen here in a sketch and product photo, it is and also part of our larger Woven Leather collection. When we go out to re-introduce a piece or collection, we spend a good chunk of time going through old drawings, sketches, blueprints, and photographs. We then take these to Pennsylvania where our pieces are produced and upholstered to work through new drawings and dimensions with our factories.
Process / Furniture Building:
Our Woven Leather Collection is produced in two locations in Pennsylvania, by makers who have been handcrafting furniture for decades. The first stop for this collection is the factory that produces the frames of these chairs.
This collection (and most of our pieces) are made out of solid walnut, by hand (by guys like Rich, hi Rich!), and feature detailed joinery, curves, and angles.
The solid walnut frames for our Woven Leather Collection are ready to go get woven.
Process / Leather Weaving:
Once the finished frames arrive at our upholsterer, the patterns for these chairs get assembled and the correct leather gets cut into strips.
When reintroducing this collection, we went through a ton of different types and thicknesses of leather to find one that has the perfect amount of give when you sit and doesn't stretch out over time. We offer this collection in nine different colors.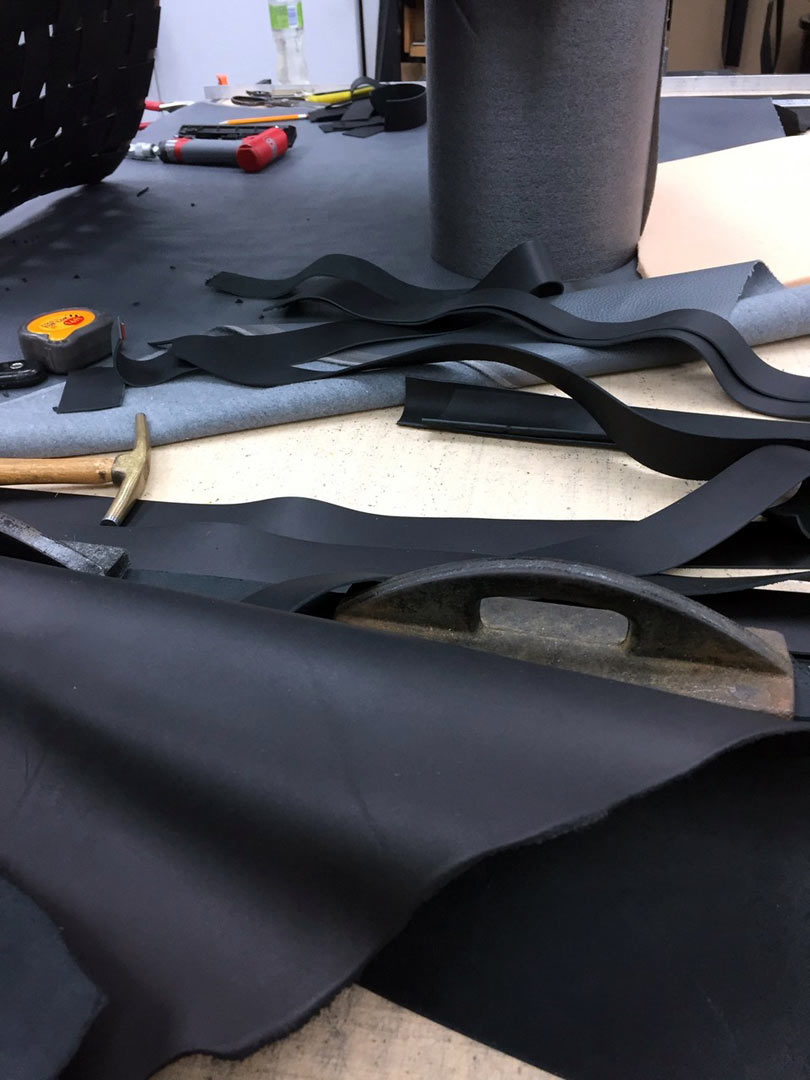 Each frame is woven and secured by hand, with the straps tucked under for a seamless finish.
Finished Product:
The finished products, half a century later.