Every May brings ICFF, the International Contemporary Furniture Fair, and after taking in every inch of the goods, this year's offerings definitely gave last year's a run for its money.
Nervous System continues to set the bar high when it comes to merging science and technology with art, home furnishings, and jewelry. This year they brought their Radiolaria web app that lets you design your own cellular furniture. Once you've created your design in the app and you've placed your order, your custom table is carved out of Baltic birch plywood with a CNC router.
Nervous System also brought out new additions to their Hyphae collection of generative lighting designs that included pendants, table lamps, and sconces. We are pretty keen on those new sconces…
The always inventive and insanely creative Blu Dot will roll out new designs throughout the year including the bold India Rug and the Clutch Chair that's meant to hug you when you sit.
Blu Dot's Dang collection of mid-century inspired consoles include panels with tiny holes so that your remote controls can still work without your entertainment devices having to be on display. They also have matching 2-drawer units for files.
The team at Blu Dot went big, really big, with their Bank sofa. It's 96″ long and super deep so there's plenty of room for napping. I love the boxy lines of it.
Tanya Aguiñiga partnered with Kasthall to create an installation to show the range of Kasthall's rainbow-like collection of yarn colors.
Artek had the collection of Stool 60's 80th Anniversary editions on display where designers put their own spin on the iconic stool.
The Raimond Dome 79 light fixtures by Raimond Puts for moooi looks like twinkling fireworks in the sky.
Loved the Cuboid 20 Coffee Table, part of the Quadrat Series from Pelle Designs, that features a ceramic candy dish and wooden tray to hold your goods.
The Kawa Pendants from Souda are made of porcelain using a slip-casting technique. Light shines through highlighting the surface textures and details of each piece.
Souda continues their one-of-a-kind porcelain Kawa series with ashtrays, vases, bowls, and vessels.
We wrote about TJ Volonis and his copper sculpture and furniture pieces before and he had some new awesome works on display.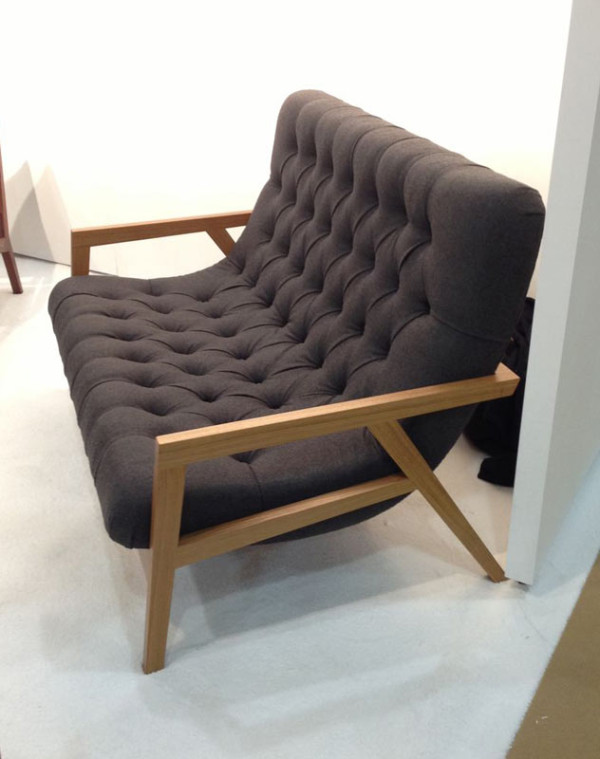 Phloem Studio is known for their timeless designs and craftsmanship that's not often found in furniture these days and the Regina Loveseat is no exception. Beautiful lines and the diamond tufted pattern continue the brand's built to order (by hand!), not to be missed, collection.
Wine collectors rejoice! Vin de Garde has gobs of modern wall wine storage options for you to choose from, including the Hive Series, that lets you add on as many kits as you want to accommodate your bottles.
Stay tuned for Part 2 coming tomorrow!