Designer Tom Dixon never disappoints and this year he really stepped up his game. Besides having a booth featuring new products, he also had a pop-up manufacturing booth that was actually making limited edition Punch Ball fixtures (above). Dixon partnered with Trumpf Inc who brought in the high tech machines cranking out the creations and set up shop so visitors could watch the process.
See the video we took of the machine actually cutting here:
The Punch Ball XL, which was approximately 6.5 feet in diameter, hung above the manufacturing area.
Loved the black and white, geometric bedding on one of the beds at the Made It booth that featured Italian designers.
Blackbody showcased an all-white, life-size tree light that featured OLED (organic light-emitting diode) energy saving lights.
Jamie Harris Studio displayed lots of beautiful blown glass wall installations like these eye-catching metallic pieces.
Patrick Weder Design displayed organic light forms made of paper and wire while teaming up with Calico Wallpaper whose gilded wallpapers were the perfect accompaniment.
Alyse Solomon featured a new collection of wall coverings that are based on her own photography. The graphic patterns are created by turning her subjects into repeated abstractions.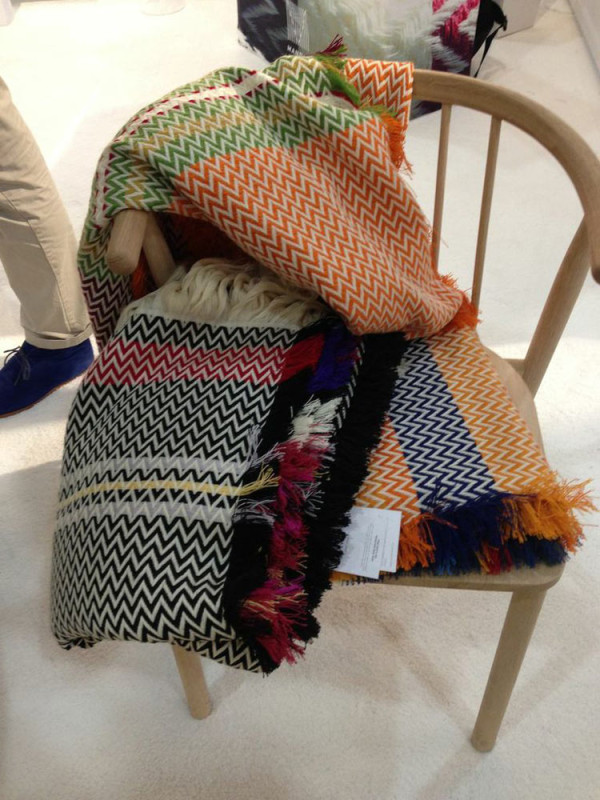 Colorful zigzags make up the cozy blanket collection of Mandal Veveri making it hard to pick a favorite.
Did you catch Part 1 of our 2013 ICFF coverage?