The 2014 International Contemporary Furniture Fair (ICFF) kicked off with new modern designs in lighting, furniture, textiles & more. It was a great show this year, giving us promise that things are looking up! Take a look at Part 1 of some of our faves.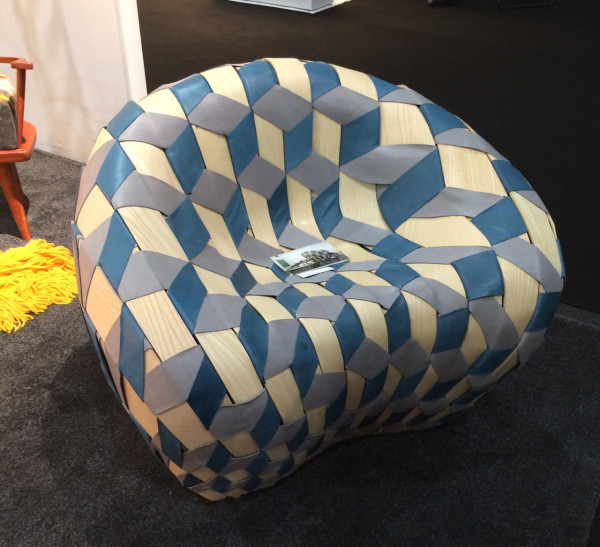 Woven strips of molded plywood and leather form a geometric pattern on this sculptural chair from Justin Crocker.
Blu Dot is now offering their Clutch Chair in a snazzy bold red and we're loving it.
Karim Rashid lent his design skills to A Lot Of Brasil by way of the Cadeira Siamese chair, which uses an eco-friendly "liquid wood" material.
Using metal wires, Schema Product molds simple patterns into gorgeous complex shapes to become this line of lamps.
Copper pendants, also from Schema Product
We've featured Souda before (just recently we took a look at their offices) and were excited to check out their Strut Shelving System in person. The shelves were inspired by the Manhattan Bridge.
Part of the NJIT booth, this rubber ottoman pays homage to the rubber capital of the world – Akron, Ohio. Gretchen Von Koenig used 204 bicycle tire tubes to create flower-like modules that make up the exterior. This was one of our Best in Show!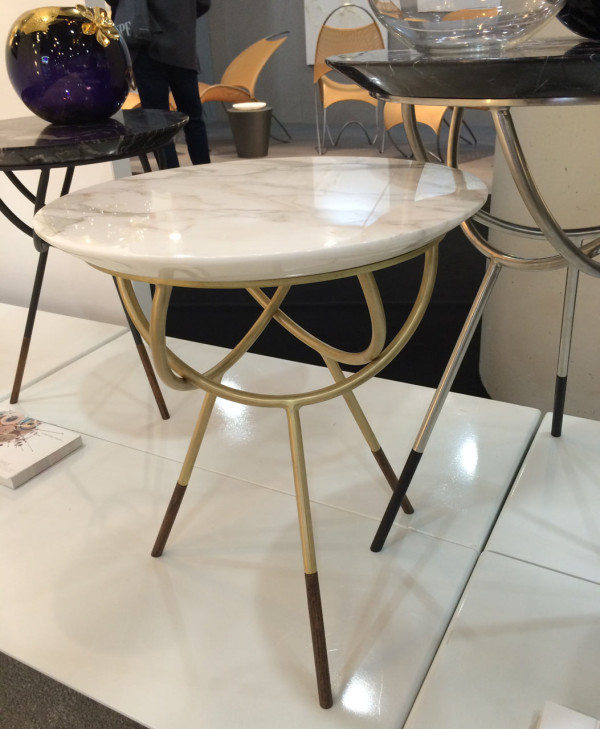 A side table, from Avram Rusu Design, has a stone top that sits upon a brass, three-legged base.
A massive chandelier, by Luke Lamp Co., made of double braided nylon rope and LED modules with 30,000 hour lifespans will make you look at lighting differently.
These stackable ottomans from David Gaynor Design can provide extra seating or stack them up in the corner when you don't need them.
Fermob showed their colorful collection of fresh outdoor pillows and furniture that could easily spruce up any exterior space.
Sebastian Herkner designed these clocks for LEFF amsterdam that are made out of recycled PET felt.
Embedded magnets pull the LED lights outward in this cool chandelier from BOWER.
Stunning metal furniture and lighting from Gentner Design, like the patinated brass and walnut chest of drawers on the left.
Stay tuned for Part 2 (and Part 3, and 4!).