Award-winning New York City-based design and branding firm ICRAVE is the studio behind some seriously high-profile projects, including many nightclubs, restaurants, and hotels, so it only seems fitting that they were the perfect creative minds to design their own offices in Manhattan. The company's rapid growth over the years prompted the new 8,000-square-foot space on Madison Square Park, which boasts flexible workspaces to encourage employee interaction and collaboration.
Above: Entrance with a custom mural and archery target
The reception area was designed just like a hotel lobby, welcoming visitors into the space. The desk even doubles as a DJ booth.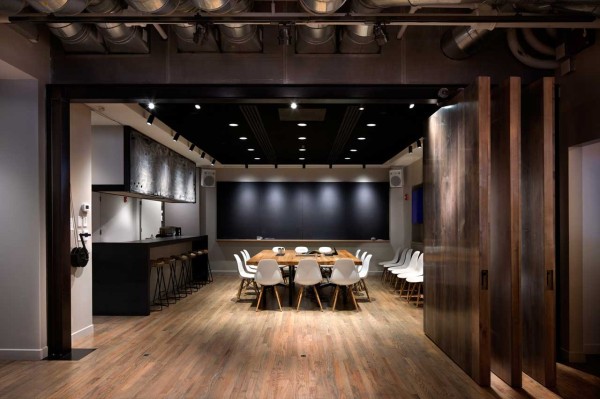 The conference room has enormous doors that swivel around 360 degrees to open and close the space off as needed.
Chalkboards in the conference room are there for brainstorming ideas. They also hide the kitchen.
The chalkboards can be raised via a pulley to make way for a bar between the kitchen and conference room.
Larger tables are set up for breakout sessions.
The crit room allows the teams to display their work for the office to view.
The open concept office is divided into rows with yellow cork boards used to help with sound proofing and pinning up ideas.
The library houses samples for the designers and clients to view in natural light.
Photos by John Bartelstone.