While it's not the most glamorous item in a household, a functional and thoughtfully designed dish rack makes all the difference in the less-than-fun cleaning ritual after a big dinner, which is why I'm so drawn to the ILO Clam Shell Dish Drainer.
Designed by Scott Jarvie exclusively for Lakeland, this dish rack has a versatile design to accommodate your unique space.
Instead of being forced to stack your dishes in a certain direction, the little internal spikes inside the rack allow you to position your items in any direction, which especially helps if you have odd-shaped tools (like a citrus squeezer) or are a pro at playing Tetris with your many dishes.
For cutlery, you can store the cutlery container inside the rack or outside the rack when you need more space. Either way, both positions will drain water into the drainage channel of the track.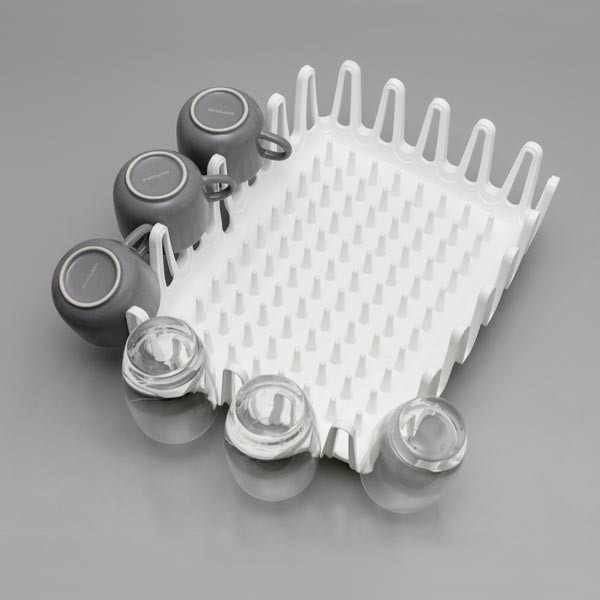 Like most dish racks, prongs along the perimeter allow you to hang cups, mugs and glasses.
Unlike most dish racks though, the ILO Clam Shell Dish Drainer can be configured to drain or retain water by changing the position of the two sets of differently-sized, detachable silicone feet. This is helpful if you use multiples of the dish rack (say for a big party) and can't drain the water all at once. If you're water conscious, this could also be a life hack for watering your countertop plants.
Visit Lakeland to purchase the ILO Clam Shell Dish Drainer in White/Green or Grey/Grey.
For more modern disk racks, check out our roundup post.