Imagine artists Charley Harper and Jackson Pollock being thrown together into an old school pinball arcade with an iPad Pro. What might come out of this imagined unlikely pairing might look very much like INKS, a new indie iOS game title designed and co-developed by Luke Whittaker, the BAFTA-winning game developer who has won accolades galore for his work for State of Play's Lumino City.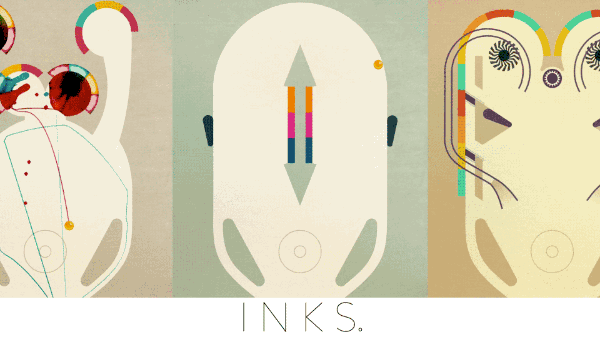 INKS is a gorgeous art app presented under the guise of a pinball game, an addictive puzzler where the ball's trajectory and impacts paint the canvas with the vigor of a Pollock painting, unfolding against the Modernist backdrop of a Harper illustration. With a few hours of INKS gameplay under my belt, I was able to coordinate with UK-based Whittaker to discuss the ideas and process behind this uniquely artistic game.
Besides being a puzzle solving game, INKS seems like quite a departure from Lumino City, an elaborate papercraft puzzle adventure that unfolds against the backdrop of miniature handmade paper, wood, electric and motorized models.
INKS was actually inspired by a pinball puzzle within Lumino City, and we went back to its roots to really work out why we enjoyed the game. We built a real pinball table for a scene in an old diner in Lumino City, and we had such great fun making that that we began to get interested in pinball. We'd play in our local bars The Four Quarters and The Pipeline, and even went so far as going to the national pinball championships to watch it being played.
We realised that despite the fact that pinball looks complicated and intimidating to a lot of people, it really is incredibly simple. It's just a ball and two flippers. But real pinball tables are just insane. They're effectively like starting a video game on it's hardcore difficulty level. It's not their fault, they're physical things and can't change between levels. But making a mobile game we knew we could strip away the complexity and with multiple tables slowly introduce all the enjoyable mechanics, making this a game for everyone.
As we pared down the mechanics, it also seemed  perfect to pare down the aesthetic, and this would also help it appeal to a wide audience.  I love simplicity in design, the less unimportant noise the better for me, and it was great to take the designs back to just what you needed to understand and play the game. I wanted each table to look like something you'd want to print and put on your wall.
INKS is a gorgeous art app presented under the guise of a pinball game, an addictive puzzler where the ball's trajectory and impacts paint the canvas with the vigor of a Pollock painting, unfolding against the Modernist backdrop of a Harper illustration.
And the ink splats?
The ink splat idea came from our love of making physical things – in fact our concept art involved splatting india ink on paper – and it seemed like the perfect reward for playing. You're transforming this pared down graphic look with beautiful bursts of colour.
I read that your grandfather was an architect and your father is a jewelry designer, so it would seem an exacting attention to detail is a family trait and is now very evident in your work as a game designers.
When I was growing up my grandad and my dad were only too happy to build stuff with me in their workshops. My grandad would build me cowboy forts, and I'd make bows and arrows with my dad, it was all part of play for me. My other grandad was a painter, and my mum's a fine artist, so I guess I had a broad range of talents around me and lots of inspiration to draw on. And nobody ever told me I couldn't do anything, if I seemed interested enough they'd be kind enough to help me with the materials. I can't quite believe it looking back now but my dad even let me paint over a huge 5 foot wide canvas he'd painted as a student. He also designed board games for a while, and some educational video games for the Spectrum. I suppose there's always been this nice combination of traditional artistic techniques, gaming ideas and digital technology in the lineage, which have all come together in my work.
Was Modernist artist Charley Harper a source of inspiration for the game's level designs? Some of the levels and color palettes seem to evoke Harper's bird and animal illustrations, abstractions recognizable as creatures with character. The game levels in INKS exhibit a similar quality…
I love Charley Harper. It's true, he was an inspiration for INKS, along with artists like Matisse, Miro and Bridget Riley.
Steffan, our level designer, did some amazing work with levels which are both beautiful and play elegantly as games, and some of my favourites are those where they look like something with a character. Perhaps it's something to do with the curves of a good level matching curves we see in nature, or to do with our natural tendency to see faces in everything. Either way, I think the word Modernist is quite appropriate with INKS. So many games just have tons of stuff thrown at the screen. Modernism is about paring things down to just the essentials, and to make a feature of those essentials, and that's what we were trying to do here.
There's a surprisingly visceral satisfaction while playing this game related to the explosive animation of the water color ink splats, an effect which spurred me on to play "one more level"…and then another. Was there a lot of real world experimentation to capture this sensation?
There was. Our first tests were using indian ink on paper, watching what happened around the edges as it dried. Dan our developer did a lot of research into what's actually happening on the paper, with various parts drying at different times, and that's what he ended up modelling in the game. We created virtual paper for this, with a wetness layer which would dry over time and affect how the ink behaved on the surface. It was the game for us where art and code pretty much became the same thing.
Noting INKS was developed with the Apple iPad Pro, had you ever used an iPad – Pro or previous versions – for app/game development prior to INKS?
This was the first opportunity we had to use the iPad Pro during development, and it was released at the perfect time to create concept art for INKS.
What did the the iPad Pro offer you didn't have at your fingertips before using ink and paper or a computer?
With apps like ProCreate and ArtRage on the iPad there are some great watercolour tools, and I began mixing colours together on these to work out how I wanted the inks to look. I could also drag paint around easily, working out how it should look when the ball spreads ink around the table. We also used it to help us design the levels, importing a template to ProCreate and then sketching table designs over the top.
The Apple Pencil is the closest I've got to real sketching, the tool has finally caught up with where I wanted it to be, ever since palmtop computers came out. It's going to free up the design process and allow me to get concepts done really quickly, and I'm hoping it might become part of the process of creating assets for our games.
The iPad Pro also freed me from the desk. I doubt many designers want to be tied to their desks all the time, it's not great for inspiration and it won't make you happy. Even a laptop doesn't free you much if you want to sketch. With this setup I was able to work on concept art in a cafe or outside in the sunshine, basically wherever inspiration struck, and I think that's helped make INKS the game it is.
Returning back to the game, are you skilled enough to actually control the trajectory of the pinball to illustrate something recognizable?
Steffan is. But he's for too good for his own good. If anyone does come up with anything we'd love to see it! You can photograph and share your table really easily in the game. But we're fine watching people create happy accidents. Jackson Pollock didn't know exactly how his canvases would turn out, and neither should the player.
A special thanks to State of Play's creative director, Luke Whittaker. INKS is available now at the App Store for $1.99.