Sprawling square footage is always nice, but when you take it on up with a mezzanine, you've added a whole new dimension. We've rounded up a dozen contemporary spaces complete with interior balconies to befit any contemporary Juliet.
Above: InSpace Locations
The open second story inside this mid-century modern home renovated by Bassam Fellows takes full advantage of the verdant view with enormous plate glass windows. That the firm chose such stark furnishings only enhances the effect.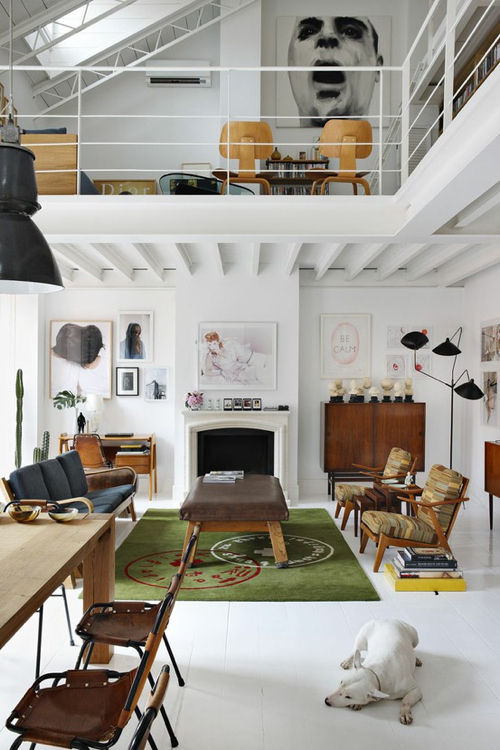 This hip abode in Madrid is home to fashion designer David Delfin and architect-turned-photographer Gorka Postigo. Vintage furnishings and amazing artwork dot the all-white space, which was photographed by Manolo Yllera. The mezzanine level is all open, housing the master bedroom and bathroom.
This contemporary  home, designed by Helena Alfirevic Arbutina is located in Croatia. A curving, floating staircase ascends to an almost catwalk-like mezzanine of dark shiny wood that contrasts with the all white interior. The invisible rail allows for an uninterrupted view to the lawn out back.
We weren't able to locate the designer behind this immaculately renovated Italian villa, but we're ready to move in. The clean lines of the stainless kitchen appliances and cabinetry offset the rustic whitewashed stone wall and farm table to perfection.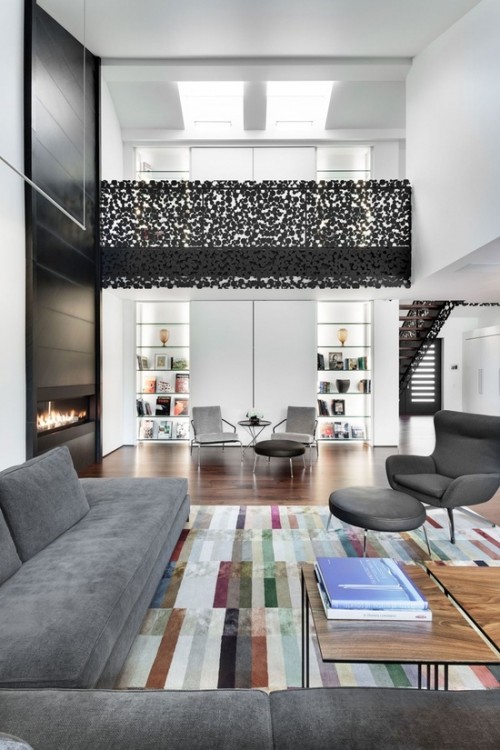 Gestion René Desjardins designed this residence, dubbed the Maison du Boisé, in rural Quebec, Canada. The objective, to be modern but not minimal, was most definitely achieved. The lacy iron mezzanine rail is a whimsical touch.
Japanese artist, and main designer of the space, Takane Ezoe partnered with Modourbano to complete this live/work loft,  called T House, in the center of Milan. The white and wood space is broken up for its different uses including a gallery on the mezzanine.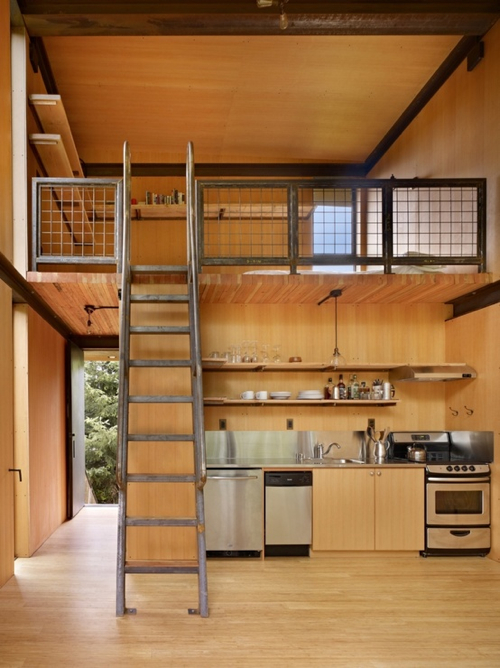 You wouldn't know by looking at this photo, but this is a tiny (350-square-foot) cabin built on stilts on the Olympic Peninsula in Washington state. Designed by Olson Kundig Architects, the structure, constructed primarily of unfinished steel and structural insulated panels, was conceived to require minimum maintenance—it can be shuttered without worry when the owner leaves.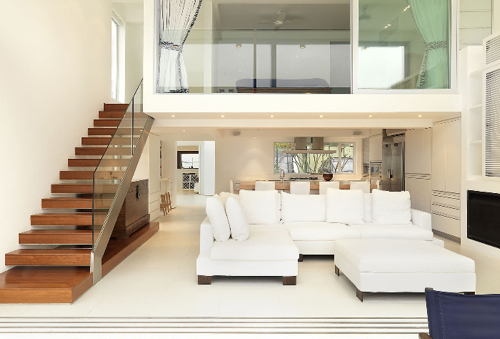 The glassed-in mezzanine above the living room is intriguing. Created by Original Vision; photograph by Marc Gerritsen.
San Antonio-based Poteet Architects and Austin-based FAB Architecture designed the Capps Loft project, located in the King William District of San Antonio. Originally, an industrial warehouse complex, the interior was painted a minimalist white to showcase the owner's collection of contemporary artwork. The floating staircase leads to a mezzanine office suspended above the first floor entertaining area complete with baby grand piano and Mies Van Der Rohe daybed in mint green.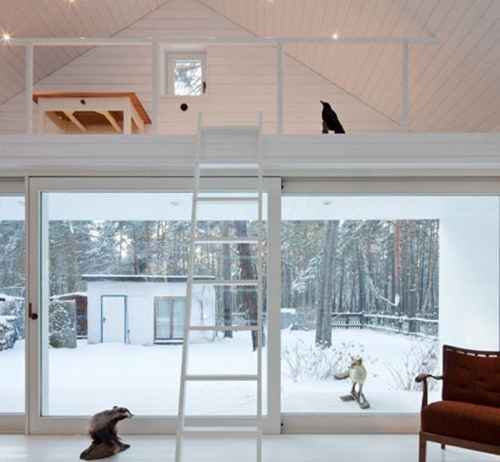 This wooden cabin, designed by German firm Atelier St, is a weekend home in the pinewoods of the Brandenburg pine forest. The oversized window lets abundant light into the white space, which has a fun mezzanine under the pitched roof, accessed by a simple ladder.
This San Francisco loft by local studio Charles de Lisle Workshop has a casual vibe, with the funky red sofas, circle rug, tall lit dining table, and raw wood staircase that leads up to the mezzanine.
For more mezzanines, click over to StyleCarrot's Montage: 34 Lofts & Houses with Mezzanines.