Above: The iconic shape and playful red color is carried from the Eastern exterior red gable through to the interior kitchen wall in the Passive House Retreat in Little Compton, RI, designed by Boston-based ZeroEngergy Design.
Tina Seidenfaden Busck & Pernille Hornhaver are the brains behind the concept showroom The Apartment in Denmark. The space is furnished like a home, but everything's for sale. Here, yellow tinged cabinet fronts contrast with a basic brick red backsplash.
In this photo snapped by kitchen designer Susan Serra at  IMM Cologne Living-Kitchen fair in Germany, dark blue and white mingle nicely, with a crisp and clean, but dramatic effect. Not sure the knitted teapot will be much use, though.
An aubergine kitchen might take some getting used to. This one from the pages of British mag House to Home mixes it with plenty of stainless steel and glass, plus a pale, watery blue backsplash.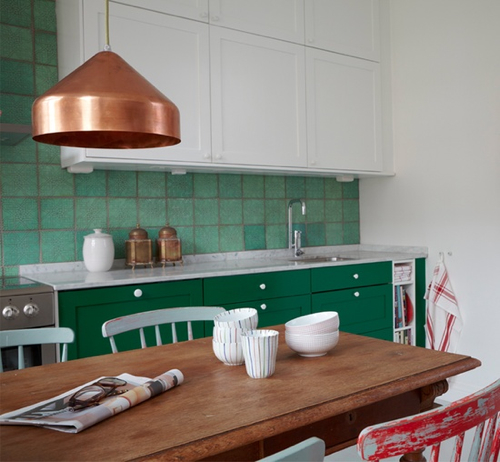 This green kitchen, photographed by Pernilla Hed for Swedish shelter mag, Sköna Hem , has an earthier feel thanks to tiles hand-crafted in Italy, a copper pendant, rustic wooden table, and a collection of vintage chairs.
Zeta Studio Architects designed this space: the Capri Suite Hotel in Anacapri, Italy. The yellow countertop is simple, but statement-making.
Amanda Yates' seaside New Zealand house, in all its concrete glory, was featured in Dwell magazine. The Kelly green surround for the oven is an interesting, and aesthetically effective, touch.
Dutch Architects Doepel Strijkers created this Rotterdam home from an old repurposed ambulance garage. The stadium-style kitchen is intense, and contrasts nicely with the lush parklike surroundings.
Paint company Dulux introduced 'Collective Passion', its second collection from a series of five for 2013 . The fluoro tones make for fun panels on a kitchen island.
This shiny kitchen, spotted on Mi Casa Revista combines doors in bright orange laminate, with steel appliances, and a speckled gray Silestone backsplash and countertop.
Interior designer Estrella Salietti transformed a garage in Sant Gervasi, a suburb in Barcelona,  into a light and color-filled home.
Architects Burr and McCallum created this red kitchen island from six off-the-shelf toolboxes fitted into a custom steel frame. Photo by Peter Vanderwarker.
Not yet convinced on color in the kitchen? Check out StyleCarrot's Montage: 40 Kitchens in Every Color of the Rainbow.