Popcorn has apparently been a snack food staple for thousands of years. But while the ancient Peruvians didn't quite enjoy the salt and butter-lathered snack we enjoy today, the process of heating kernels till they burst fluffy – whether using hot oil or heated air – has remained relatively the same. Using a pot, foil-covered pan, specialty popper, microwave bag, or an air popper… it all works the same way: add heat till the minute amount of water inside each kernel expands into an explosive miniature Big Bang.
Design Academy Eindhoven graduate Jolene Carlier hasn't innovated anything here with her Orville Redenbacher meets Alessi Popcorn Monsoon, but she has succeeded in making the process of air popping (the healthiest method, mind you) a little more colorful, playful, and dramatic. The tube-to-tub air popper takes inspirations from the factory fantasy-scape of Willy Wonka. Kernels are added via small cork-topped funnel, where they're heated up in cyclonic action, to eventually spill forth in a joyous waterfall of crunchy goodness once popped. Considering the staid designs currently available as shown below, let's hope Carlier's design adds a little whimsy into the appliance category.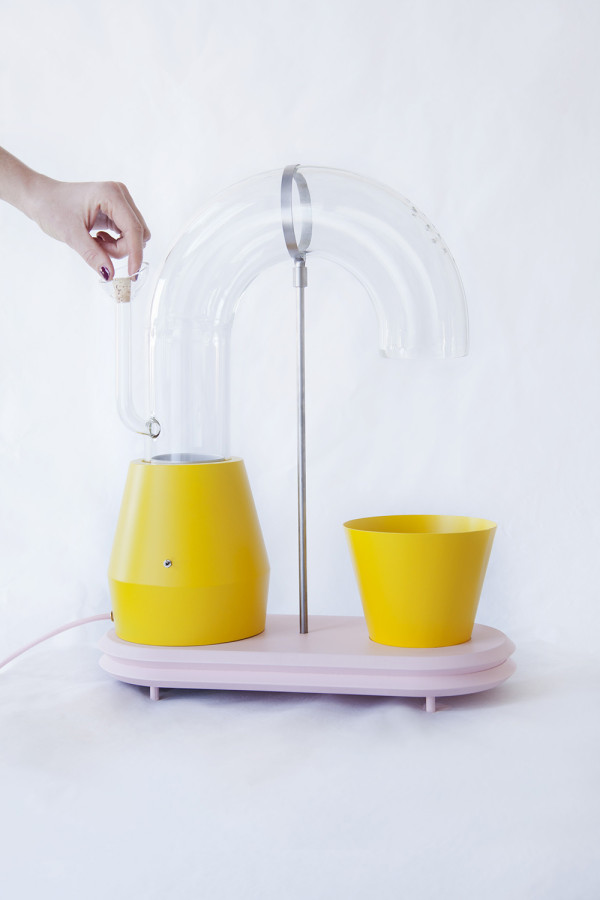 The drawings with which this project started were made to create a world of pure imagination that still makes sense in this one. Starting with shape and colour makes a design process playful, later on a surprising yet suitable function can be found.