Ad agencies are well-known for being a hot bed of creativity and the new offices of JWT Amsterdam perfectly reflect that. Housed inside a former department store building in one of Amsterdam's hottest neighborhoods, the new space is now open for some seriously surprising business, thanks to design director Alrik Koudenburg and designer/artist, RJW Elsinga.
As the entrance window states, the agency aims to be "Seriously Surprising" in their work and in their office environment.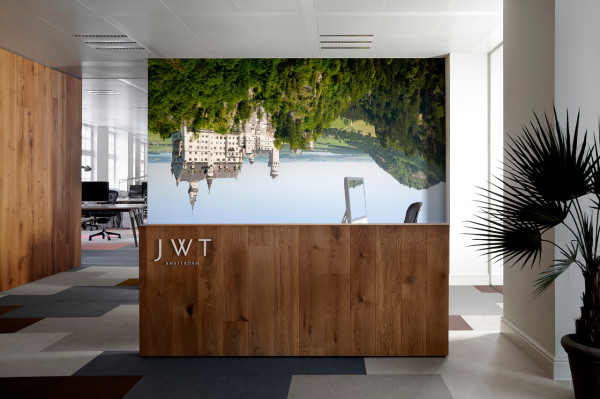 From the moment you enter the door and see the wall mural upside-down, you know it's not going to be your typical stuffy office behind those walls.
The 'Think' space is meant to be an "inspirational garden" where ideas are invented and planned out. It includes a library, as well.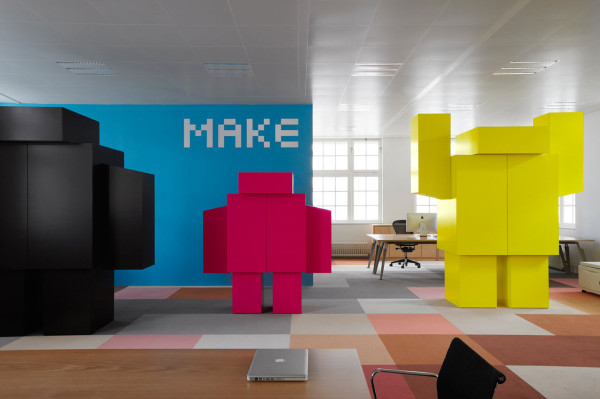 'Make' houses some CMYK colored, giant digital looking robots that double as cabinets for storage. The space is there to bring ideas to life and make you feel like you're in a "creative toolbox".
No matter where you eye takes you, it lands on something fun and visually stimulating so I'm sure there's no shortage of ideas amongst the employees.
The illustrations throughout were done by Kamp Horst, Sieger Duinkerken, Anders Rokkum, Leyp, and Jeroen de Boorder (graphic design).
Photos by Kasia Gatkowska.