Nervous System has been blazing trails in the 3D printing arena for years and they've just released Kinematics, a new jewelry collection with an accompanying customization app that continues to raise the bar. Kinematics is a system that allows you to turn any three-dimensional shape into a flexible structure by way of 3D printing. As always, you can select from their beautiful collection already available or dive in and create your own! If you're lucky enough to have access to a desktop 3D printer, you can are free to use their app to design your own to print yourself.
From Nervous System:
Kinematics allows us to take large objects and compress them down for 3D printing through simulation. It also enables the production of intricately patterned wearables that conform flexibly to the body.
Kinematics creates designs that are made up of 10's all the way to 1000's of unique elements that connect to form movable structures. Even though each component is rigid, their connection allows them to drape like fabric.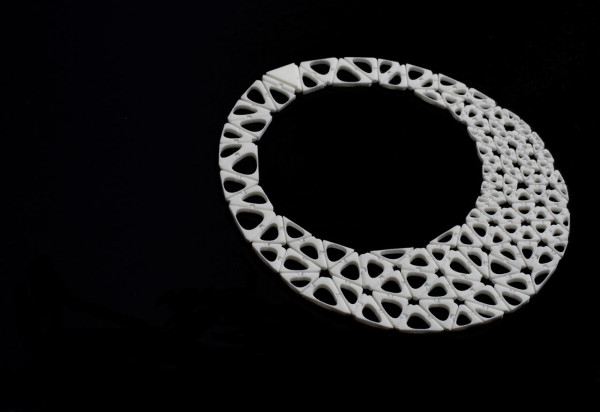 You can even design and print a dress!
Depending on the design and size of each component, the dress will drape differently.
The app allows you to get creative and have a one-of-a-kind piece printed just for you.
If you have a printer or access to one, you can design your own, download the template, and print it out yourself.
Photos by Jessica Weiser.