When Knoll announced that it was opening its first ever Home Design Shop in Los Angeles, we knew we had to fill up the tank and make the drive out to see the store ASAP. Designed by Johnston Marklee, Knoll design director Benjamin Pardo, and interior designer Barbara Reimelt of The Ninety Nine Group, the showroom is that quintessentially Knoll mix of traditional and contemporary design that the brand has championed for decades.
The design of the Shop was inspired by the 16th-century York Castle in Tangier, Morocco that was in crumbles until former Knoll president Yves Vidal bought it in 1961 and restored it to its original Moroccan glory. To Vidal, the medieval fortress was the perfect backdrop for his furniture, an indisputable example of how contemporary and traditional design can live happily and beautifully together beneath the same castle roof. Under the direction of Florence Knoll, design force of nature and wife of founder Hans Knoll, the showrooms were arranged as tableaus of habitable environments, a concept wildly forward-thinking for showrooms back then but has since become the norm.
Before stepping into the showroom, you can already start to see the Moroccan influences on the building, a terrazzo and marble-clad corner shop with oversized brass-framed windows with rounded arches inside, each framing a specific furniture tableau. Herringbone flooring is complemented by systematically-draped felt panels from FilzFelt in the ceiling. All around the store, a collection of classic Knoll designs from Florence Knoll, Eero Saarinen, Ludwig Mies van der Rohe, Marcel Breuer and Harry Bertoia fill up every corner of the showroom, in addition to new designs available in the US for the first time ever by Piero Lissoni and Tobia Scarpa. In short, it's a design wonderland that calls out to all design lovers.
We got the chance to catch up with Knoll design director Benjamin Pardo and Anton Schneider from Johnston Marklee to learn more about the store(y) and goal behind the store…
Why did you pick this city?
BP: The location at the intersection of Robertson Boulevard and Rosewood Avenue is ideal for connecting the Los Angeles residential design community and consumer design enthusiasts with our modern legacy as well as new contemporary furniture, textiles and accessories from the world's leading architects and designers.
The corner location offered Mark Lee the opportunity to design an oversized storefront window inspired by Yves Vidal's York Castle in Tangier. Lee incorporated the same Moorish arches from York Castle to frame varying contemporary vignettes. The result is a bold juxtaposition of contemporary designs with traditional architecture.
How did you go about designing the store?
AS: Besides studying the history of Knoll from the perspective of their product and architecture, the images of Yves Vidal's castle in Tangier were a rich source of inspiration. We loved how many classic pieces of Knoll furniture work so beautifully and unexpectedly within the domestic context of this Moroccan castle. In addition to Vidal's York Castle, the historic legacy of spaces for Knoll played an important role in treating the project as a chance to add to that history. The store is organized around a rich material palette reminiscent of Northern Italian architecture of the 1950's and 60's.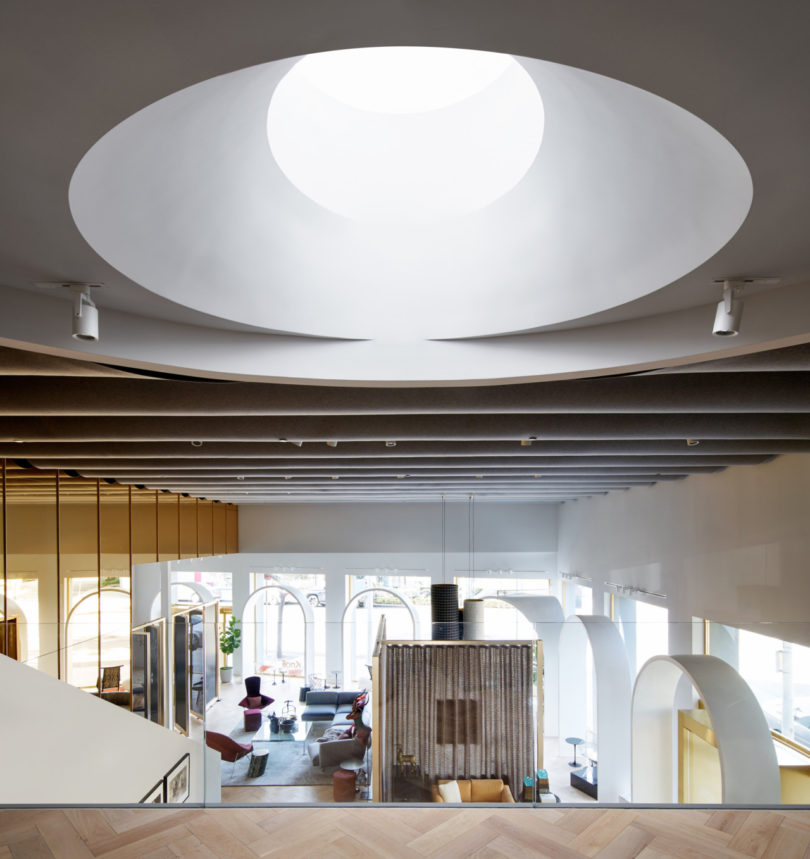 What do you hope to achieve with this design?
AS: We tried to create an environment that emulates a domestic quality to provide a backdrop that is more intimate and relatable than the showroom for the pieces. While providing flexibility for different setting and groupings of furniture, it is important that the space has character. It is not a neutral backdrop but an active one that interacts and establishes a dialog with the pieces.
We always associate Knoll with the Modern, which entails being innovative while designing for the present. Through the juxtaposition of materials and forms – from felt to brass, from vaults to ovals, we are trying to evoke the atmosphere that exists somewhere between the past and the future.
Has it changed much since it opened? How?
BP: Since the opening, we have showcased a range of new and classic designs in the window displays; the façade, clad in hand polished grey terrazzo with white marble aggregate, draws people in.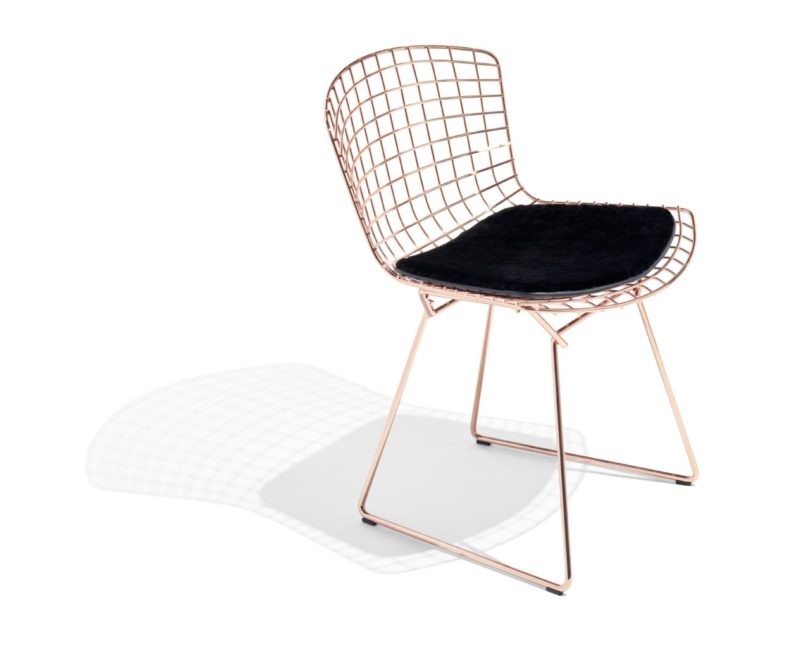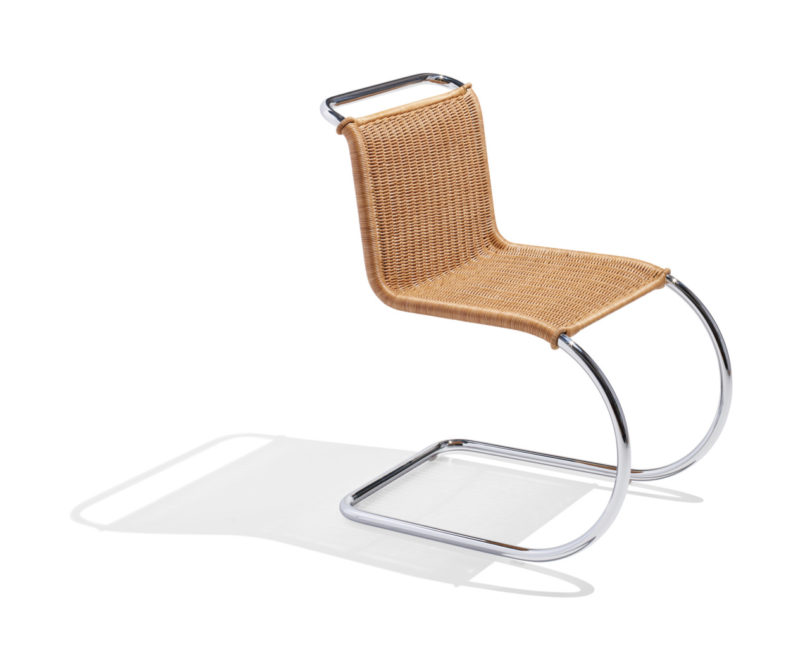 What's your favorite item in the store right now?
BP: I'm looking forward to having my own Bertoia side chair in Rose Gold with a cashmere shearling seat pad. It's an unexpected statement of a tried and true classic.
AS: The Bertoia Side Chair in Rose Gold and MR Chair in Rattan.
What is this season's theme/inspiration/story?
BP: The Shop captures the modern spirit of Knoll, focusing on creative lifestyle inspiration with a range of new materials and finishes, including rosso rubino marble, rose gold metallic, cavallini hair hide leather and curly shearling.
Are you carrying any new products and/or undiscovered gems you're particularly excited about?
BP: We are particularly excited about products from our collection in Europe such as the new Avio sofa and Grasshopper table by Piero Lissoni in addition to the archival Bastiano Lounge Collection by Tobia Scarpa. These products are now being offered in the U.S. for the first time, further expanding the Knoll portfolio and range of exuberant materials.
What's been a consistent best seller?
BP: Warren Platner's chairs and tables in gold metallic have captured the imagination of Los Angeles.
Any special events/exhibits/pop ups/collaborations coming up?
BP: We expect to provide complementary programing in concert with WestWeek and the LA Design Festival.
Do you have anything from the store in your own home?
BP: I am partial to Florence Knoll pieces, and I recently acquired David Adjaye's outdoor chairs.
What's next for the store and the brand?
BP: We are looking forward to introducing a new chair design by Marc Newson in the spring.
What's one lesson you've learned since opening this store?
BP: I think it's important to step back and realize that just because a design or a grouping of objects is cast as Modern or belonging to a style, those designs are not eternally bound to that particular sensibility. And, based on the reaction thus far, we sense our intention to re-image modern is appealing.
To visit the new Knoll Home Design Shop, stop by 314 N Robertson Blvd, West Hollywood, CA 90048.
Photos by Knoll and Eric Staudenmaier.