Kristine Five Melvær recently exhibited tableware at Food Work, an exhibition initiated by Torbjørn Anderssen and Espen Voll that features 21 designs by eight Norwegian designers, shown during Designtide Tokyo 2012. These  objects are part of her Still Life project, in which she reinterprets traditional still life motives.
The first piece, a set of two bowls she calls Soft Bowls, are designed to tell the story of a changing shape. Made of birch wood, one of the bowls looks like an inverted version of the other so that they present fruit (or whatever you choose to store inside them) differently.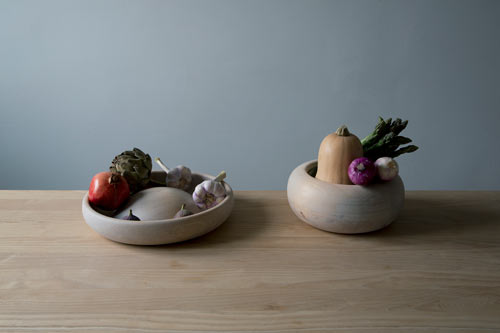 The Liquid Light is a birch wood plate holding a glass carafe and a brass socket for a candle. When the carafe is filled with liquid and the candle is lit, the glass orb works as a lens to amplify the light, turning it into a glowing lamp. It is inspired by the Cobbler's Lamp from the 17th Century.
Watch the video to see how they work here:
Photos: Erik Five Gunnerud.

Design From Around The Web