A husband and wife reached out to LANEY LA with the desire to preserve a mid-century residence in Los Angeles' Silver Lake neighborhood. The single family home sits hidden away in the famed hillside community and wasn't quite enough space for their growing family. Instead of expanding the home, they looked for ways to reconfigure the spaces to transform the unique home into a place that functioned better for them.
The new office space benefits from a picture window at the base of the stairs to help bring more daylight in.
Besides requiring a dedicated office, they also needed a guest bedroom. To make that happen in such a small space, they built a custom desk and shelf, along with a couch that slides out to become a guest bed. The full length bed slides through the wall and is concealed on the other side beneath a custom bed frame in another room. A barn door closes to give the room privacy.
They were able to install taller doors and windows giving better access to the hillside views, thanks to recessed headers.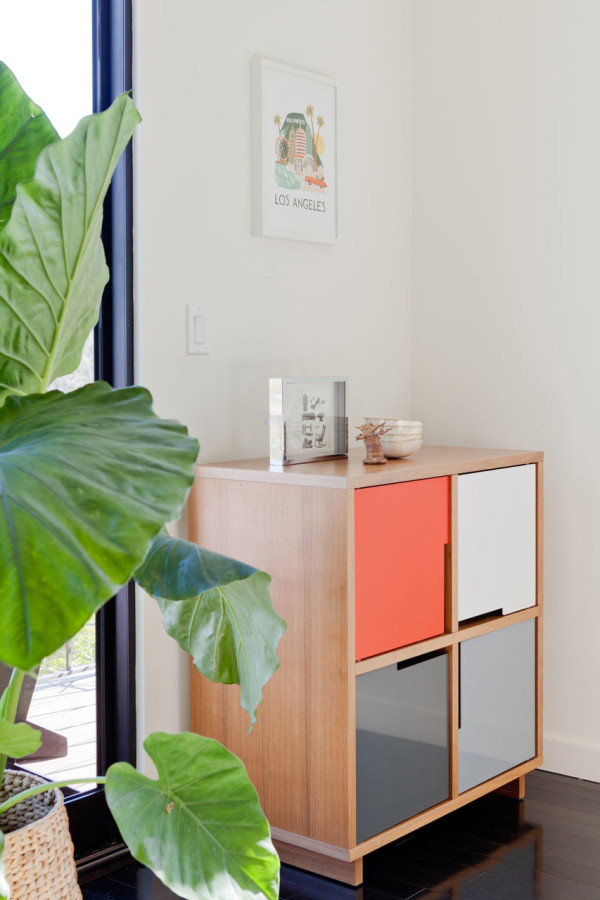 The boy's bedroom got a hideaway desk incorporated into the built-in storage cabinets.
A barely used linen closet was converted to a small powder room with a floating vanity and space-saving toilet.
Boutique carpenter, Board & Block, built this walnut plywood bed with integrated nightstands for the master, along with several other pieces.
Clerestory windows were installed in the new master bedroom, as well as new built-in storage.
The front door was moved three feet towards the street and an interior hallway was removed to build a new master suite.
Photos by Amy Bartlam.