When I agreed to be a judge in the L'arte della Cucina poster design competition from Barilla Sauce, I had no idea how many amazing entries and creative ideas there would be!
Artists and designers across the U.S. were challenged to create "fresh expressions" of Barilla Sauce that also celebrated Barilla's fresh ingredients and the art of Italian cuisine. From illustrative art to hand-drawn designs to photography, I was impressed not only with the designs themselves, but the creativity of the entire poster designs—from medium to message. The five finalists were chosen by a jury including myself and four other influential individuals in the design, art, marketing and food space. Then, the public voted for the winner—and here it is!
The grand prize winner, Nicole M., created a design called "The Wonderful World of Barilla." Her design really evokes the old world feel of Italy, Italian cuisine and fresh vegetables.
Below are the other finalists' designs!
"Made Fresh" – I absolutely love this photographic poster design! I think the creativity here is off the charts.
… Barilla, naturally. – This design really highlights the natural ingredients of the sauce in a very simple yet effective way. And I'm all for minimalism…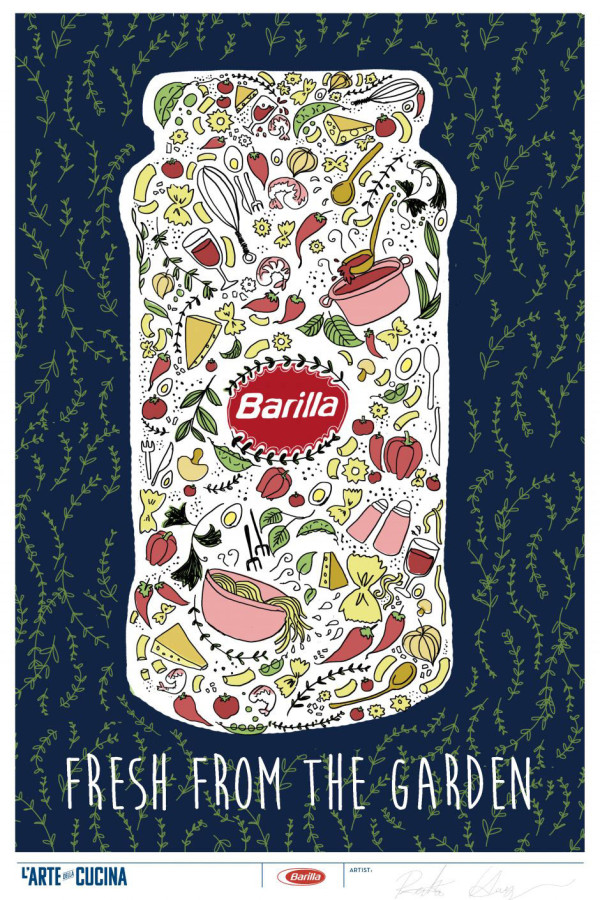 Fresh from the Garden – The hand-drawn pattern of this poster design is really well done. I enjoy the color scheme and especially love the little pasta designs and bowls.
Let's Get Saucy – Clearly the most graphic of the bunch, the design of this poster focuses on simplicity through flat design and vector art. Loving this concept, which nicely highlights the entire offering of Barilla Sauce.
For more inspiration, check out the other great designs from the L'arte della Cucina design competition as well as Barilla's poster archive.