Based in the Old Truman Brewery in Brick Lane, Shoreditch, Tent London is the unofficial HQ for East London's Design Festival. The antithesis of the V&A (the official LDF "hub"), this is often the place to spot emerging trends and new talent. Here are the best bits…
1. Penelope Jordan's three-dimensional textile art draws you in for a closer look.
2. Zoe Murhpy's Margate-inspired, upcycled, screen-printed mid-century furniture always puts a smile on my face. Her motto is "Love what belongs to you" and she takes commissions to transform any piece of furniture. We've featured her work here before.
3. Mini Moderns' 1950s linocut inspired Whitby wallpaper, tableware and tea towel.
4. nobody&co's new Bibliochaise with a softer, more rounded shape, hidden wheels and a choice of more than 100 leather cushion colors.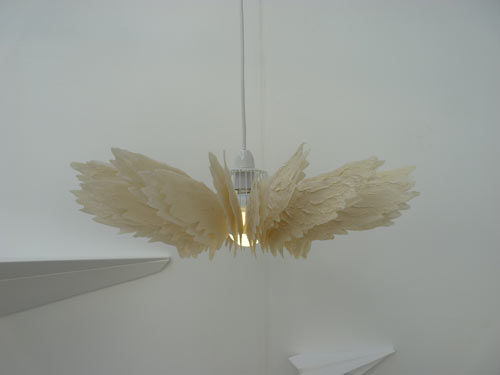 5. I was quite taken with this Icarus Lightshade from Latorre Cruz. While the white version was angelic, a black alternative was Gothic and reminded me of bat wings.
6. In with the Wave and Mirror Tapestry by Lee Borthwick tapped into the continuing trend for natural materials and shapes.
7. Jan Plechac graduated from the Academy of Arts, Architecture and Design Prague in Prague just last year, but has been exhibiting all over the world and winning awards for over five years now. His work is part of an emerging trend for three-dimensional shapes created from wires like this.
8. This is newly available for a commercial market from Sarah Angold Studio and is constructed from individual pieces of laser cut acrylic.
9. Responding to a challenge to create fashion from waste material, Kingston University MA Fashion student Stefanie Nieuwenhuyse uses offcuts from the architecture department's floor to mimic snakeskin.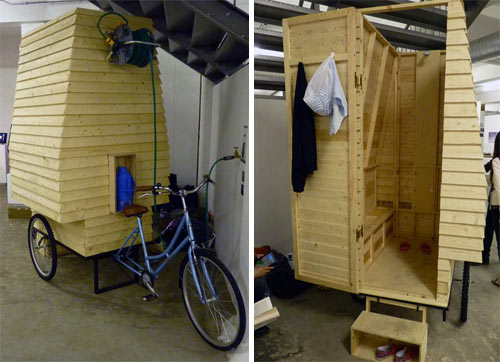 10. And last but not least, Chen Ying Gao's portable shower designed to provide migrant workers in Beijing somewhere private to get clean, but also five or ten minutes of peace and "self." Chen Ying has just completed MA Design: Product and Space at Kingston University.
Katie Treggiden is covering the London Design Festival for Design Milk. Katie writes confessions of a design geek, winner of mydeco's "Best Interior Design Blog in Great Britain" and has just released her first book Interviews, a collection of 18 interviews with designers.

Design From Around The Web