Designersblock was back at the Southbank Centre for the second year and this time with a much larger presence extending right across the venue.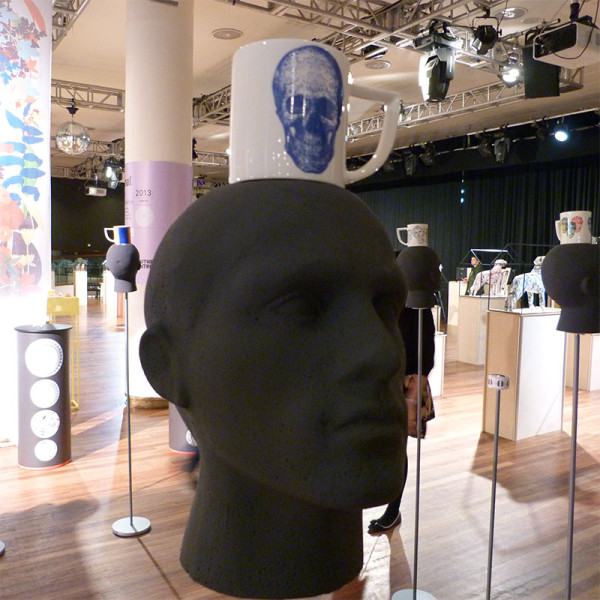 Designersblock favorite, The New English was in the Clore Ballroom, with a typically quirky display – this time mugs on heads and plates on mannequins – of course!
Young Welsh designer Miriam Jones has created a beautiful range of wooden products adorned with electric wire, adding color and texture in an innovative way. There seemed to be a trend at LDF for making things from unusual source materials and this is a really nice example.
This piece is named The Considerate Thief and his Brother and was made by Jessica Found It from 1934 Reilly Kestrel head lamps, reclaimed pressure gauges, plumbing fittings and found finials. Jessica says: "I don't need to start from scratch, I don't need to manufacture materials, I don't need plastic. I can create something interesting from old, undervalued objects. Upcycling allows for all the weird and wonderful objects to be seen as beautiful. It is seeing aesthetic potential and allowing the phoenix to rise up out of the rubbish."
I first spotted Xiaoqi Zhang's work at the Central Saint Martin's graduate show earlier this year. Collective Memory Ceramics are inspired by the shared memories of younger consumers in China.
Made of copper, brass, silver, and concrete, the lids of these gorgeous containers by Rosanne Bannister are decorated with the designs from manhole covers.
Israeli jewelry designer Noy Alon has created these incredible rings from gold plated brass and epoxy putty. I'm not sure how practical they are, but they are stunning!
Jane Crisp was showing The Trug, Fruit and Egg baskets and A Family of Milking Stools as part of a project called Three Years in the Making. I'd say it was worth the wait!
And finally I loved Camilla Barnard's live making studio, where she boldly declared her intentions with a sign saying: "I've got wood. What do you want me to do with it?" and true to her word had been making everything from juice cartons to pieces of A4 paper when I passed by. Designersblock is always a bit of an adventure and installations like this are the epitome of why we love it!
Our trip to the London Design Festival was supported by Airbnb.com.