Design festivals can sometimes (okay, often) feel overwhelming. There is sometimes a sense that designers are creating things to feed a seasonal machine that demands new for the sake of new – the sustainability angle often tacked on to give their products a PR angle, rather than embedded in their thinking. Afterall, how do you justify creating yet more "stuff"? The antidote to that dreadful feeling, was to be found at 19 Greek Street. Curated by Marc Peridis around the question, 'How can each of us change the world?,' the five floors of this Soho townhouse were filled with spaces that made you think, from an ethical pop-up café and a styled apartment to a lecture room and wellness room.
Before you'd even come in the door, you spotted the first piece. All the windows had been replaced with The Current Window by Marjan Van Aubel for Caventou – it is a stained glass window that captures solar power and converts it into enough electricity to charge an iPhone. The table in the foreground is part of Lionel Jadot's debut collection and is made of reclaimed wood and thin copper tubes.
On the first floor, a pop-up cafe was serving a "planet-friendly" menu of snacks, coffee, tea and other drinks and was furnished in a equally sustainable manner, including hardwood chairs by Swedish design Anders Hammarstrand, who said of his designs, "My design process starts with a small drawing; black lines – horizontal, vertical and oblique – are forming a sketch of a chair seen in profile. If one draws the profile of each chair – all 23 pieces one after the other – they look as if they were signs in a kind of secret alphabet."
The art throughout the exhibition was provided by Human Nature – established in October 2014 by Charlotte Webster to champion creatives who explore our changing connection to the natural world. She says, "Our unique collection of art reflects a growing desire to change the way we live and shift towards a low carbon, more prosperous value-centered world." The wooden sculpture above is by Lesley Hilling.
On the second floor a studio apartment had been created to set some of the exhibits in a domestic context. The bed frame and bedside table by Paratelier are made from Doka, a light and resistant prefabricated formwork, normally used in concrete pouring. The phone is by Fairphone – a social enterprise founded to develop a smartphone designed and produced with minimal harm to people and the planet. The Vegetable Light by Peter Marigold is a portable table lamp using a large heavy vegetable as a base. Even the mattress has been thought about – the Nevern mattress from Abaca is made from organic wool and mohair encased in an organic cotton cover – without any metal springs.
The shoes on the floor beside by the bed were not mere styling to make the place looked lived in. The Blue Wild Rubber Trainers by Lily Cole and Veja for Not Impossible are made from wild Amazonian rubber tapped by local communities and Veja's Brazilian organic cotton. Paying a premium for wild rubber encourages locals to protect the rainforest. The fabric features images that Lily shot on Super 8 film in the Amazon. The trainers are even shipped by boat to Paris for distribution.
Markus Friedrich Staab's upcycled chairs were shown at 19 Greek Street last year. His latest collection is inspired by Charles and Ray Eames' DCM Chair. "I guess the Eiermann model is an interpretation of the DCM chair, so I thought it was right to do a interpretation of the interpretation, plus it would fit perfectly in my re-done portfolio," says the designer. This time his work was paired with the Forbidden Lakes Plates by Noam Dover and Michal Cederbaum. The Israel-based designers visit places they are not allowed to visit – Muslim countries – on Google Earth. "It's a way of practicing 'freedom' in spite of the geopolitical reality," they explain. "It is a form of travelling to forbidden places allowed by digital technology." They then glaze the images they have gathered onto old discarded porcelain plates.
These Split Shelves are also by Peter Marigold – each box is held together by a single log split into four unequal pieces, so that although each box is unique, the combined angles always total 360 degrees, so each one is complete. The resulting arrangement of boxes feels chaotic and yet somehow ordered.
A lecture theater on the third floor hosted a series of workshops and talks around the themes of wellness and sustainability. It also included Natural Reality 2:1, a virtual reality experience directed by Dorothea Gibbs, which contrasted our addiction to social media with the value of experiencing the natural world. A really thought-provoking piece, especially right in the midst of the social media frenzy that is the London Design Festival.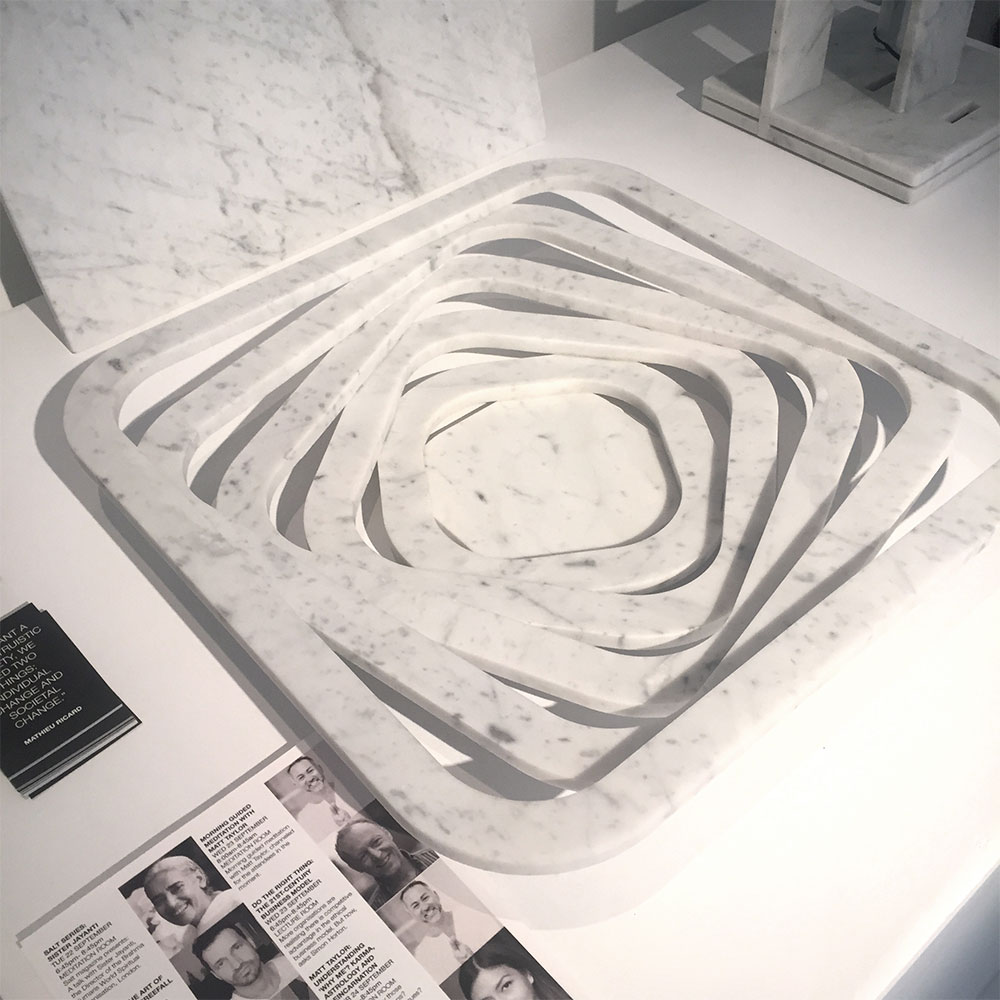 The space also included several key pieces of furniture design, including this bowl by Italian designers Moreno Ratti and Paolo Ulian. The whole collection is made from rejected marble tiles without producing any waste.
Finally, the top floor was a light-filled dedicated meditation and wellness room, where there were a series of yoga and meditation classes, in between which the space offered a moment for peace and reflection. The Art of Progress was one of the most thoughtful and thought-provoking exhibitions at the London Design Festival and a worthwhile reminder of the power of design – in the right hands. Above are Eco Meditation Cushions from Studio180degree.