100% Forward is a new section at London Design Festival's trade show 100% Design, curated by design journalist Barbara Chandler who asked seven established designers, each of whom launched their career at 100% Design, to nominate seven rising stars. "Since 100% Design started in 1995, our stellar UK designers have created a world-famous design industry, and continue to do so," says Barbara. "But all industries need new talent. Who better to spot it than the successful design entrepreneurs who launched their careers in the '90s at 100% Design?"
Surface print designer Ella Doran, known for her pioneering use of digital print technology, nominated Kyla McCallum's origami and pleat inspired homewares (above). "I first met Kyla at designjunction in 2013," says Ella. "I was struck by her display of folded and pleated papers, which seemed to echo in 3D form a similar source of inspiration to my own 'Geo' design. I have watched her develop and progress over the past few years, pushing the boundaries of her craft to great effect. Her hallmark is that wow factor." Kyla's London-based design studio, Foldability, creates set design, window displays, lighting and interior products inspired by origami and geometry.
As well as the Bauhaus-inspired installation she created for the show, Kyla was also showcasing various techniques and prototypes and her Fold Pendant for Norwegian producer Northern.
Furniture and product designer Simon Pengelly nominated Daniel Schofield saying, "Daniel's work has a clarity that is refreshingly subtle and pragmatic, which expresses function and materiality in a very appealing way. Ours is a difficult industry in which to establish and maintain a business and I admire Daniel's ability to seize an opportunity and his talent to deliver a commission."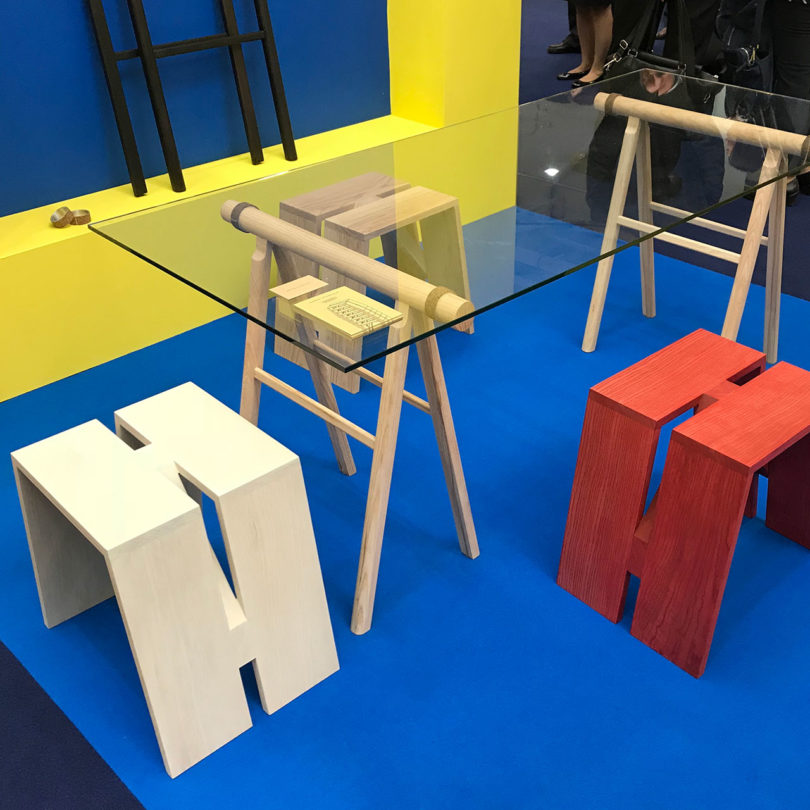 Daniel's new Rafter stools are made to be a simple and stackable design and inspired by his time working as a builder.
Daniel was also showing his Signet table – created for modern nomadic lifestyles where life and work merge into one and people might reconfigure their spaces regularly. A light and strong trestle collapses in seconds making the tables easy to store away and transport.
Soff Studios was nominated by wallpaper designer Jocelyn Warner, who says, "What I love about Soff Studios is the instant freshness of color and the looseness of the line."
"Carys Briggs and Andrew Mason create pattern and furniture with a shared rhythm, making to commission or for batch production. Their pieces have a considered approach and a striking modern simplicity that fuses craft and design."
Furniture, product and exhibition designer and activist Michael Marriott put forward Dom Postlethwaite and Will Drye saying, "Dom worked with me during the summer before his final year at Kingston, and he struck me then as a thoughtful, talented and determined designer. We stayed in touch and I went to see his final degree work on show where his promise as a designer showed through."
Dom met Will at Kingston and formed industrial design studio WD-DP, creating a set of wall hooks made from 19mm tubular steel, which is pinched into shape and flattened below the bend to allow the resulting hooks to sit flush to a wooden block that is attached to the wall. Alongside the hooks, titled Pinch, the pair showed their Crush stackable stool and bar stool, Crush shelving and Pinch candelabra all of which combine powder coated steel and Douglas fir.
Majeda Clarke was suggested by Chris Eckersley, who says, "For the last few years I have been involved with the Crafts Council's Hothouse Programme and so for 100% Forward my mind went back to all the applicants. Many were exceptional and would have been worthy of a nomination. But one person stood out for really great potential – textile weaver Majeda Clarke."
Majeda has also received the Clothworker's Foundation Award at Cockpit Arts in London's Holborn, from where she uses luxury yarns such as cashmere and silk to combine contemporary geometric-inspired designs with the ancient craft of weaving. She has created blankets for batch production in British Mills and fine muslins for weavers in Bangladesh. At 100% Forward she was showing her Albers double-cloth blanket, her Caernafon double-cloth blanket (above), a scarf and panel from her Suddenly collection and her Woven Air Scarves.
Moe Redish was nominated by furniture designer Samuel Chan. "Moe's work has a clarity that makes him stand out," says Samuel. "We met when I set a competition for The Cass (my alma mater), promising I'd put the winning design into production through Jointed + Jointed. The desk Moe came up with was clean and simple – boldly so – and showed clear design thinking."
Light Up North was proposed by Philip Watts, who says, "As both a maker and an interior designer, I'm impressed with Light Up North's quirky mix of graphic design and lighting. The work is bursting with narrative, something I look for in interior projects. I am also a sucker for someone who is genuinely making great work in the North [of England]. This is good commercial design that should do really well."
Emma Krause and Dave Freeney invented a new process, bringing it to market with Light Up North. They use formed electroluminescent neon wire to highlight details within works of art, and now – in collaboration with Divine Savages – wallpaper.