Lelièvre Brings the La Boite Concept LX Turntable to the Crossroads of Decor + Audio
Lelièvre Brings the La Boite Concept LX Turntable to the Crossroads of Decor + Audio
1/9 Photos
2/9 Photos
3/9 Photos
4/9 Photos
5/9 Photos
6/9 Photos
7/9 Photos
8/9 Photos
9/9 Photos
The original La Boite concept LX Turntable presented itself as a handsome all-in-one audio system, combining speaker, turntable, and amp onto a furniture-like stand that looked closer to a desk than hi-fi system. Spiritually, its integrated componentry shares the lineage of vintage stereos systems designed to become part of the home decor, rather than impose itself upon the rest of the home. To take this presence further, the hi-fi technologists La Boite concept have paired with textile house Lelièvre Paris for Maison&Objet, in creation of a special edition LX Turntable covered with two fabric options exuding a quintessentially French sense of style and drama.
Available in two fabric sheathed options, the first is the Hera, fabric in a graphic two-tone geometric pattern with rosewood intended to evoke a labyrinth (fans of the show Twin Peaks may be reminded of another mysterious destination).
The second is one sheathed in the Riga fabric, a sporty and chunky dark green corduroy. The dense and supple pile calls out to be touched; fortunately, the fabric itself is "extremely resistant" in texture to endure such temptations.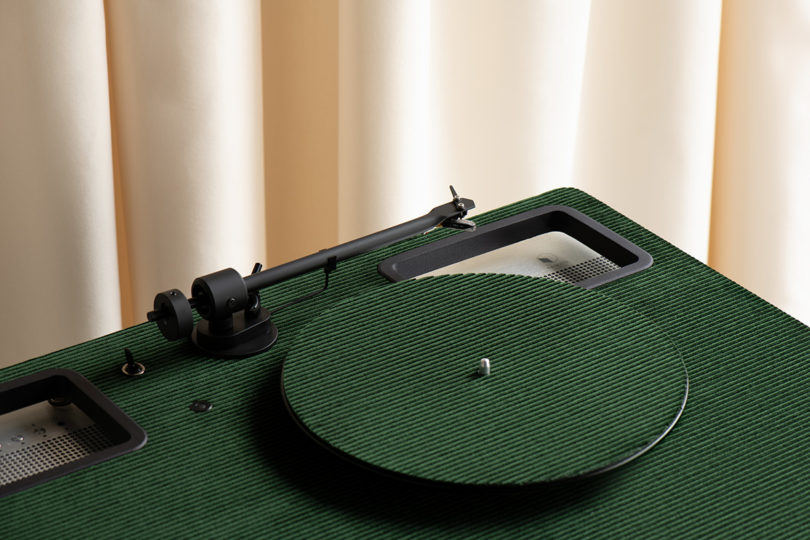 Onto the audio system itself: the LX Turntable Special Edition continues to present itself as an audio system designed for those obsessed with details beyond technological specs, a minimalist 4.1 audio system where nary a cable can be found. The desk style design comprises a floating plywood turntable sitting upon an all-black front base with black stained solid beech legs.
The entire system is engineered to be a self-contained solution, but can also pair with other traditional and digital sources, including laptops, tablets, CD players, and other wireless protocols via Bluetooth Apt-X, Sonos, Apple Airplay USB, and Google Chromecast. But at nearly $5,000, the Lelièvre Special Edition Concept LX Turntable is every bit a statement piece, intended just as much to be seen as heard.
Photos by ©Mario Simon Lafleur.