The last time we caught up with lighting brand Stickbulb, they were debuting their Ambassador installation. Using the same wood as the installation, Stickbulb has introduced a new series of LED chandeliers. Designed by RUX, the Boom series resembles exploding clusters of light and are created with cast-brass joints, linear wooden bulbs and reclaimed wood from demolished water towers, a wood type Stickbulb and RUX are calling Water Tower Redwood.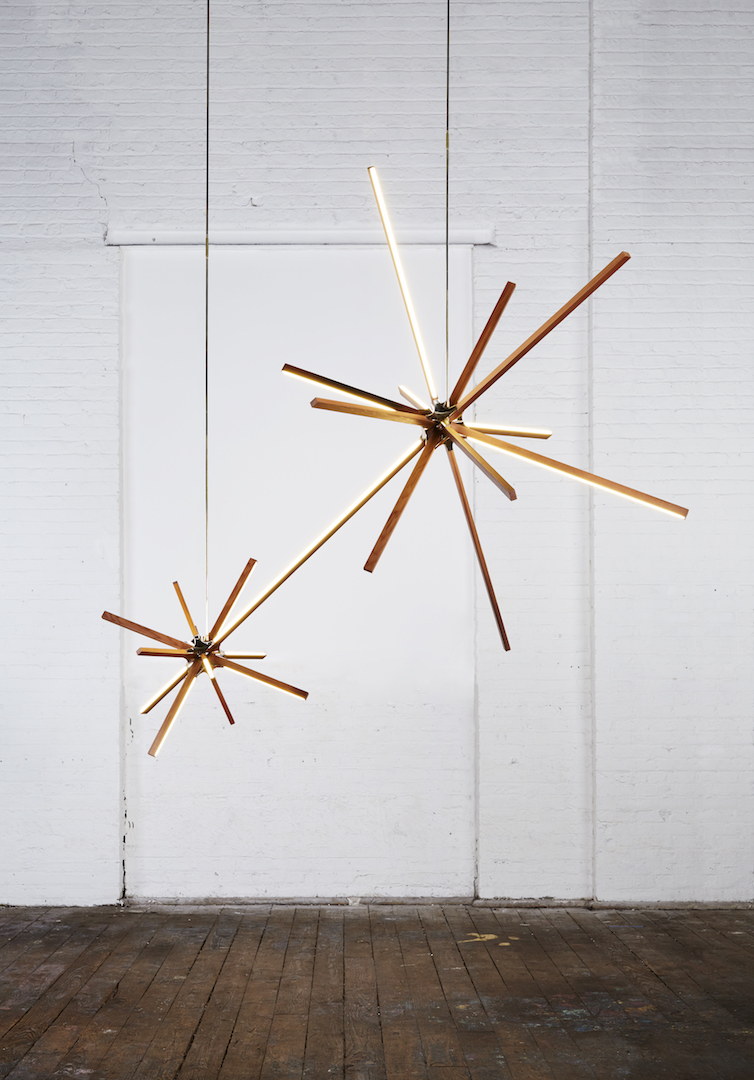 Commenting on the new series, Stickbulb Co-Founder and Rux Founder Russell Greenberg says:
Our fixtures are literally born from the destruction of architecture. We celebrate this energy and history in the form and function of our designs.
At the center of each fixture is a singularity of cast-brass joints. Cantilevered from the brass core are Stickbulb's distinctive linear bulbs in varying lengths and directions. With each bulb casting off an even line of light, the Boom fixtures give off a dynamic play of light and shadow within a space.
While Stickbulb is committed to creating innovative design, they are also committed to sustainability and reusability, and wanted to rework this majestic wood. Redwood is naturally a deep red in color with occasional black veins threaded throughout, making for a truly unique material. Reclaimed redwood, like the ones Stickbulb has sourced, have had years of exposure to sun, wind, rain and snow which gives the Boom series a special aged character. The wood is also extremely durable and long-lasting, some carbon dated to be over 300 years old.