What a time to be alive! Not having to rely on candles or having to be close to the nearest outlet has made life so much easier… and more bright. Now, we can just charge up a lamp, unplug it, and carry it around with us for times we need a little extra light, like camping, backyard BBQs, reading, finding something in storage, or late night studying. Convenience and versatility are where it's at and to help you out, we've rounded up 8 modern, portable LED lamps that will brighten up your life.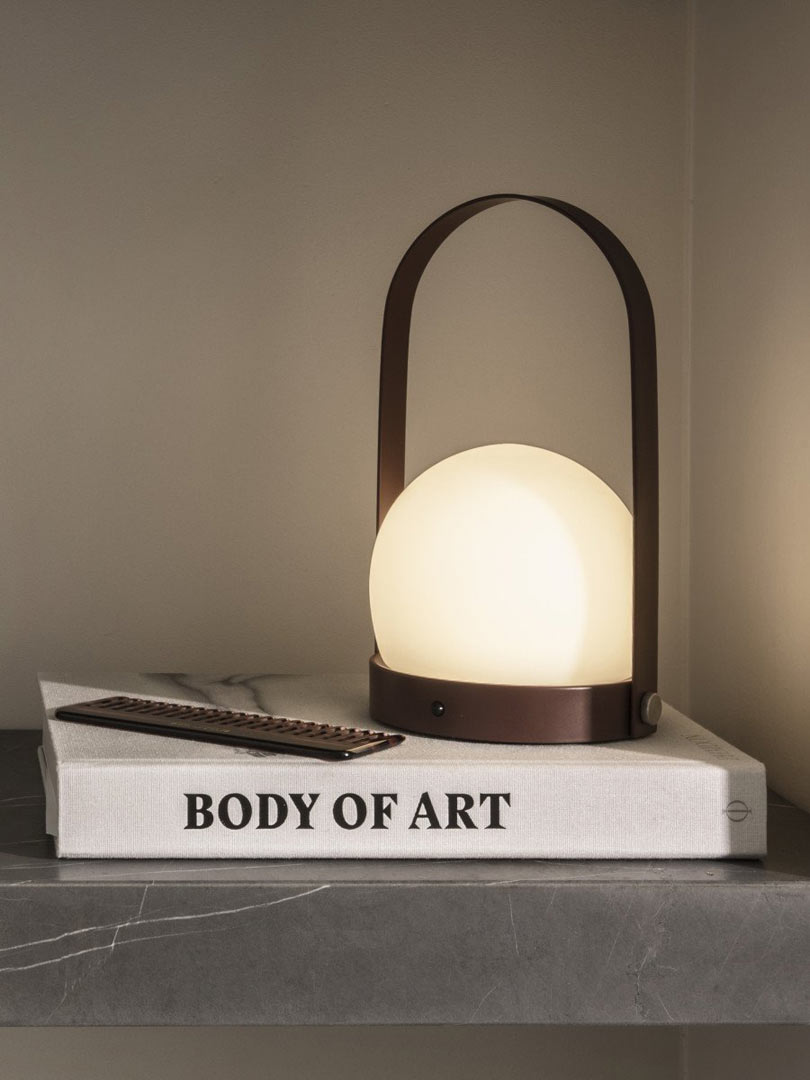 Carrie Portable LED Lamp by Norm Architects for MENU \\\ $180
Carrie offers minimalism and innovation in a sleek, totable package that works indoors or out. Its globe of light rests on a base with detachable strap that's available in Matte White, Matte Burned Red, Matte Olive, and Brushed Brass.
Bellhop Portable LED Table Lamp by Edward Barber and Jay Osgerby for FLOS \\\ $295
Bellhop gives nod to a candle, one that can be carried from room to room casting light wherever it goes. Holding a charge for a full 24 hours, the sleek, mushroom-like lamp is available in four colors – Burnt Orange, Dark Brown, Grey, and White.
UMA Mini Light and Speaker by Pablo Designs \\\ $299
The UMA Mini goes beyond light with its built-in 360-degree surround sound giving users a portable light and sound experience. It easily connects via Bluetooth so you can hear your tunes anywhere while it emits a warm glow in your surroundings.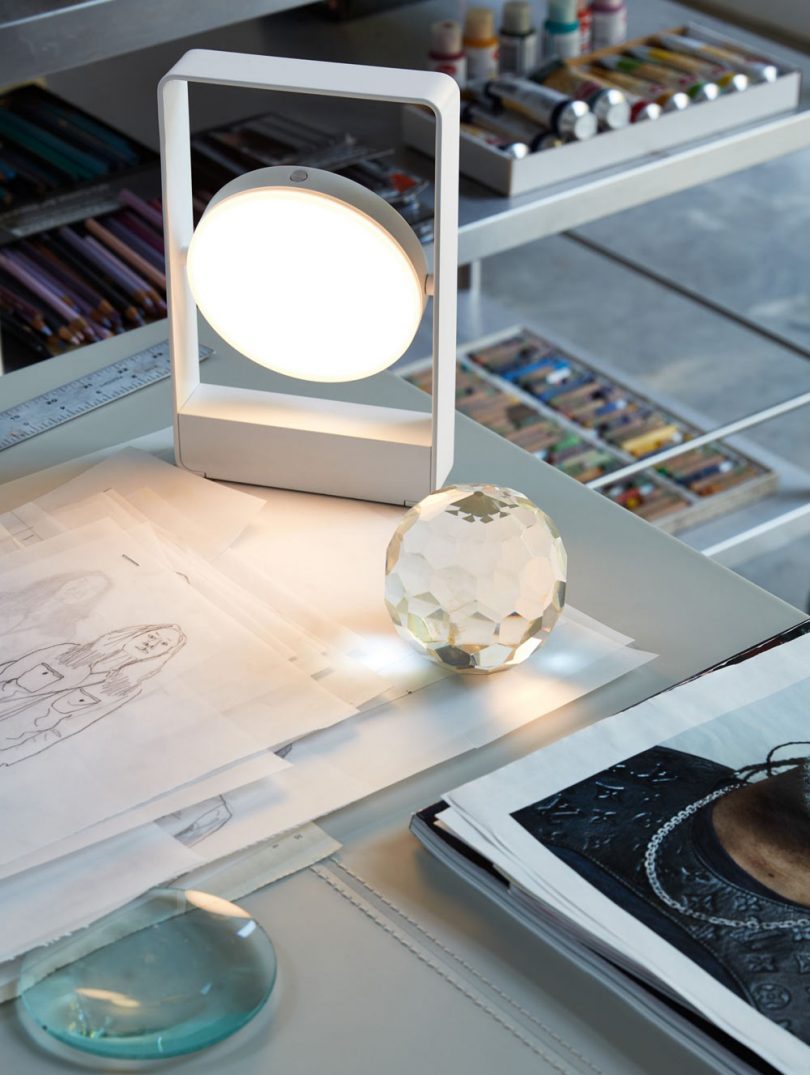 Mouro Portable LED Lamp by Patricia Perez for Case \\\ $195
Available in black or white, Mouro was born when the designer was inspired by the lighthouse in her hometown in Spain, which is also where its name comes from. The compact lamp features a steel frame that doubles as a carrying handle with a 360-degree rotating light that can be positioned at any point.
Bud LED Lamp by Melissa Yip for innermost \\\ $112
The Bud lamp is a playful and practical family addition in that it brings light to any space for up to 20 hours without needing to be plugged in. The lamp comes in six colors – Fluro, Ocean, Olive, Aubergine, Lemon, and Ash – and features a 3-step dimmer switch to adjust to any situation.
PC Portable Lamp by Pierre Charpin for HAY \\\ $95
The freestanding lamp is made from durable ABS plastic with a scratch- and water-resistant matte finish in Black, Olive, or White. Its touch-controlled step dimmer makes for easy adjustment, as well as turning on and off.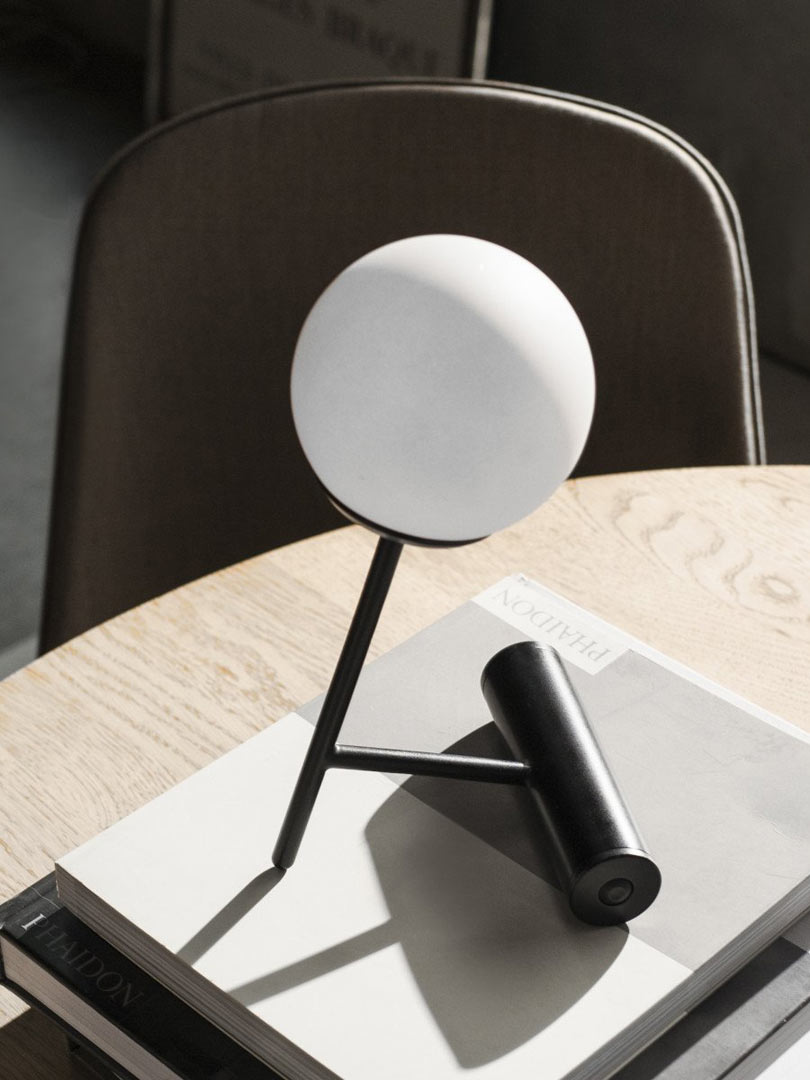 Phare Portable LED Lamp by Stanislaw Czarnocki for MENU \\\ $200
Choose from Black or Light Grey, this LED lamp gives portable lamps a new look with its angled form. Its aluminum design makes it lightweight and fully recyclable making it a great companion for daily life.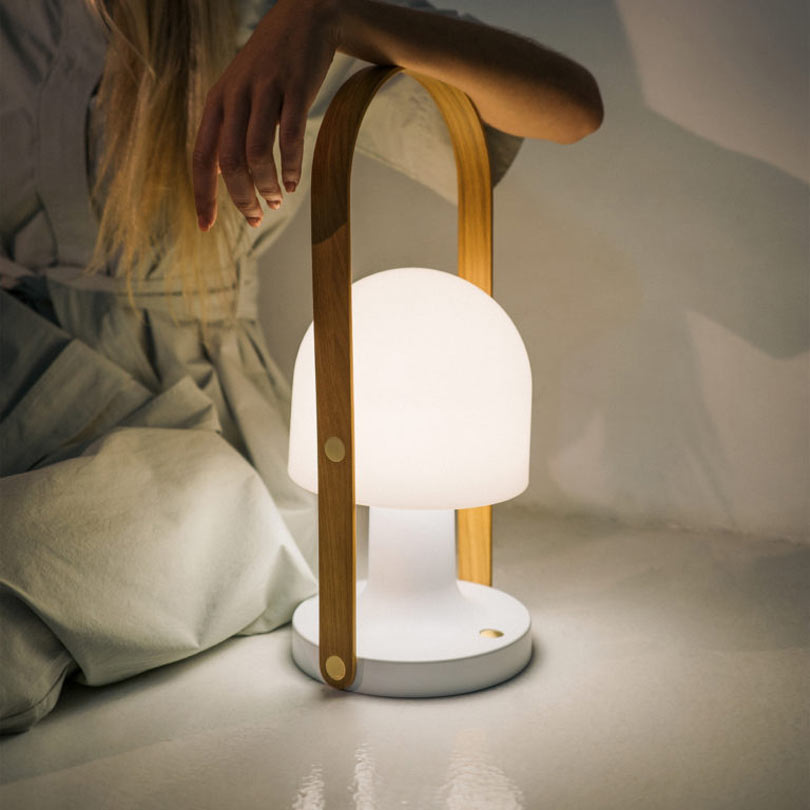 FollowMe by Inma Bermúdez for Marset \\\ $215
An oversized carrying handle makes toting it around indoors and outdoors super easy. FollowMe comes in Blue, Green, Pink, Terracotta, and Matte White – Oak, complete with a tilting shade and varying light intensity offering lots of lighting options.