Like Typography the EXTRA BOLD Armchair Makes a Strong Statement
Like Typography the EXTRA BOLD Armchair Makes a Strong Statement
1/21 Photos
2/21 Photos
3/21 Photos
4/21 Photos
5/21 Photos
6/21 Photos
7/21 Photos
8/21 Photos
9/21 Photos
10/21 Photos
11/21 Photos
12/21 Photos
13/21 Photos
14/21 Photos
15/21 Photos
16/21 Photos
17/21 Photos
18/21 Photos
19/21 Photos
20/21 Photos
21/21 Photos
The BOLD collection designed by Swiss-based design studio BIG-GAME for French furniture brand Moustache began with the BOLD chair, a Bauhaus-esque metal tube chair with a layer of polyurethane foam and a knitted cover produced by a sock factory. The designers were inspired by the idea of a three-dimensional object created by a one continuous line. Since then, the BOLD collection has expanded to a bench, a stool, and most recently, an armchair that carries extra weight – typographically speaking, of course.
The sculptural EXTRA BOLD armchair is made with extra thick injected foam that covers two large metal tubes to create a surprisingly comfortable seat. Taut, soft curves make up the seat, back, and armrest, similar to the rest of the pieces in the BOLD range. The foam padding conceals the technical details and invisible assembly system that allow the seat and backrest to sit flush next to each other, giving the optical illusion that the two components seem to barely brush up against each other. Even more than a decade later, the BOLD collection proves its modern timelessness as the EXTRA BOLD armchair can fit into any modern interiors today.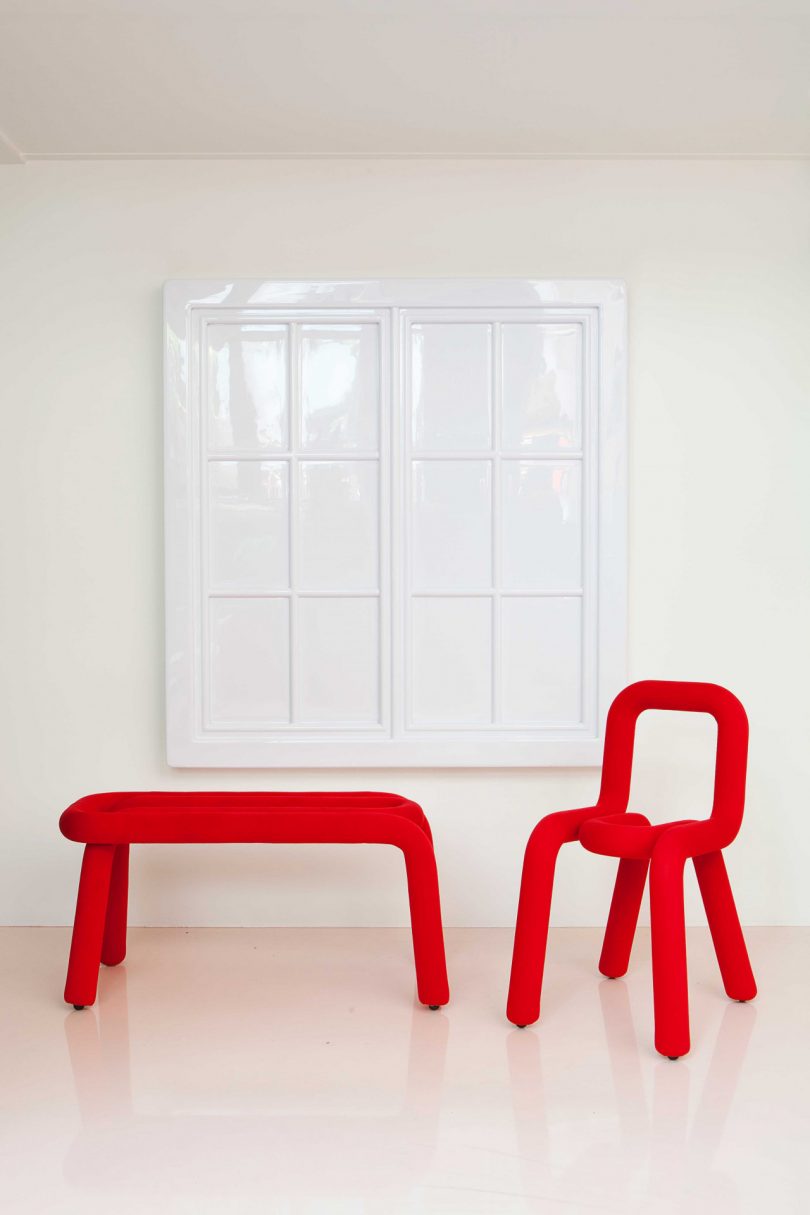 For more information on the BOLD collection, visit moustache.fr.