Link + Loop Make Being Seated Look Oh So Good
Link + Loop Make Being Seated Look Oh So Good
1/24 Photos
2/24 Photos
3/24 Photos
4/24 Photos
5/24 Photos
6/24 Photos
7/24 Photos
8/24 Photos
9/24 Photos
10/24 Photos
11/24 Photos
12/24 Photos
13/24 Photos
14/24 Photos
15/24 Photos
16/24 Photos
17/24 Photos
18/24 Photos
19/24 Photos
20/24 Photos
21/24 Photos
22/24 Photos
23/24 Photos
24/24 Photos
Talk about a collaboration that's overflowing with colorful fun. Industrial design studio Raw Color and Sancal have released a two part sofa project: LINK and LOOP. Raw Color excels at understanding and using color by connecting it to light, shadow, and volume, making each piece of furniture they create a full-on graphic expression. The partnership that began before the pandemic eventually turned into the idea of celebrating the moment we can sit down together again. In fact, the project's working name was "party!"
Christoph Brach and Daniera ter Haar of Raw Color shared: "From a single gesture a shape evolves that equally unites curved and straight segments. LINK & LOOP are visually connected by the cylinder. The essential geometry that allows the overall volume to be soft and tactile in its appearance. Hard corners cannot be found." Loop and Link are the studio's first collaboration with Sancal.
LINK is a piece of art when not in use, and can be enjoyed at home or in a more public space. The unconventional sofa was made to help capitalize on the small moments in life, giving us creative ways to sit, relax, and arrange our bodies. LINK's oversized proportions give the everyday object a sculptural feeling. The connected "links" of the sofa resemble a chain that can be made to feature eye-catching shade sequences. Each piece is available in a range of six plain colors, a few multicolor versions (multi-tone bold and multi-tone pastel), and the Kvadrat x Febrik Sprinkles sample collection.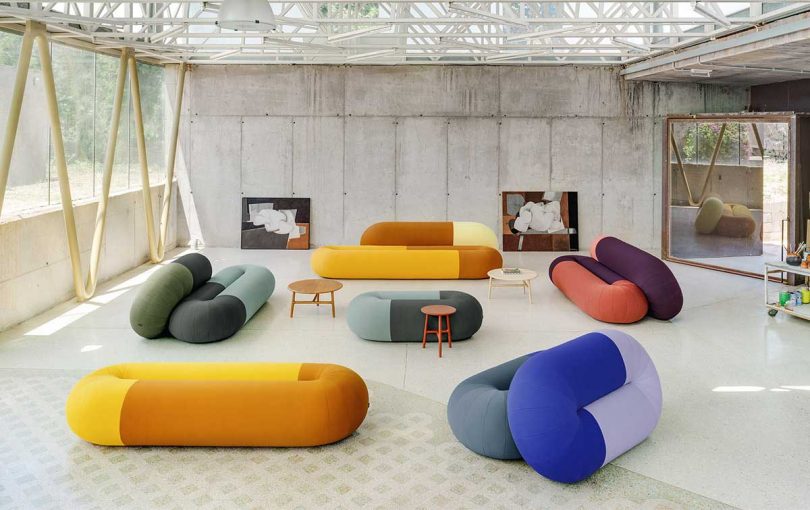 LINK's counterpart is LOOP, a seating range that offers both different sizes and special finishes. Full of joy, the LOOP Designer's Edition comes in four versions of the Planum textile that have been designed for Sancal by textile company Kvadrat. Each version uses three hues of the same color to create a patchwork-like effect in reds, yellows, blues, or greens that feel modern and playful. The standard LOOP version can also be upholstered in a variety of available fabrics.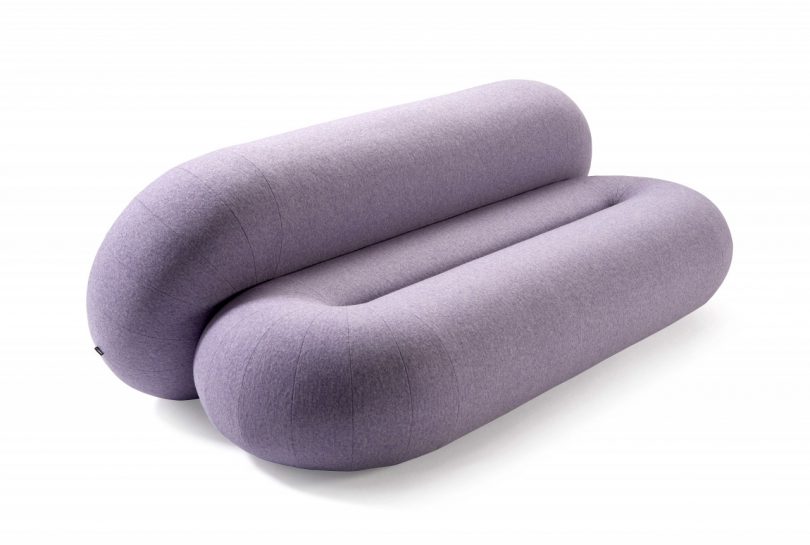 To learn more about LINK and LOOP, visit sancal.com.