As part of 100% Design's Design London, Liqui Contracts will debut a creative collection of new furniture and lighting under a handmade wooden pavilion that was inspired by a canopy of leaves. This collection of thirteen chairs, tables, shelves, and lights reflect the Brighton-based workshop's desire to create honest, well-made, functional, aesthetically-pleasing products.
The Delores Chair and Delores Stool both feature a lozenge-shape with padded backrest and seat on a tubular steel frame. The upholstery is available in a variety of fabrics and leathers, while the tubular steel frame can be specified in any color.
The Moore Chair and Moore Stool have a single 'eye' placed on one side of the backrest and take their name from Patrick Moore, the eccentric monocle-wearing English astronomer. Made from formed beech ply and a steel wire frame, both pieces are available in oak veneer or upholstered versions.
Inspired by the Milan-based Memphis movement, Georgie is a bold series of tables created with a postmodern aesthetic. The Georgie Coffee Table, Side Table, and Cafe Table each feature a wooden tabletop and metal column and base.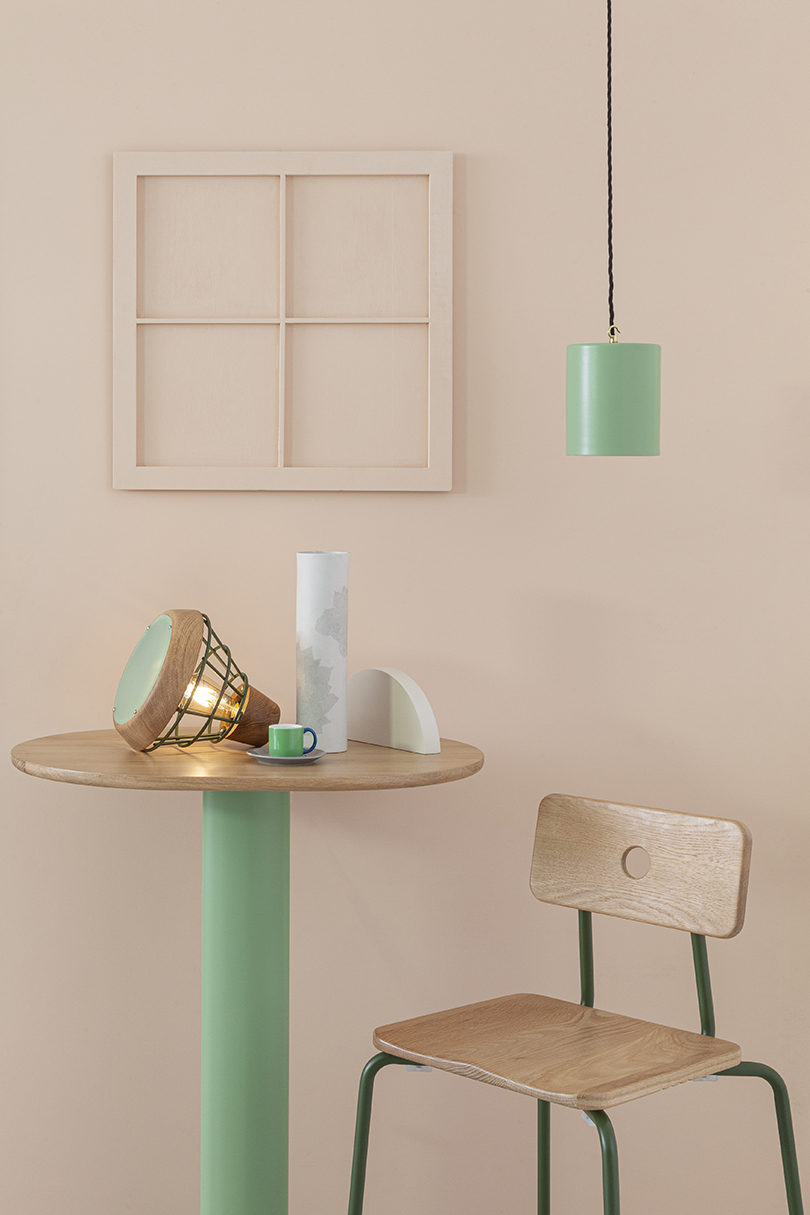 Margot is a spun aluminum pendant light, made by spinning a metal plate at high speed on a lathe. Owing to the spinning process, Margot was named after English ballerina Margot Fonteyn. The pendant is available in large and small versions, in plain aluminum with a lacquered finish or any color choice.
The Whittington glass pendant is a contemporary capsule-shaped light reminiscent of classic lighting styles of the 1920s. With its opal glass shade and a hand turned wooden cap, the Whittington pendant can be used individually, in a row, or in a cluster.
The Shaw Shelving unit takes its name from Irish playwright and author George Bernard Shaw, with the Old English word 'shaw' meaning 'woodland'. Apt as the shelving is handmade in Britain using sustainably sourced solid oak.
Liqui Contracts' trade stand at 100% Design was conceived as a canopy-like pavilion, constructed from sustainably sourced birch ply. The stand's structure will be open, warm, and inviting, while also noticeable from different vantage points. The pavilion floor is divided into four tiered areas, each suited to displaying Liqui Contracts' collection of furniture and lighting.