Liz Kamarul Goes All in To Design the Living Room of Her Dreams
The following post is brought to you by Lexus and the new Lexus IS sport sedan. Our partners are hand picked by the Design Milk team because they represent the best in design. Just as Lexus went all in on their new sport sedan, the designers featured here go all in on their passion.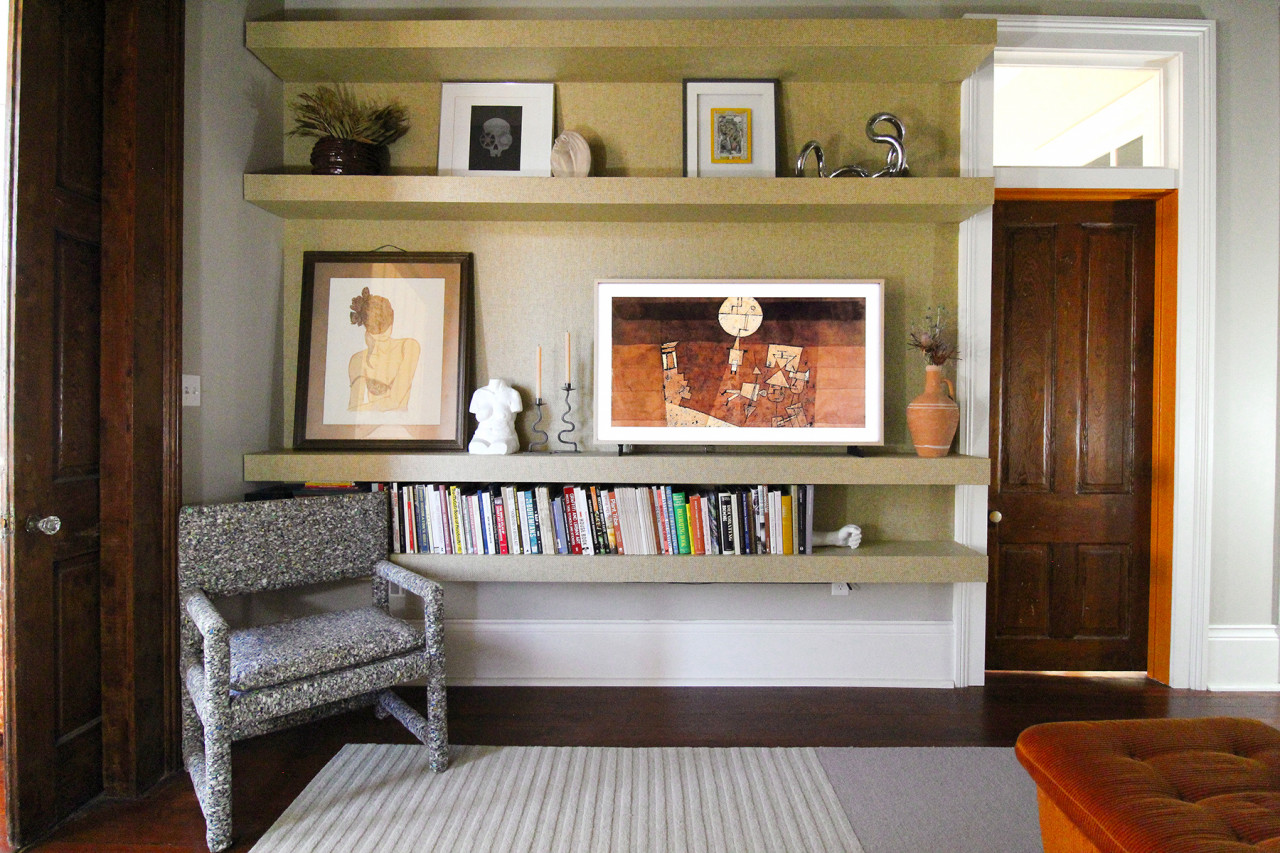 Liz Kamarul Goes All in To Design the Living Room of Her Dreams
1/11 Photos
2/11 Photos
3/11 Photos
4/11 Photos
5/11 Photos
6/11 Photos
7/11 Photos
8/11 Photos
9/11 Photos
10/11 Photos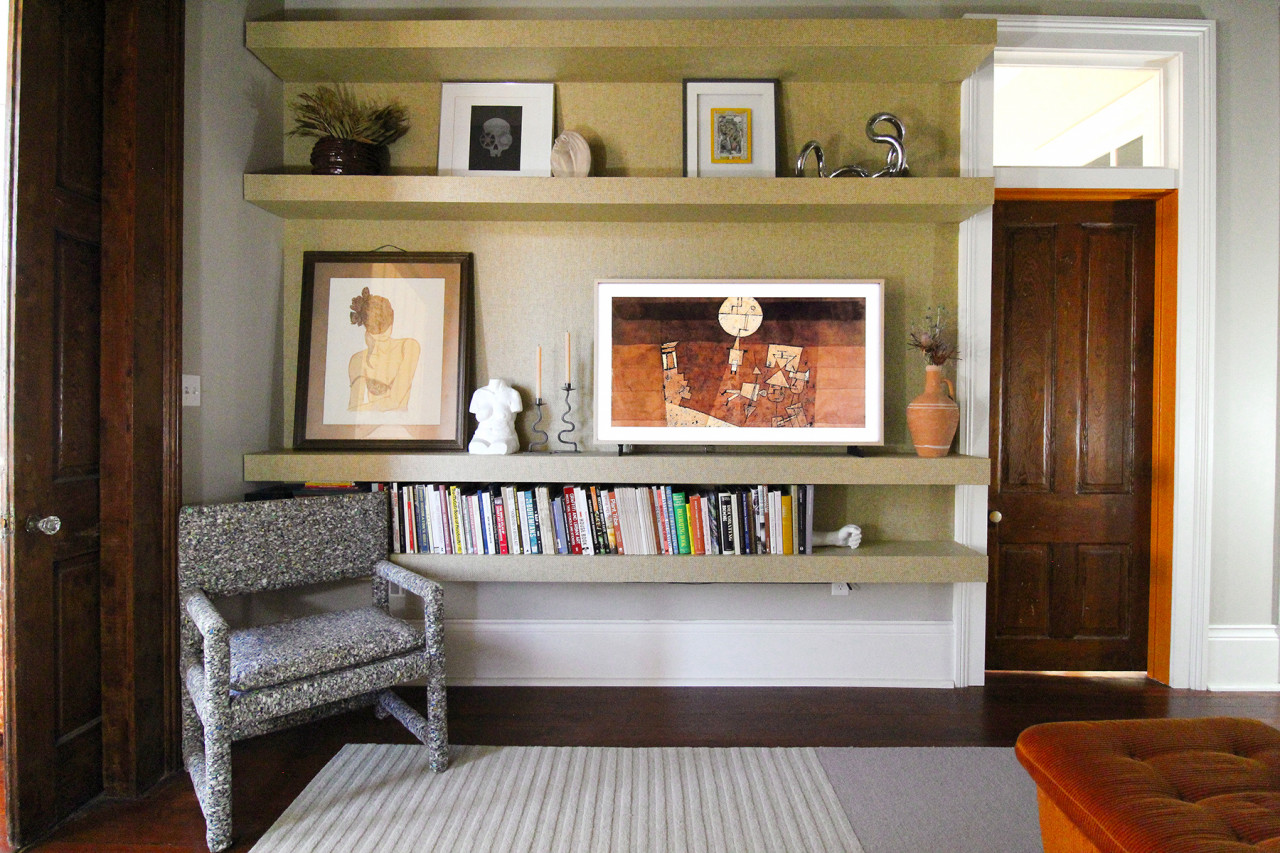 11/11 Photos
Imagine this: you've been offered the opportunity to redesign, redecorate and completely reimagine a room within your home limited only by your own originality and efforts. The premise, while simple, presents an unusual challenge when offered to a professional stylist typically employed to realize other people's aspirations. It's somewhat analogous to asking an architect to design their own home or a chef to improvise a holiday meal for their own family – a straightforward request complicated by the reality that a creative's most discerning critic is typically themselves. Ironically, a no limits, all in proposition can prove daunting to some because of the sheer number of possibilities.
But when Design Milk and Lexus invited New Orleans-based stylist and designer Liz Kamarul to redesign a room dictated solely by her own needs and guided by her own creativity, we knew we had found an ideal collaborator not only comfortable in pushing the boundaries of design, but a creative mind equipped to turn an "anything goes" fantasy into a captivating reality embodying the idiom, "there's nothing more powerful than following one's passion."
Hear more about how Liz goes all in when it comes to creative projects in an episode of DMTV Milkshake:
"I enjoy the challenge of taking something that could be trendy and reinventing it," says Liz, "I never want to feel too comfortable when I'm designing something new, and I want people to feel inspired when they look at what I create – inspired to push themselves as well and discover what makes them feel great in their own home."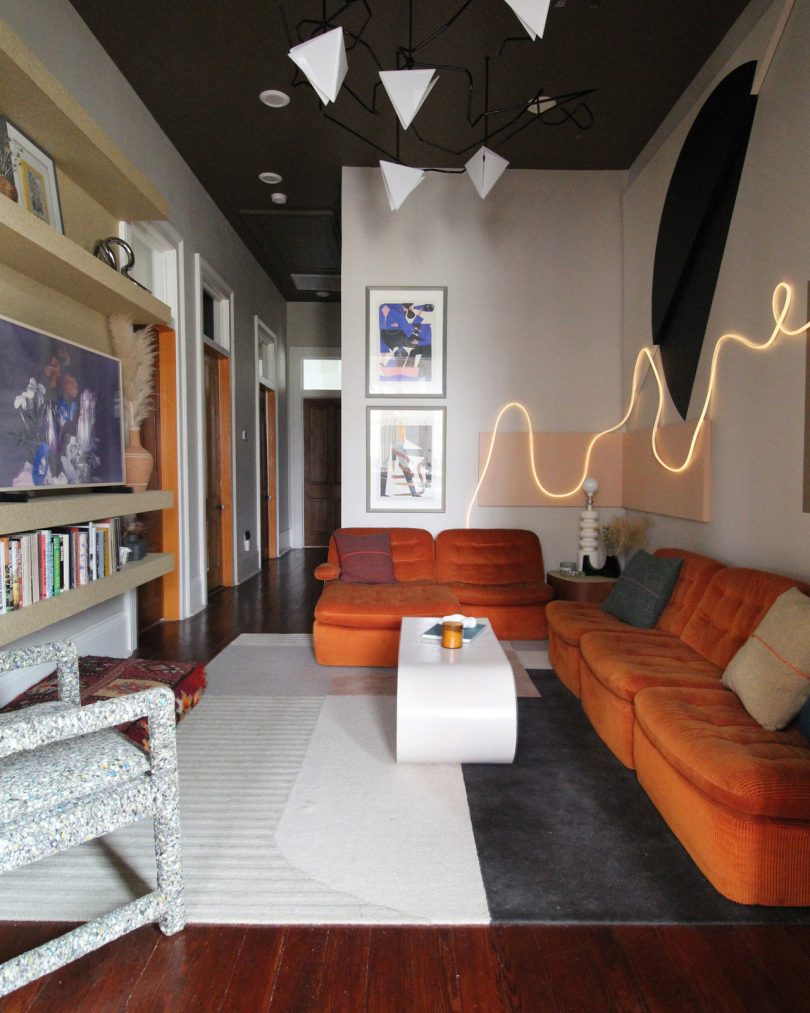 In this case the "home" would be Liz's own New Orleans residence, a house shared with her husband, Tim. Known for combining thrift store eclecticism with a modern palette bonded by an intrepid DIY spirit, Liz would choose the couple's living room situated in the middle of their home – one without direct natural light nor windows – as her canvas.
Watch to see how this space came together:
"My style is built upon the idea of only living with what you love," explains Liz, "And I've always felt most inspired after visiting a museum, so I knew I wanted to incorporate sculpture-like pieces into our space to create a similar mood in my living room."
The resulting space marries texture, form and lighting into an inviting room for reading, relaxing, and entertaining filled with delightful details. What initially seems to be a terrazzo chair is revealed upon closer inspection to be made from scrap wood covered in carpet underlayment, an alternative mimicking the speckled effect of stone. A television disguised as framed artwork hides in plain sight upon the length of a bookshelf. A twisting chandelier overhead of Liz's own design and created in collaboration with a local lighting specialist crowns the room, the squiggled motif echoed within the room alongside sculptures and artwork. The chandelier is particularly reflective of the designer's explorative trial and error process, one that has always guided her through the creative challenges posed by any project, personal or professional: "The entire chandelier was constructed on-site and evolved as we put it together. We had no idea what it would look like until it was actually hanging from the ceiling. Even then, we added a few more squiggles until it felt just right."
The rest of the room also relied upon her discerning eye for overlooked vintage designs to decorate her living room with items deceptively affordable in nature: a coffee table from Craigslist, an end table discovered at a thrift store customized afterward with wallpaper, and custom floating shelving made by Liz and her husband for "less than $100", its length lined with a menagerie of pieces sourced from friends and secondhand shops. "I found the vintage sectional in New Jersey at an estate sale," Liz notes with excitement, "Seven pieces in total for $350! I had a guy drive it back from New Jersey to New Orleans."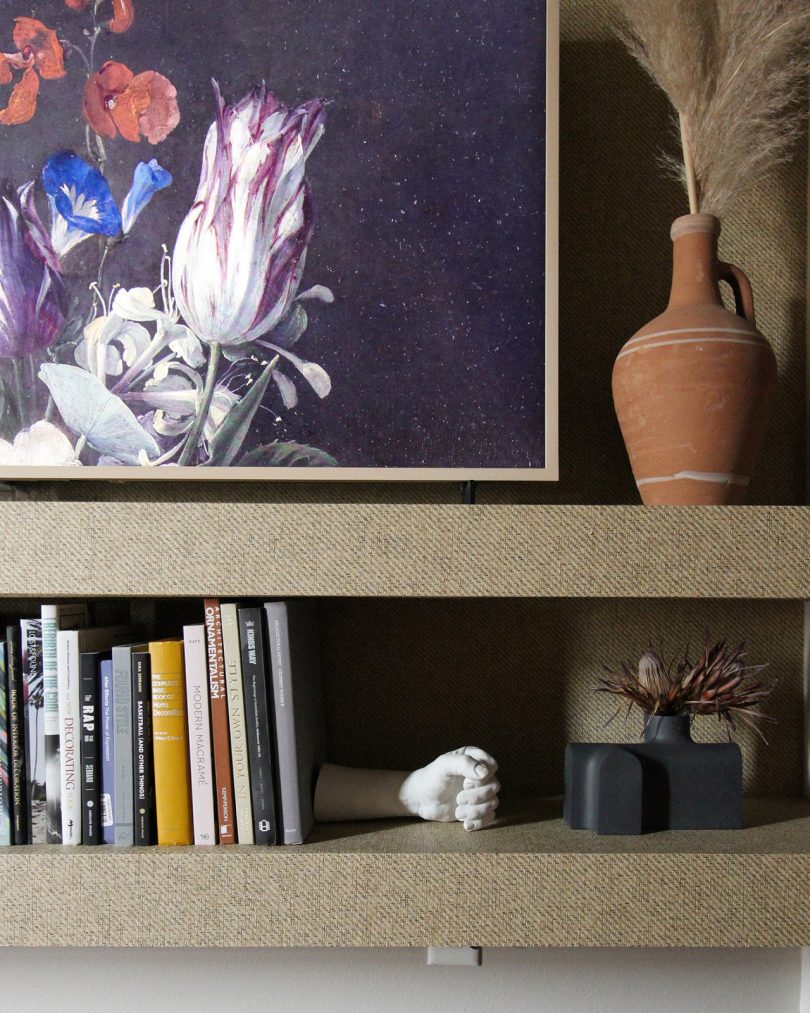 "My first idea was to create a wall mural," reveals Liz, "I knew I wanted to paint something in here but I also knew I wanted to go all in or not at all…to do something beyond just paint."
If you are starting with nothing, try painting a bold color on the wall or hang wallpaper. It's such an easy and inexpensive way to transform a space and create the overall vibe of the room.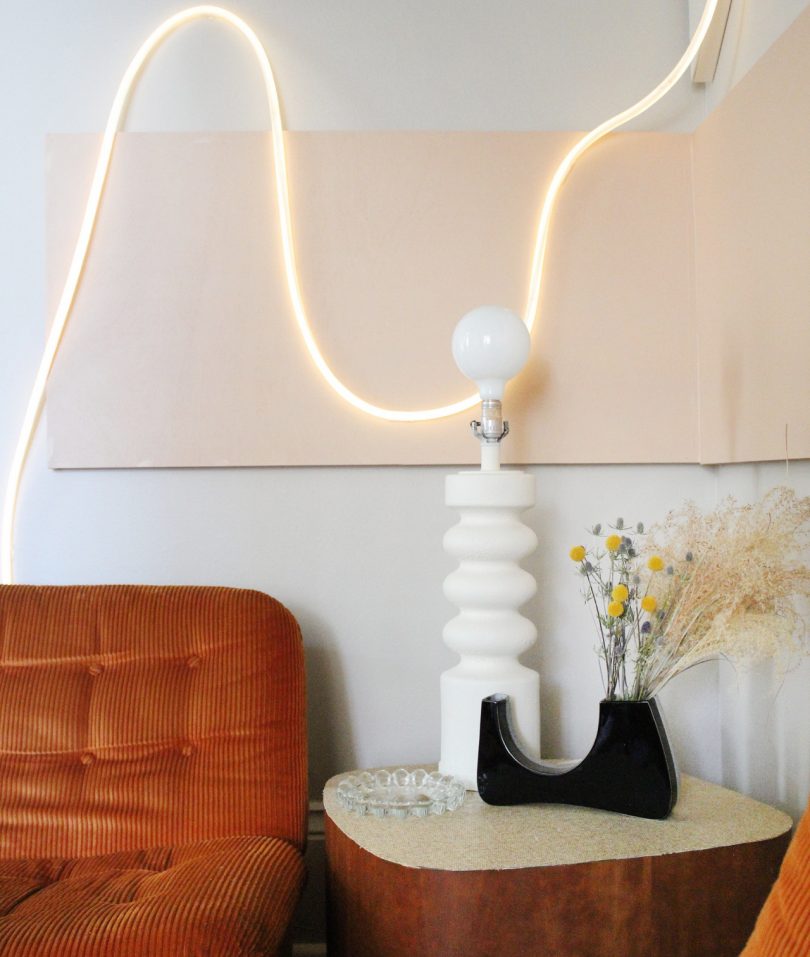 Liz's husband Tim would help her build a trio of shapes out of wood that would eventually grace the walls of their living room before a dynamic interplay between shapes, colors and light would emerge from the walls. An instinctual and improvisational designer, Liz credits her ability to adapt and allow "things to evolve and change during the process" to reveal the best solutions with patience as an assistant. Liz would add and subtract as she went along creating her new living room. "Strict planning can stifle my creativity, so when it came to this room, I let things happen step by step, changing the design as it went along."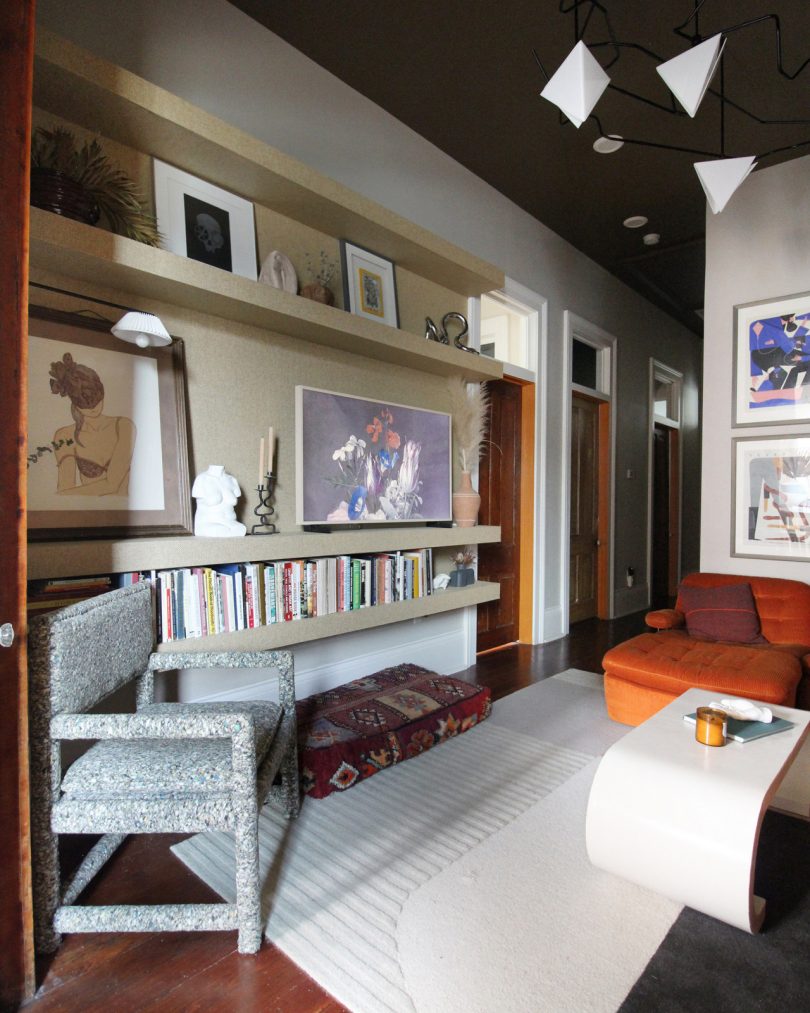 This is not to say Liz approached the project completely without a game plan. "We took one step at a time, first building out the shapes, then letting them sit on the wall a bit before determining colors," explains Liz, "Only then did I begin adding additional shapes allowing it to evolve."
And if you're wondering about the length of neon LED light with the appearance of a large luminescent piece of spaghetti flung onto the wall? "The flow of the rope literally evolved as we hung it up. I had no idea or plan of where it would go," admits Liz. "All I knew was I wanted to incorporate more light into this space and using the LED rope light allowed me to mimic the lines I occasionally draw across my murals." A seamless combination of form and function, and a detail that silently operates as Liz's lasting signature across the room she's created.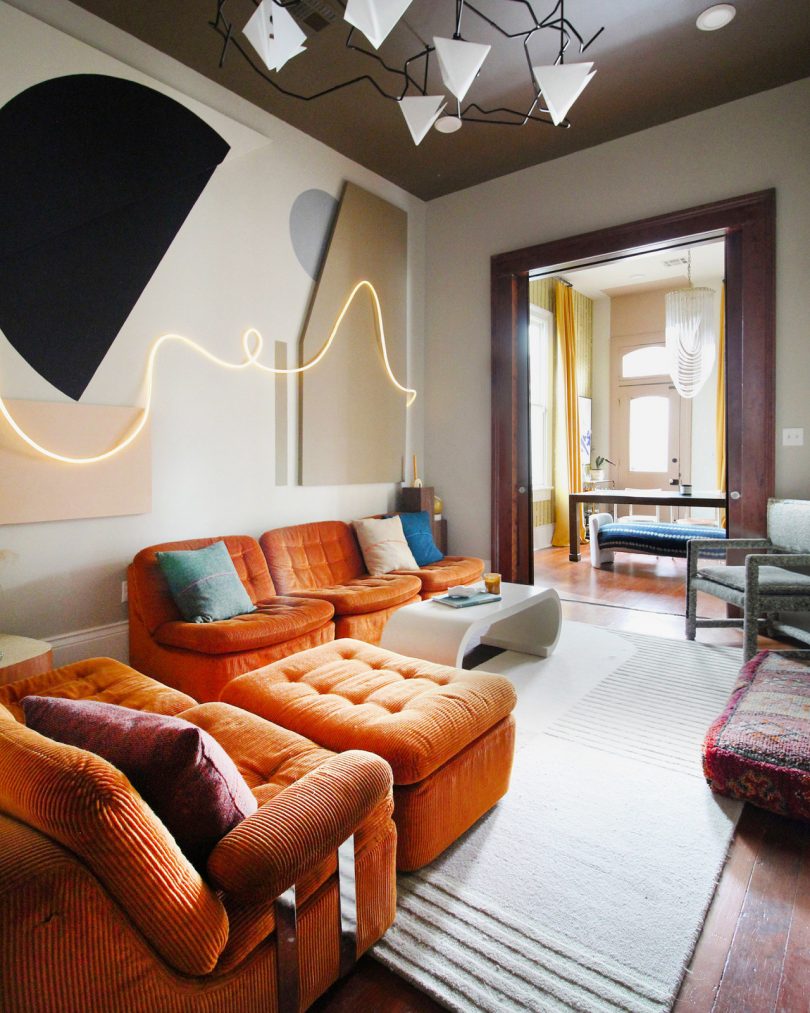 "Every single thing in our home is rich with meaning and relates to a story, each slowly collected over the span of our lives together. Like this room, there isn't a particular singular style I strive for within our home, rather just items that I love!"
Photography and process video by Liz Kamarul.