There's an art to designing, but sometimes we forget that there's also an incredible art in the making of handmade products, too.
Founded by Amir Loloi, Dallas-based Loloi Rugs has a talented design team that is constantly cooking up new patterns, color combinations and styles suitable for just about any interior space. What I've always found fascinating about rugs was the amount of time, skill and dedication that each one takes to create. Loloi's collection is made by hand in India by a skilled group of artisans using traditional techniques. Rug making is meticulous work that can take anywhere from a few weeks to up to a year to make a given rug, and we wanted to take a closer look at the process. On their last manufacturing visit to India, Loloi's team documented the steps it takes to make their beautiful rugs, giving us an exclusive sneak peek into how they're made.
Not only do these images show the long hours and hard work that's put into each love, it shows the artistry, and the talent of the people who make them. Coming from generations of rug-makers, the artisans put a lot more than just their time and energy into these textiles—each rug feels like a labor of love.
The first step in making a beautiful, quality handmade rug is selecting the proper materials. Hand-spun yarns make up the majority of the Loloi rugs, selected based on criteria like the wool's (or other fiber's) lustrous sheen, softness, and tensile strength.
After the fibers have been selected, a "dye master", who is trained in coloring, dyes the yarns for the particular rug. There's an art and science to creating and mastering a "coloring recipe" that requires much training and expertise. The color has to be consistent every time. Due to challenging environmental considerations like temperature and sunlight, the master chef takes into account all of the ingredients to perfect his color masterpiece.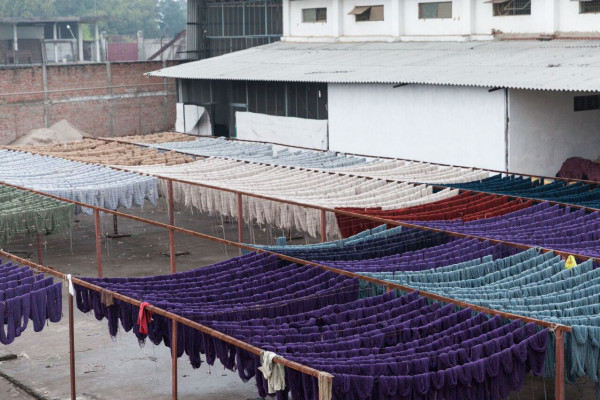 After being dyed, the yarns are then hung out to dry in the sun.
Weaving is the most meticulous and time-consuming part of the rug-making process. Skilled artisans use nothing but their hands and a few basic instruments to weave, and the bigger sizes can sometimes take multiple weavers working side-by-side over a year to create. In fact, most weavers complete only about 1 to 4 square inches a day, depending on the complexity of the rug.
After the rug is woven, it is cleansed multiple times using mild soap and water. While still wet, it's hand-sheared, and then the loose ends and imperfections are clipped to achieve a near perfect surface. The rug then rests for a bit, and when it's dry, it is ready to make its way to a showroom—or your home!
Browse Loloi's collection of handmade rugs online or visit them year-round at the World Trade Center (Dallas) and the AmericasMart Building (Atlanta). Rugs can be purchased on Wayfair and Rugs Direct, as well as retailers around the nation.