We headed back to BKLYN DESIGNS this year, the start of NYCxDESIGN, where we caught the best designers and makers that call Brooklyn home. From modern furniture, lighting, accessories, jewelry, and art, the curated show featured over 70 brands who put their blood, sweat, tears, and expertise into beautifully crafted pieces. Take a look at some of our favorites:
Bolé Road Textiles are now making pillows in beautiful electrifying color palettes. As with all of their textiles, they're designed in Brooklyn and handwoven in Ethiopia, which helps support the local artisans.
The Rocking PacMan, from Sawkill Lumber Co., truly rocked. Not only can you fit multiple people rocking in opposite directions, but its silhouette looks like the beloved 80s game character, Pac-Man. Plus, all the wood is reclaimed from a mid-century NYC distillery.
Think Fabricate debuted its Dialogue Table and Bench. The solid maple wood features a geometric design made of brass inlay, which was inspired by the hexagon, a shape the studio has been incorporating into their work recently.
Evan Z. Crane always pulls out all the stops when he releases new pieces of furniture and his latest are no exception. The I Beam couch combines different materials and fabrics, like these from De Islas.
HENDO showed this really cool mix of slim tables that can be nested together or arranged in various configurations.
Pratt Institute's School of Design exhibited the work of current students and alumni. These 3D wallpapers were incredible even without wearing the 3D glasses!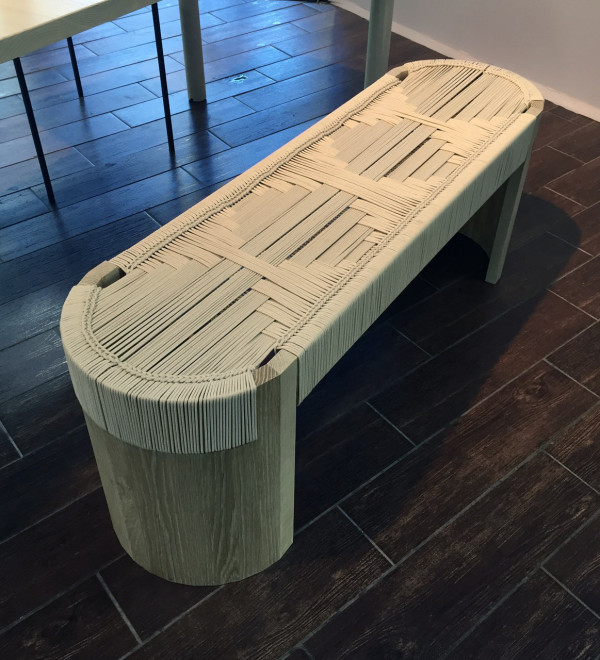 Kate Casey, of Peg Woodworking, has been killing it with her wooden furniture that incorporates woven seats. Her latest is this bench with a painstakingly perfect woven top.
Come Out To The Coast's Serena Chang makes these gorgeous, hand casted sculptural planters whose molds are made with old bubble wrap and styrofoam.
Den of Thieves' chopping blocks feature eye-catching geometric patterns thanks to the various woods used.
The Array end table, from 2100built, has a geometric top with a brass band just underneath that hides the connections.
Loved Robert Sukrachand's unusual take on a bookshelf – cured shelves and only three legs!
The GIVE Seat, from Sam Keene Studio, has hidden marine grade high tension shock cords (bungee cords, basically) that make this wooden stool comfortable when someone sits on it.
Designed by AphroChic, a micro loft was outfitted with Resource Furniture, like this table that transforms from a small console table to a massive dining table, and a kitchen (below) with appropriately-sized appliances from AJ Madison.
We also guided an Instagram tour called Meet The Makers, which you can check out on our Instagram account.