Few designs have endured with such quiet visibility as Louis Poulsen's PH 5. Its unmistakable silhouette is often seen in homes modern and traditional, in universities and libraries across the globe, and always seems to find a place within the newest restaurants and most luxe hotels. Movie and television cameos are frequent. In the pantheon of lighting, undoubtedly one or two PH 5s would be found glowing overhead.
In celebration of the design's 60th anniversary, Louis Poulsen invited Design Milk to tour their factory in Vejen, Jutland, Denmark, affording us the opportunity to learn more about the light's storied past, relevant present, and the planned future of the company's most popular lighting design…with even a chance to build one.
The five-shade PH 5's immutable cultural presence can be attributed to its perfect realization of form serving function, a 100% glare-free light emitting evenly both downward and laterally, with a recognizably agreeable presence whether on or off. Just as diamonds are traditionally associated in celebration of a 60th anniversary – a matrimonial symbol of enduring permanence – beyond a few structural tweaks and the addition of several fashionable updates to colors, Poul Henningsen's 1958 design has remained mostly unchanged in its six decades of existence.
Henningsen's obsession with glare-free lighting eventually led the architect-turned-designer to adopt a scientific approach to the challenge. A logarithmic spiral became the foundation of his solution to diffuse light evenly while softening the degree of shadows produced within its proximity, with each shade measured in diameter and curvature designed for this purpose. His research also resulted in the addition of small red and blue shades inserted to supplement the color in the part of the spectrum where the eye is least sensitive – the red and blue areas – subduing the light in the most sensitive areas of vision, specifically the middle yellow-green range.
Henningsen's other iconic light unveiled the same year – the significantly larger PH Artichoke pendant – shares a similarly engineered anti-glare form, but purposely requires 72 adjustable leaves to achieve the same feat succinctly realized with just five shades in the PH 5. In either case, no matter the type of bulb installed, the light diffuses with a uniform and flattering reach, the hallmarks of all PH lights.
It's one thing to digest the historical context of a design as a presentation, a wholly different experience to witness the manufacturing process in person. With this in mind, the Louis Poulsen team transferred us from the center of Copenhagen and across to the the bucolic peninsula of Jutland to Vejen to their manufacturing and packaging facilities. There we'd meet the production team responsible for shaping metal, glass, and cord into the iconic profile of the PH 5 light and numerous other lights and lamps.
The tour eventually concluded with one of the Louis Poulsen assembly line team showing off their dexterous assembly skills, transforming individual components into a light ready to package and ship in just a few minutes.
We wish the same could be said during our attempt to assemble a PH 5 ourselves. The process requires a great deal of finessing individual parts in coordination of one another, all without scratching or bending parts that tend to move in reaction to a push or pull. Eventually under the guidance of a skilled assembler, we completed a single pendant in the same amount of time 10+ are readied.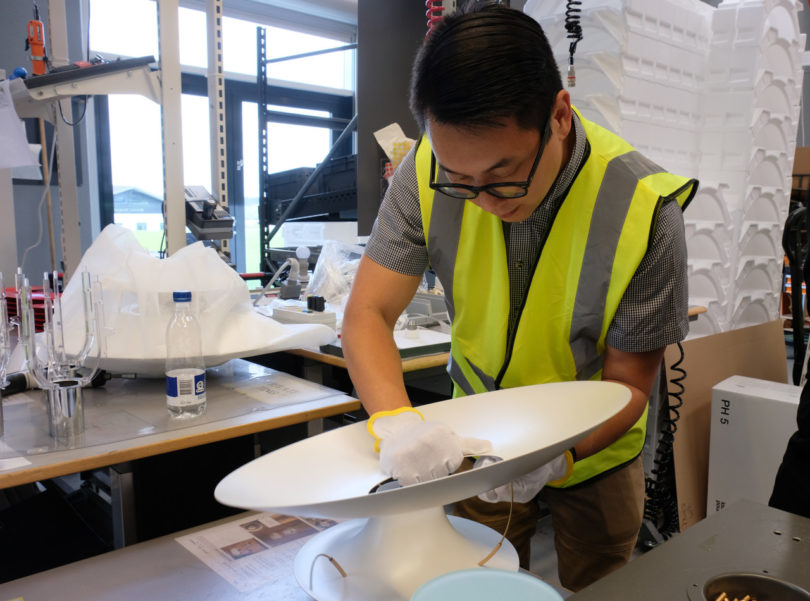 We were told Poul Henningsen's motivation for designing the PH 5 was to create a light adaptable to then still emerging technology of incandescent bulbs, an idea which seems apropos today as lighting migrates toward LEDs. With its soft shadows and glare-free illumination, the PH 5 remains as relevant today as then, prepared to serve a new generation who may consciously or unconsciously appreciate the light's flattering output while snapping a selfie or a food photo under the lamp's iconic glow.