Design is filled gimmicks, functionally unnecessary details or features added as adornment. And even worse, when technology and design meet the opportunity for gimmick seemingly increases tenfold. But every so often the combination and collaboration of design with technology can lead to a feature so interesting and amusing in itself, the gimmick transcends into the territory of cool. The Flyte falls under this category, a magnetically levitating LED table light with an undeniable "wow" factor.
The magical effect of the floating bulb is actually fairly simple, a combination of an electromagnetic base with a strong magnet within the bulb base results in the floating effect). The real feat is the wireless power transmission between the base and the wireless power receiver illuminating the low-energy LED bulb. The technology is actually already well established, used to wirelessly charge smartphones through inductive technology, but has only recently appeared in consumer electronics paired with a floating feature. In fact, inductive charging compatible devices can be powered up using the Flyte base in the same manner when not illuminating the LED bulb.
Flyte designer Simon Morris has experimented with several other floating object projects prior, including a magnetically levitating Nike sneaker (Nike Air Max 1 Reinvented) and a magnetically hovering skateboard (Marty McFly approved), so perhaps it was inevitable he'd look to taking a bright idea into lighting. The Flyte is designed to position the bulb automatically into the center and lights up automatically once properly positioned; on/off control is also available via a tap of the wooden base (available in oak, ash and walnut). An additional perk is once you purchase the light it's unlikely you'll ever have to worry about changing the bulb, as the Flyte's LED is rated for 50,000 hours of use before it's expected to turn off permanently.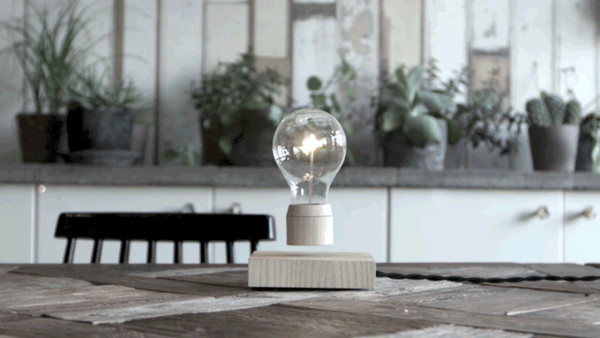 Flyte is available for pre-order and funding over at Kickstarter.