My cousin Laurie has a gorgeous new house in the most adorable neighborhood. When you walk in, it smells like cookies because, chances are, she's been baking all day. And those are some darn yummy cookies—trust me—I've tested them all.
Along with her new house, though, came a lot of leftover decor from the old homeowner, and let's just say it wasn't really her style. I can't blame her for not wanting to do laundry in such a dark and dull room. Doing laundry isn't an enjoyable task for most of us anyway, but wouldn't it be a lot easier in a room that didn't make you sad?
Plus, you can see the dark, sad laundry room wall from the hallway all the way down the entire length of the house, through the kitchen and into family room. So I asked her if she wanted to paint it, and offered to help her so long as she provided me with an endless supply of cookies.
But she didn't want to just paint it a solid color… We talked for a few weeks, sharing ideas back and forth, trying to decide what to do in such a small space that wouldn't be overwhelming. We both fell for one particular wall design that we discovered on Pinterest:
It's the dining area of a condo designed by Leclair Decor. But we knew that a black and white wall wasn't the way to go—It was too bold and dark for the laundry space. Perhaps we could soften it with two different hues of green or yellow? We decided to play around with the Sherwin-Williams' ColorSnap Studio™ for iPad app to configure the lines and pick the right colors. Neither one of us had ever used the app before, but it was pretty intuitive. Our favorite part was being able to draw different shapes on the wall and then fill them in with various shades of paint.
Initially we were thinking we wanted to do two different shades of the same color, but the white lines in the photo were kind of growing on us, so we decided to just stick with white. Laurie ended up picking SW6695 Midday for the yellow and SW7006 Extra White. I think it took us longer to settle on the white than the color!
Once we finalized on the colors, we moved on to visualizing it by drawing the exact lines we wanted on the app before we tried to replicate it onto the wall. First, we took a photo of the room with Laurie's iPad and uploaded it into the tool. Then, using the Leclair Decor wall mural design as a guide, we drew a set of four diagonal lines—two vertical and two horizontal—using the polygonal shape tool. It was so much fun! I could have spent all day creating wall designs.
However, after looking at it for a while, Laurie decided that it was a little too much for her and chose to remove one of the lines.
Before we could crack open a can of paint, there was some measuring and taping to do. We decided to use the wall outlet as our guide, knowing it needed to be inside the first vertical line. We tied a piece of string around a push pin at each end and pinned it at the top and bottom of the wall (the pin creates a tiny hole that can easily be filled in with paint). This served as our starting line. We used a yardstick and a pencil and followed along that line. Once we had our first line, we simply measured the distance between the first line and all our other lines horizontally at various points up the wall and then connected the lines.
We painted the white stripes first. We actually started free-handing it but soon realized we needed our handy friend, Mr. Blue Tape. So we taped off where we'd drawn the lines and started painting.
It went on pretty well considering it was white over a fairly dark color—only two coats needed! That's because we used SuperPaint®, which is a paint and primer in one.
Once the second white coat was dry, we re-taped so we could start on the yellow. I'm not a fan of sunny or buttery yellows, but Midday has a little bit of green in it that made it look different in all kinds of light and feel modern. It's hard to capture it in photos, but it's a nice shade.
After we'd finished up two coats of yellow, we were pretty impatient to take off the tape. Our excitement was totally justified because it looks awesome! Laurie was thrilled with the result and I was impressed that we were able to pull it off.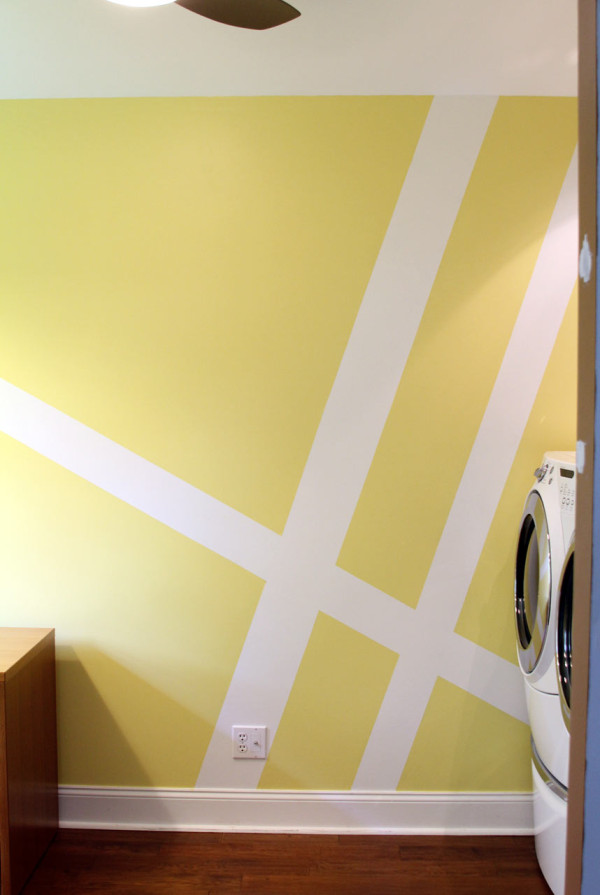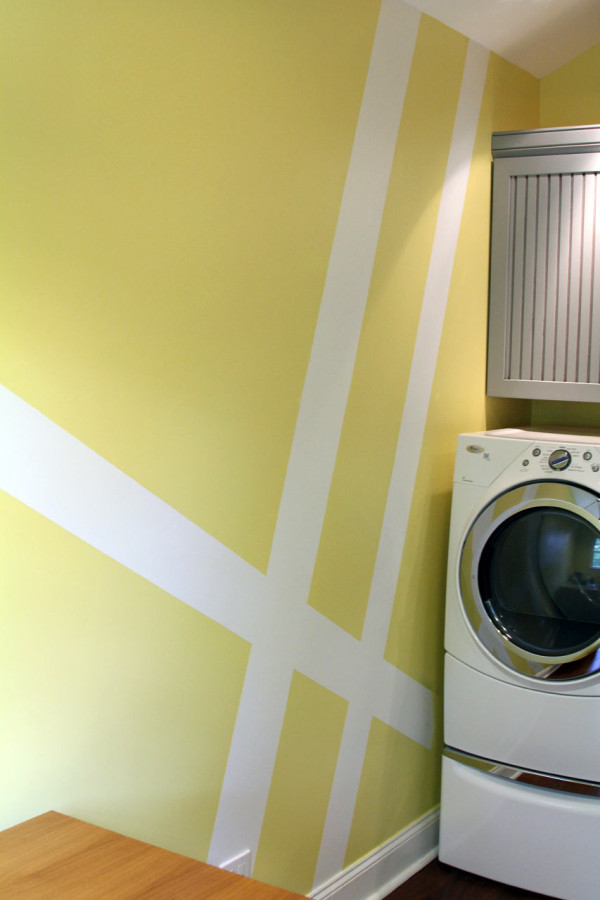 What a huge update. The room looks much larger, brighter. I think laundry could be more tolerable now, too!
We were so impressed with how closely the iPad design matched with our final result, but more impressive was how close the color of the actual paint was to the screen color. Usually screen colors are off, but as you can see above, they're are almost identical, which makes Sherwin-Williams' ColorSnap Studio™ for iPad app even better in terms of color matching.
Laurie is very pleased with the result, and—cookies aside—I'm happy to have helped!
This post is brought to you by Sherwin-Williams. Turn your inspiration into reality with Sherwin-Williams Color Selection Tools.