Our love of modern jewelry led to us opening our very own online jewelry store, Adorn Milk, where we covet every single piece we sell. One of the lines we've fallen hard for is Contour, a jewelry brand based in Tel Aviv, Israel founded by Lior Shulak Hai & Galit Barak. We reached out to them to see if they'd give us an inside look as to how their handmade jewelry is crafted. They agreed, and for this month's Deconstruction, they're sharing how their Lynn Ring, from the Assemblage collection, is made.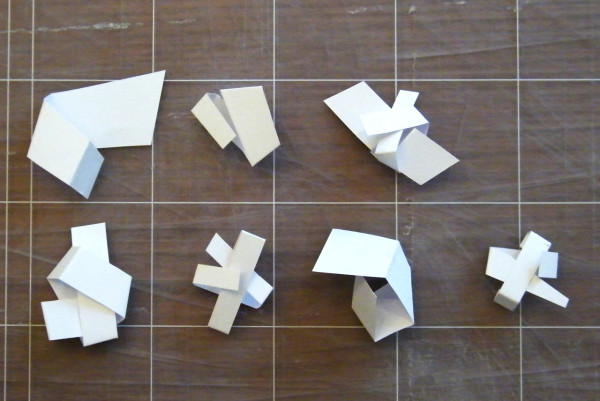 We started the design with a free paper folding session. From all the folding options, we chose a few that worked best for us. After narrowing them down we chose the option that we thought would look great, and could be incorporated into a desirable ring.
We opened the chosen 3D folded pieces and flattened it back to 2D. These sheets are the cutouts we used for making the ring. We drew it on a paper and marked the cutting places.
We copied the cutout lines from the paper to the brass and then cut all the pieces with a jewelry saw. In the first model there were some changes that needed to be made in the cutouts as metal folds differently than paper. We usually cut pieces for a few rings together, that way the production is more efficient.
This is all the pieces after cutting, including the sterling silver band casts.
After all the pieces were cut we smoothed the surfaces and the edges with a metal file and polishing wheel.
This is the metal pieces after the first finishing. At this stage they are ready for folding.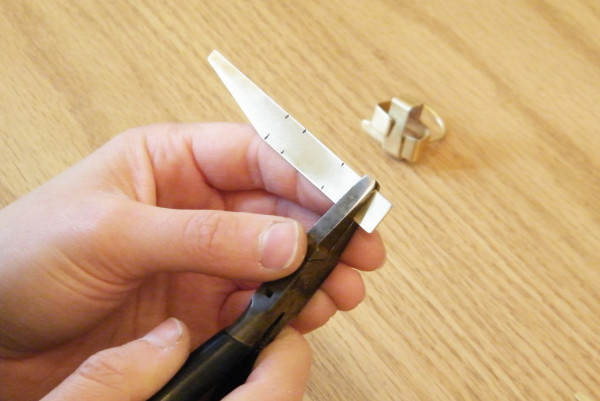 We drew the folding lines on top of the metal and then carefully folded the pieces to the designed shape.
Those are the pieces ready for soldering.
We placed the pieces in their solder position, put some flux that will help the solder flow, and then added small solder chips.
When the two pieces were soldered we placed the sterling silver band on top of it, and soldered them together.
After all the pieces were connected and became one piece, we put it in an acid bath that cleaned the metal from the remaining flux and fire stains.
When the ring was clean from soldering dirt we gave it a final polish with a polishing wheel until we got a beautiful matte brushed finish. After the finish we sent it to the local plating factory.
Here is the ready-to-wear ring plated with a nickel-free gold or silver plate.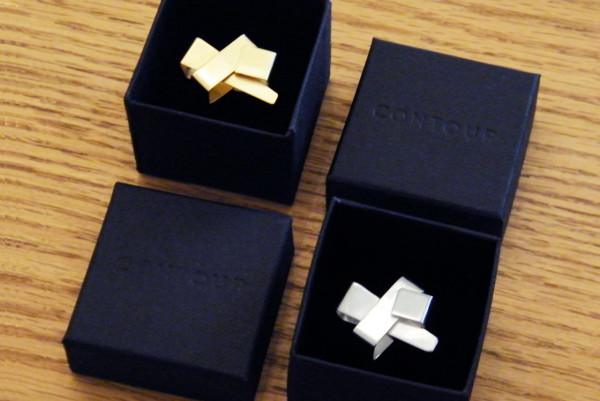 The Lynn Ring is available for purchase on Adorn Milk here.