I had been keen to see Marni's collection of chairs, commissioned for Milan Design Week and made by ex-prisoners in Colombia, so I headed over there on day three.
Hidden in little courtyard just behind the Marni store in Milan's Brera district, they brought a real taste of Colombia to Milan, especially when the sun came out!
The chairs are made in the traditional Colombian style using a metal structure and woven multicolored PVC threads on the backs and armrests. Marni designed the patterns and color combinations, but left the creation in the hands of the ex-prisoners.
The project aims to help to reintegrate its participants into social and working life after their time in prison, and to preserve local skills and craftsmanship.
Marni are continuing to use the chairs as the backdrop for a series of portraits of their employees as they travel from store to store as part of an ongoing installation. A film has also been made by Francesco Jodice.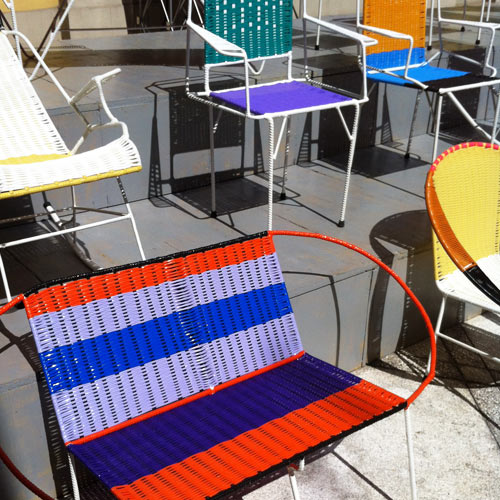 The chairs, a limited edition of 100, are for sale for approximately $260-$590, and all proceeds will be donated to the Institute ICAM of Milan – a project which allows children of imprisoned mothers to grow up in a family environment.
Our trip to Milan for Milan Design Week 2012 was supported in part by Airbnb.com.