MDW22: Padiglione Brera Showcases Ways of Sitting at San Simpliciano
MDW22: Padiglione Brera Showcases Ways of Sitting at San Simpliciano
1/13 Photos
2/13 Photos
3/13 Photos
4/13 Photos
5/13 Photos
6/13 Photos
7/13 Photos
8/13 Photos
9/13 Photos
10/13 Photos
11/13 Photos
12/13 Photos
13/13 Photos
In the very Italian setting of the main cloister of the San Simpliciano – a church in central Milan, parts of which date back to the third century AD and now home to Padiglione Brera – was a very British affair. Very Good & Proper (could you find a more quintessentially English name?!), SCP, and Case Furniture came together with Resident (the sole Kiwi brand being the exception that proved the rule) to explore what SCP called "Ways of Sitting."
It was a delight to see Very Good & Proper's Latte chair in person, having featured it on Circular by Design last summer. The outdoor chair is made using a new bio-composite technology that combines hemp fibers with 100% recycled European plastic, resulting in a CO2 footprint that is reduced by 85% versus a typical plastic chair.
Ilsa Crawford and Oscar Peña's Bruno Chair has one arm lower than the other to accommodate new more casual ways of sitting, inspired by Bruno Mari's 1944 poster "Seeking Comfort in an Uncomfortable Chair." SCP say the piece is made from 99% "sustainable materials" which includes FSC-certified beech and oak.
Upholstered in the same on-trend 1970s shade of olive green is Philippe Malouin's Group – a sectional sofa that uses primary shapes to form the base, back, and seat of each piece, offering multiple configurations. The collection, which also includes armchairs and cocktail chairs, is the recipient of a Design Guild Mark.
I mean, it might have just been my very sore feet getting to me by this point, but how comfy does Camp (also by Philippe Malouin for SCP) look?! Trust me when I tell you that it's even more comfortable IRL. Inspired by military camping gear and modernist furniture, it uses tensile cotton fabric to support the upholstered sections.
Gareth Neal is a master craftsman with a CNC machine and this collection of dining accessories (as well as the Orb Grinder below left) for Case Furniture are classic Neal. From left to right, the Splash and Petal chopping boards and the Plough serving board are almost too nice to use.
Trove is a series of minimal cork boxes by David Irwin (also for Case Furniture) for organizing and storing everyday objects. The tactile and sustainable cork combined with the modular stacking system makes them impossible not to touch and rearrange – perfect for a tidy desk.
This rechargeable and portable light by Patricia Perez (also for Case) is perfect for taking outside to elongate summer nights, but also works well anywhere indoors where you don't want to worry about trailing cables such as bookshelves or bedside tables.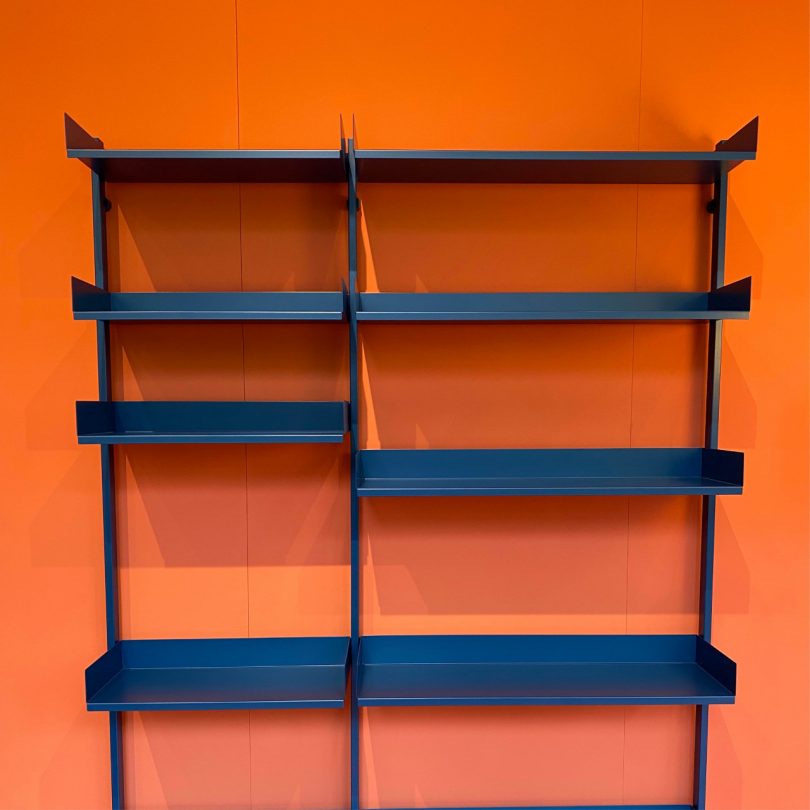 Last one from Case, I promise – this modular shelving system called Slot by Terence Woodgate comes in four colors so you can mix and match. Vitsoe shelving has held pride of place in design-conscious homes and offices since Dieter Rams designed it in 1960. 62 years later, is it time to shake things up a bit?
And last but not least, the Kiwi amongst the British brands – Philippe Malouin designed the Sasha Chair for New Zealand furniture and lighting brand Resident. They describe the fully upholstered dining or side chair as "comfortable, yet brutal and geometric" – I don't disagree!