The Megalodon Sword Offers a Dozen Reasons to Add It Into Your Workflow
The Megalodon Sword Offers a Dozen Reasons to Add It Into Your Workflow
1/9 Photos
2/9 Photos
3/9 Photos
4/9 Photos
5/9 Photos
6/9 Photos
7/9 Photos
8/9 Photos
9/9 Photos
The Megalodon Sword Macro Pad squarely falls into the category of "really don't need it, but definitely want it" of productivity peripherals. Aimed at designers, gamers, programmers, and musicians who depend upon shortcut commands on the daily – but are also short on desk space – the single row device adds back a row of functional and programmable mechanical keys accompanied with a knob-button to offer a programmable panacea for the compact keyboard blues.
There's really not much to the Sword Macro Pad. Just imagine someone carefully slicing off the top row of function keys from a mechanical keyboard. Almost like breaking off a Kit Kat bar, except this bar is machined in 6063 aluminum (popularly used in architectural applications such as window frames, door frames, and roofs), features USB-C connectivity, and delivers six layers of functionality with a clickable knob to control features like volume or brightness.
The twelve blank XDA keycaps included are paired with Gateron Yellow Switches and will sound linear and clicky, so perhaps best used in settings where your audible keystrokes won't become an issue. Fortunately the entire setup is hot-swappable and VIA configurable, so users can customize their Sword Macro Pad to look and sound however desired.
The Megalodon Sword Macro Pad is a fairly good sized macro pad from the perspective of number of customizable keys alongside a push button knob, especially when compared to the brand's other 3-key configuration. But its slim single row design might appeal to users who have some available space above their keyboard, but not so much to the sides.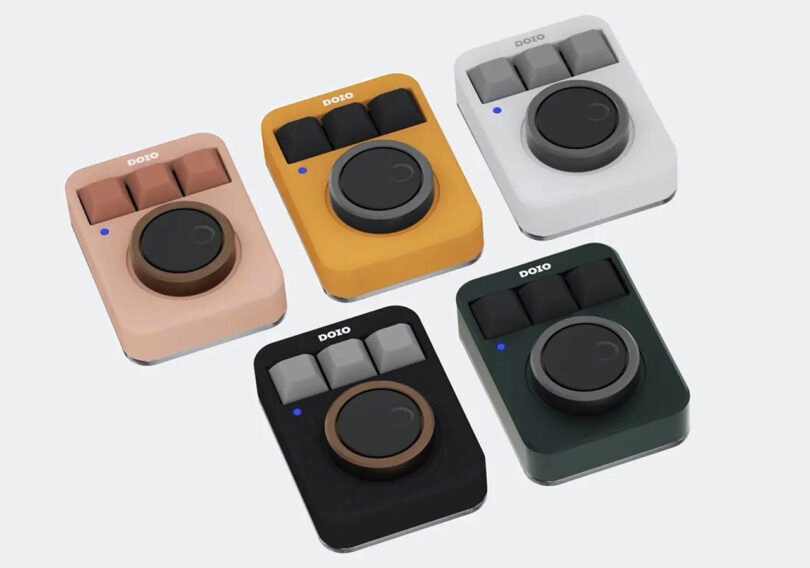 The Megalodon Sword Macro Pad is available for $59 in Black, Yellow, Red, White, and amusingly a slightly off-white labeled, Soy.