Design Milk favorite Ventura Lambrate is no more, and this year Ventura Projects' exhibitions were split across four locations, three of which made up Ventura Future, which we set out to explore – here are some of our favorite finds…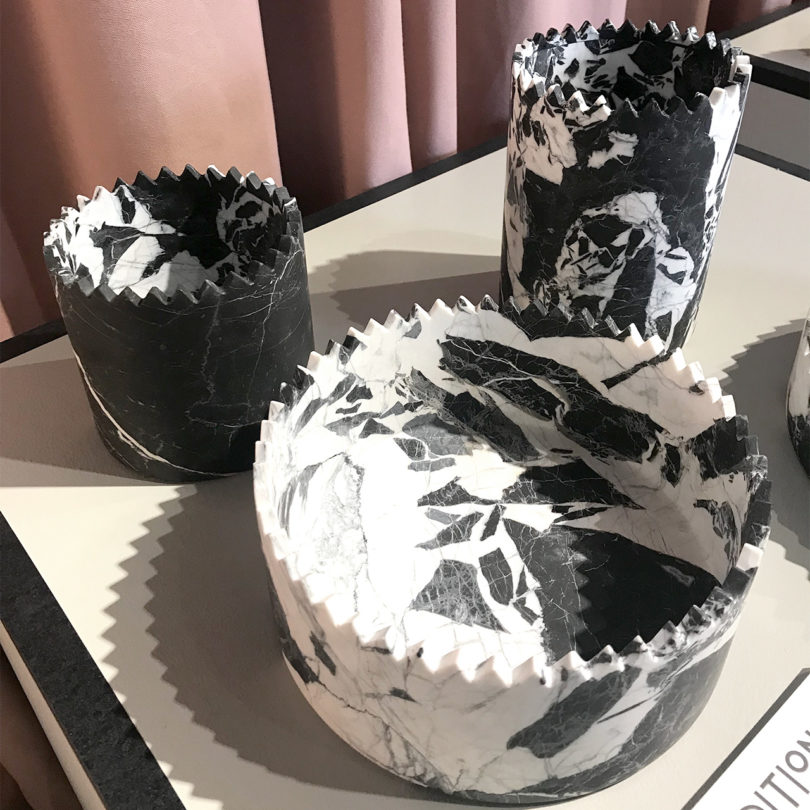 Triangoli is a collection of vases and vessels by Beirut-based designer david/nicolas for Editions Milano – handmade in Italy from blocks of different types of marble to create different colorways and effects. They were inspired by majestic crowns, making them at once serious and playful.
On the subject of 'playful,' Andrea Maestri's Ladies and Gentlemen collection is inspired by 'the bizarre, colorful, hyper decorative world of funfairs and circus.' This mirror is no exception and is sure to put a spring in your step before you leave the house in the morning.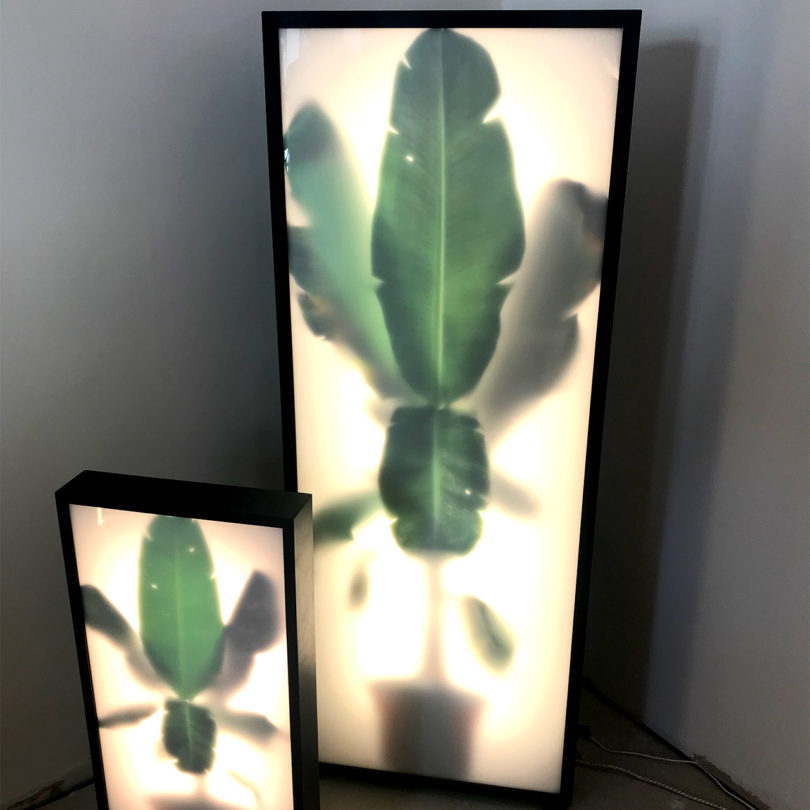 In response to the continuing trend for houseplants 'Growing plants indoors' by Dutch design workshop REM Atelier is a commentary on its artifice – echoing the futility of trying to bring nature indoors as plants grow towards the light, and the windows, in a bid to get back outside. Each lightbox is made using a photograph of a real plant, making it as unique as the real thing.
Victoria Lighting by British designer Bethan Gray for Editions Milano is an evolution of her Victoria tea set – inspired by ceramics in London's Victoria and Albert Museum collection. The lights, which are handmade in Italy, celebrate the translucency of Arabescato marble, paired with brushed brass cuffs which add warmth.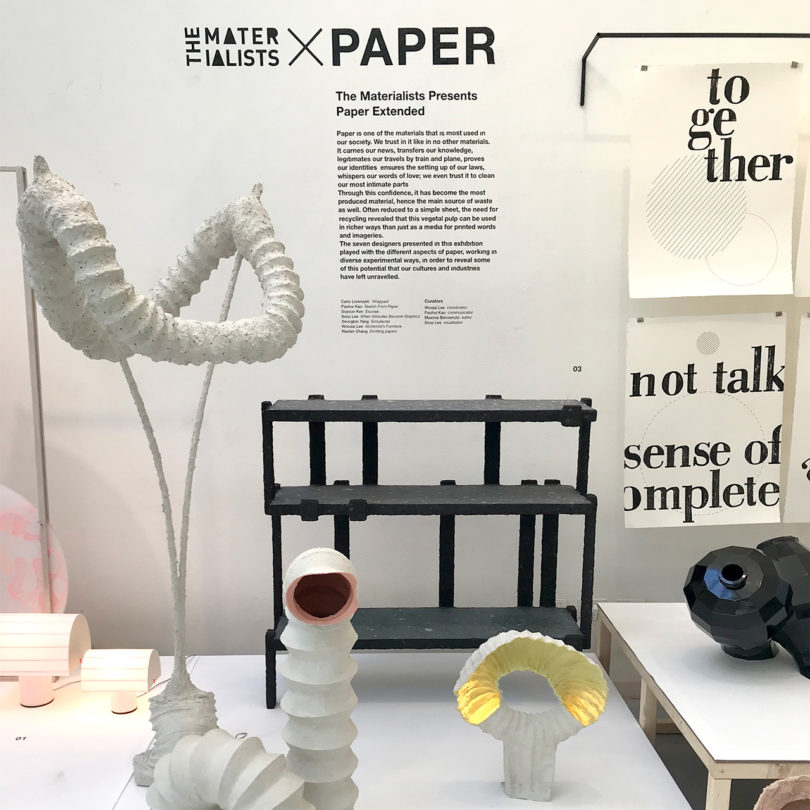 The Materialists (Woojai Lee, Paohui Kao, Maxime Benvenuto and Sooji Lee) put together exhibitions based on a single material to explore its full potential – this time, it was the turn of paper. "Paper is one of the materials that is most used in our society," they say. "We trust in it like in no other material. It carries our news, transfers our knowledge, legitimates our travels by train and plane, proves our identities, ensures the setting up of our laws, whispers our words of love; we even trust it to clean our most intimate parts." This, they argue, results in a lot of waste that means we need to use, and reuse, paper with more imagination.
Seungbin Yang's Simulacres project uses Ott-Chil: a traditional Korean lacquering technique, that is more typically applied to wood. Using this technique with paper instead, Yang transforms a fragile, porous material into lightweight, waterproof, durable, sterile and eco-friendly artifacts, which tread a fine line between sculpture and furniture.
Sooji Lee's contribution to the exhibition, entitled 'When Attitudes Become Graphics', explores paper's role as a canvas for original and one-off artworks featuring stitching, embossing and mechanical typefaces.
Botswanan design brand, Mabeo Furniture presented this color-popping sofa along with a collection of pieces that showcase their commitment to 'thoughtful collaborations, good design, high-quality craftsmanship, the use of sustainable materials, culture, community involvement and development.'
Leading London art school Central Saint Martins was in Milan to showcase the work of its Material Futures Masters students, who don't graduate until later this year. This piece is made from CNC waste foam dust by Charlotte Kidger and was just one of many pieces exploring the potential of waste streams for the raw materials of the future.
And finally, 'Nature is Fuzzy and Society Tried to Draw a Line on It' by Netherlands-based queer activist, artist and designer Yamuna Forzani aims to create 'a space in which queer utopias can unfold,' for people to be their full authentic selves.